Six months ago I was living in Thailand near the top floor of a cafe that stretched seven stories. I was there for two months and my job was simple: love on people, especially those who worked in the thriving bar scene.
Every morning I woke up and prayed I would be found useful there, that my presence there would make a difference. During our time there we formed close relationships with five women in particular, a set of triplets, a single mother, and a pastor's daughter. All of whom found themselves working the bar scene in Chiang Mai.
It was on those streets, in the christmas light lit bars and among the blaring music that foreigners traveled far and wide to purchase sex from the girls and lady-boys who worked the scene. Most of the workers driven into the trade by poverty.
We spent our evenings eating cheesecake brownies and playing pool with the girls, encouraging them to leave their lives at the bars. They said they wanted to, but there was something holding them back.
We left after two months with some solid friendships, but sad that our friends were still being objectified and used in their line of work.
That was May and a couple of weeks ago, November 18, I woke up to an email that I thought might never come. Those girls, the triplets that we had spent many nights playing pool with and eating dinner with, had left the bar scene and had entered the care of Wipe Every Tear (an organization that takes girls out of the bars in the Philippines and now Thailand and gives them an education.) But the craziest thing was how they got there.
After our team left Thailand we went to the Philippines to work with Wipe Every Tear, started by this crazy, white-haired, teacher and coach from Boise, Idaho. We stepped off the plane and went straight to Angeles City, a city known for the thousands upon thousands of girls employed in the bars for selling their bodies.
As is the case for majority of women in the sex-trade around the world, most of the women were forced into the bar scene by poverty or coercion and are very unhappy with the life they are trapped in. They are women with grand dreams and never imagined themselves ever working this scene.
We walked into the first bar of the night dancing, laughing, and speaking to women about their lives and the things they hoped for the future. At one point, we got up on stage and danced to "Roar" by Katy Perry. We believed in these women, we believed that they could overcome and no song represented that better than "Roar."
At the end of the night two girls left with us to start a new life and get an education.
Over the next two months we saw over 30 girls leave the bars. move in with us, and begin going to school. It was amazing and we couldn't believe the things God was doing. When our time in the Philippines we left knowing that our 30 new sisters were safe and sound in the care of Wipe Every Tear.
The girls in the Philippines still call me and message me, asking me to pray for their tests or telling me something funny that happened in the houses. For a long time whenever they called I would rejoice with them, but also remember my friends in Thailand who were still working the sex scene and be met with a bit of sadness.
That is until yesterday, when I found out that my sisters in Thailand are now in the same loving care as my sisters in the Philippines.
Miraculously, Kenny met the triplets. He desired to take them in, pay for their food, housing, and schooling when they found one they wanted to go to.
The triplets were hesitant, they couldn't count the number of times that they had promises made to them only to see them be broken. How did they know they could trust this man?
With that Kenny scooted his chair closer and said "I commit to you, to help you and to love you because you are worth loving." Their eyes started welling up with tears and they began crying, could what he said really be true?
That is when Kenny pulled out his phone, he began to flip through it and show pictures of his wife and children, and the girls in his care in the Philippines. As the photos rushed by the triplets yelled for him to stop and go back. They recognized some of the girls in his photos.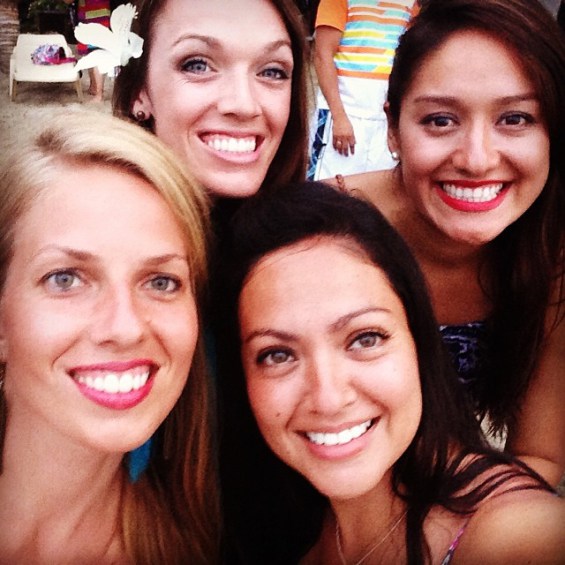 Those girls were us.
The triplets began to laugh as they recalled memories with us. Kenny told them "these are my very good friends, they were with us for two months in the Philippines."
He could see that after looking at these photos the girls began to trust him. So he continued to scroll through the photos and comes across a video of us dancing that first night in the Philippines. The girls watched in amazement to see the friendship we had with Kenny, and it was after that video that they fully began to trust.
The next couple of days the girls prepared to move into the care of Wipe Every Tear, and two days ago they moved in.
It's amazing to me, truly. There are so many times in my life that I thought a story had ended, but what I am finding is that the story is NEVER over.
The story wasn't over when we left Thailand with the girls still in the bars. God still pursued them, using our time there for His glory. And now they are safe and sound and about to begin their college career.
So let this be a reminder to you and me this morning. God always loves, always pursues, and always hopes.
Whatever you have given hope on, it might be time to resurrect it. The story isn't over. The pages are still being written and I am betting, at just the right time, God will prove himself faithful.