Preface: I am a love hypocrite.
Have you ever rejected love because of the lies you believe?
Or maybe because of the hurt love has caused in the past?
Are you thinking of cartons of ice cream, broken promises and Chinese delivery?
Or do you think of a person?
It could be a boyfriend or girlfriend, but most commonly it's not.
Best Friend?
Father?
Pastor?
Brother?
What Is a Love Hypocrite?
A hypocrite is someone who says one thing and does the opposite.
I am a love hypocrite because I can love others with all I have, but never receive love back.
What is love?
We know: Love is patient, love is kind, it does not envy, it does not boast. It is not proud, it is not rude, it is not self-seeking. It is not easily angered. Love does not delight in evil but rejoices in the truth.
"Love bears all things, believes all things, hopes all things, endures all things." -1st Corinthians 13:7
For me, loving others is easy. I can hug and smile. I can serve and give.
I spent 3 months on a missions trip in Chaing Mai, Thailand. I worked every day on the red-light district. I can still see the women and children bound in slavery. Everything inside me wants to fight for them. Love does not delight in evil. I would give my life in a heartbeat so that those women would know freedom, Jesus and His love.
That might sound nice, but it's impossible to truly love others without knowing for yourself what love is.
I have fought against love my whole life.
After I say "I love you" I block my ears.
I can't bear to hear it back. 
"Love" has always been conditional.
"Love" has always left when it got too hard.
"Love" let me in, but pushed me further away.
"Love" is something to protect myself against.
These beliefs had never been a problem, until now.
Until the love I tried to hide from was God's.
Until I told God, it was okay, He really didn't have to love me.
Until God said, let me show you what my love is like.
God is wrecking my heart.
Daily I have been offered love from all sides.
But the automatic response is to reject it and run-it can't be real.
God's love never gives up.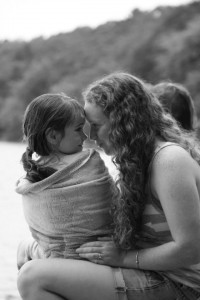 Then He used this seven year old girl, Bella, to rock my world on what love is.
The way she runs to me every morning, and jumps in my arms for a hug.
When she and I fight about who loves who more.
In my time with Bella I have been fought for, I have been cared for, I have been served, I have been made fun of and tackled (because that's what sisters sometimes do), I have been helped, I have been prayed for, I have been hugged. 

I cried, I tried to fight it, I wanted to run away, I made every excuse.
Bella's love is relentless and pure; she's only seven years old.
Overcoming the fear of being loved starts with you and me.
We need to take the first step.
Cry out to God.
Be honest with a friend.
We just need to let love in, stop fighting it.
The God of the universe thinks you are worth dying for.
You are so worthy to be loved.
Do you have a hard time feeling the love of God?