From the age of twelve until eighteen I used to hurt myself, mainly cutting and burning my arms.
I started because I wanted to be noticed. I was hurting inwardly and wanted others to know. This worked, I became accustomed to negative attention and soon taught myself that the only way to get people to love me was to hurt myself or be hurting.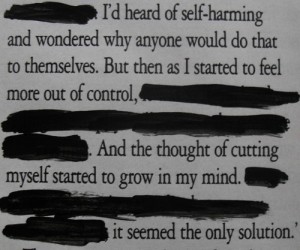 If you Google "Reasons why people start to self-harm," you'll find a lot of reasons.
Some websites say it's because people want attention. Some explain it's because the person feels so dead inside that they will do anything just to feel alive again. Other reasoning include that it develops into an addiction of releasing endorphins in your body.
I was never exactly sure what my reasons were.
I was satisfied never knowing why I had hurt myself. When I finally stopped, the knowledge that I didn't hurt myself anymore was quite enough for me.
The Root of Self-Harm
Until the truth was probed and I realized the root was so much deeper. Just because the action was no longer present in my life, that didn't mean that the reason behind it had been healed.
Think about this for just one minute:
Have you really dealt with the issue? Or are you continuing the hurtful patterns in a more "socially acceptable" way?
For me, the "socially acceptable" way I dealt with my issue looked like manipulating instead of cutting.
I'll explain, but even as I write this, the wound is fresh and I am terrified.
My Personal Reason for Self-Harm
The root behind my self-harm was a desperate desire to be loved.
It doesn't sound bad when you put it like that, but it became so unhealthy.
I mentioned that I grew accustomed to negative attention. This quickly escalated until I felt the only way I could become noticed was when I hurt myself or someone hurt me.
Throughout those years the number of scars grew and the gaping hole in my heart widened. I would go through months of hurting myself daily and then months without picking up the razor.
Shortly after my 18th birthday I made a decision I was going to stop for good. This process was hard, full of temptation and some failure. I fought through the pain and celebrated the progress I had made.
It's worth celebrating. I overcame an addiction and persevered.
My mistake was that I thought my battle with Self-Harm was over.
I broke away from the identity of "self-harmer" or "cutter" and wandered around not really knowing who I was.
My need for love and my heartache still remained.
So I began a search for identity and love. I only knew how to receive love as a victim, my value was equated with my pain.
I stuffed the hole in my heart with relationships. I began to manipulate my friendships in order to receive love. I played the victim. People felt bad and I practically forced them to care for me.
This would lead to unhealthy, one-sided relationships built out of obligation.
In my desperate search for love I would do whatever I had to.
I was still hurting myself, except this time it wasn't with a knife.
I hurt myself with awful lies. "No one loved me," I thought, (although I was loved) and the more I played the victim, the more I believed it.
The root of my problem had nothing to do with sharp objects, but everything to do with my unhealthy and destructive desire to be loved.
I monopolized love and forced others into caring for me.
Truthfully, I was loved all along. I was loved by family, friends, and God.
Cliché, I know. "God loved me. God loves you."
But what if you really believed it?
Do you believe God is for you? He is for you.
God wants to heal you.
You may have walked in complete freedom yesterday, but that doesn't mean that there isn't more freedom for you today.
You will never solve the problem if you do not address the root. 
What does this look like for you? There are hurts, pains, and serious wounds that God wants to heal. What roots do you need to uncover? If you feel comfortable, share in the comments section.