Q: Which story is real?
The first story
The second story
The third story
None of the above
All of the above
Characters:  man, witches, loving woman, children, young boy, neighbor, villagers, police
Setting:  Small African village with several mud huts and dirt roads. Many children playing and women outside washing clothes.  The sun is out and the mood is joyful.
Act I
Narrator – Once there was a man that lived a few hours south from where I lived in Seta, Uganda.
(Enter man)
Narrator – He lived in a small village, with lots of children that played.  Many of these kids visited the house of a loving woman.
(Enter loving woman and children)
Narrator – They visited because she gave them something to eat.  But the man walked around town talking to himself, and many villagers thought he was crazy.  He began to spend time with witches that lived around town.  The witches told him a sacrifice should be made.
(Audience laugh track)
Narrator – He walked to the women's house.  Nobody was home but one 12-year-old boy.
(Enter 12-year-old African child)
Narrator – The man cut the boys head off with the machete he had brought.  The witches needed the head.  He put it in a paper bag.  A neighbor saw him in the house and the bag in his arms.
(Enter neighbor)
Narrator – The neighbor thought the man was stealing.  He tried to grab the bag.  The 12-year-old boys head rolled out.
Neighbor – Murderer, Murderer!
Narrator – The man ran out of the house.  He went to the police station and confessed.  He knew the police were his only chance to save him from the village.
(Enter police)
Narrator – The village came to the police station at night.
(Enter village people)
Narrator – They wanted the man.  The police shot their guns in the air to scare the village away.  They accidently shot and killed two villagers.
Village people – Murderer, Murderer!
Narrator – The police ran away from the station.  The village pulled the man out of the jail and brought him outside.
(Cue audience laugh track, Exit police)
Narrator – The man begged for his life on his knees.  But a man from the village hit him on the top of his head with an ax.
(Audience applause)
(Credits)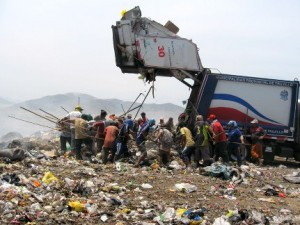 Characters: men and women that live, eat, breathe and work garbage, dead babies, two sisters
Setting: Peruvian mountains of trash that go on forever, the constant flow of dump trucks that are never empty, and a thick cloud of toxic smoke pollutes the air
Act II
Narrator – Recently, they stopped letting children work here.  The dump trucks pull in and competition ensues.  Peruvians wielding long, wooden sticks with hooks search for treasure.  They don't get paid for the dead babies or body parts they find on occasion.  They don't get paid for the glass cuts in their skin, either.
(Enter Sister #1 and Sister #2)
Sister #1 – Just the electronics and plastics.
Narrator – They search for 12 hours, but usually more.  They have to; they're paid on commission.  There are children to feed back home.
Sister #2 – I have a two-year-old girl.  We live right over there.
(Sister #2 points to the outskirts of the dump)
Narrator – Sometimes, back home doesn't exist.  The burning never stops.  A constant scent of burning garbage and feces.  A backup reminder of where you spend life, in case your eyes would ever fail you.  Standing on trash, digging through trash, waiting for more trash.  Such is life.  The sisters live it.  They wear trash- covered rags, and still, there's a beauty to them.  But, with the exception of dump truck drivers, no one will ever see them.  There's disease.  There's a cemetery on the outskirts of the garbage.  Born in a garbage dump, live in a garbage dump, buried in a garbage dump.  Such is death.  This world is in Ecuador, too.  And Africa.  And other places, where they haven't stopped letting children work there.
(Audience applause)
(Credits)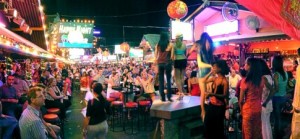 Characters: tourists, bartenders, corrupt cops, young girls, lady-boys, child, missionary
Setting:  a mile long road in Southern Thailand, lit so bright there is no room for shadows; cars are replaced with poor, young Thai girls and wealthy, old Western men
Act III
Narrator – God used the rib of Adam to form woman and a decrepit alley used the lights of Times Square to form Bangla Road. The lights and music are not enough to take your mind away from the stench. The women, try as they may, only serve a brief distraction from it.
(Enter tourists)
(Audience applauds)
Tourist #1 – It's the best place in the world for one reason and one reason only: It's a man's playground.
Tourist #2 – It's part of their life.  It's the way their culture is. It's not a big deal.
(Enter Thai girls)
Narrator – They're renowned for their smiles.  One smile from a young Thai girl can make a man feel preferred, handsome and appreciated.  Beautiful smiles from every direction welcome you into Bangla Road.  Girls that look like they've never been happier reach for your arm and stroke your back as you walk by them.
Tourist #3 – I'll tell you one thing for sure, working here is a helluva lot better than working in the rice fields.
(Audience laugh track)
Narrator – They come from Northern Thailand, or Burma, or somewhere else where money is scarce.  Girls, sometimes not old enough to be out of high school, come to find jobs in hotels or restaurants, unaware that English is mandatory for a job in Phuket.  Stuck without a job or money, girls are funneled down into Bangla Road.  Some begin in the bars, where they're required to go home with men at the bar.  Others work in the closed door bars, dancing or performing 'shows' for men sometimes old enough to be their grandfather.  Others skip past the facade – the bartending and the dancing – and stay outside the bars, on the streets.  There's no need for fake smiles or small talk with this job.  She's a product, and there are thousands of shoppers every night.  She's raped by the highest bidder.
(Enter Missionary)
Missionary – Do you want to know what they tell me? I met a girl on the street the other night, and I asked her if she was afraid to be working here because two girls on the street were killed by their clients in the last two months. She said, 'I wanna die. If I die and I go to hell it would be better than this.'
(Enter lady-boys and the children)
Tourist #4 – A lot of it is illusion, what you see on the streets here.  It's all about the visual smorgasbord.  Behind the polished facade here is a very sad, empty, empty place.
(Enter child)
Narrator – Dim the neon lights.  Look behind the beautiful smile.  Mute the laughter from the lady-boys.  That's the only way to see a child sold to an adult.  A boy or a girl, maybe 12, maybe younger.
(Audience applause)
(Credits)
Answer:  D. None of the above
I've seen these stories unfold, but they couldn't be true.  They couldn't.  When my thoughts go to what I saw, they leave confused once more.
The battle between light and dark, white and black is no longer in question.  A battle "against evil rulers and authorities of the unseen world, against mighty powers in this dark world, and against evil spirits in the heavenly places" can no longer be argued against.
Murder and witches and garbage and babies and little girls and slavery.  These are just three stories of this world.  There are millions more.  I've still never seen the genocide in Sudan, the child soldiers in Burma, or the terrorism in Afghanistan.  There is an evil in this world, and it fights against love.  Dark and light.
But the confusion doesn't come from the reality of this war.  It comes from the reality of the slightly shaded area of gray in between.  Those called to spend a life in love but spend a life on the fence instead.  My confusion comes from the Border States named American Christians.  I've seen the story of Good vs. Evil this year.  But there's another story.
An act IV.
There are two settings in this story.  One is an educated, comfortable religion that lives in its self-proclaimed nickname the First World.  The other is a suffering, lonely, sick, struggling, helpless place called Most of the World.
The supporting characters are women living in garbage and dead babies and men living through the NFL and child soldiers and the dying and sex slaves and women needing new cars and glue-kids and starving girls and homeless boys.  The main character is a king with only two commands, who loved, fought, died, conquered, fulfilled and set free ferociously.  Only two commands.
Jesus – A new command I give you: Love one another.  As I have loved you, so you must love one another.  By this everyone will know that you are my disciples, if you love one another.
That 'love one another' thing – that 'love your neighbor' thing – isn't so bad.  Jesus, thanks for saving me and loving me and forgiving me.  In return, I can try to love my neighbor… no problem.  But then, He said, 'I am the neighbor.'  This is where it gets confusing.  This is where it gets serious.
"Lord, when did we see you hungry and feed you, or thirsty and give you drink?  And when did we see you a stranger and welcome you, or naked and clothe you?  And when did we see you sick or in prison and visit you?' And the King will answer them, 'Truly, I say to you, as you did it to one of the least of these my brothers, you did it to me."
One more time: Murder and witches and garbage and babies and little girls and slavery and genocide and child soldiers and terrorism.  One day, He will say to some, "depart from me."
Jesus – For I was hungry and you gave me no food, I was thirsty and you gave me no drink, I was a stranger and you did not welcome me, naked and you did not clothe me, sick and in prison and you did not visit me.'
(Audience applause)
(Credits)
Answer: E. These stories are real. The war is real. Just because you haven't seen them, ignore them, or are too busy for them doesn't make them disappear.  There are people a short walk, or drive, or a short flight away that suffer daily.  Their name is Jesus.
This isn't for me to judge the Christians back home just because I'm on a 'mission trip'.  I'm talking to myself, too.  The only difference is that now I've seen it. 
The stories are real, and there is no slightly shaded area of gray in this battle.  There's dark, there's light.  Jesus said not only can you make a difference, you better make a difference.  Bring Kingdom to Earth.  I've heard Christians talk about love and caring like it's a gift.  Like it's an option.  There are those that choose love and those that choose to ignore it.  There are those that hear Jesus, and those that hear Jesus and obey.  The only thing not real is that gray area.
I guess the reason I'm confused is because although we know the story closes with 'And the poor and needy lived happily ever after.  The End.'  We act like the credits won't roll.