By Jeff Goins, Editor
Every war has an end.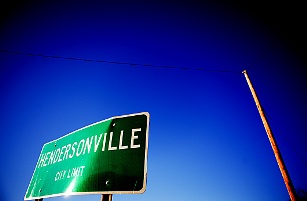 I've only seen pictures of Woodstock. I've heard stories of the Jesus People movement in the 1970s. And now, I am camping with over 3000 of my peers gathered in a field in middle Tennessee for the sake of peace. To my left is Otter Creek Youth Group. In front of me is a group of sorority college girls. To my right is a single guy who keeps to himself. And behind me is a young, married couple. They're all doing their best to create a makeshift shanty out of cardboard.
Why? We've all been displaced.
The scene is inspiring: white T-shirts with red X's painted on them; Aviator sunglasses abound, as do shaggy haircuts and retro clothes. "Somebody give me a marker so I can make the sign!" someone calls out. "Otter Creek youth group has been displaced!"
The train rolls out of town due west of our campsite, just below the setting sun. It's 6:00 p.m. The moon is already out, and the evening is just beginning. I flick a tick off of my arm before it buries its head. Time to go for a walk.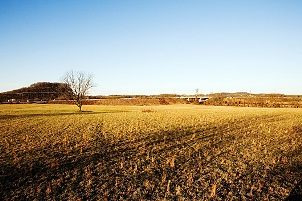 We do an hour and a half of filming. It seems a little extraneous, but the Invisible Children volunteers explain the importance of this film, that it has the potential to be shown on the Senate floor. So, we cooperate.
It's mass confusion. Frustration sets in as I realize some of the antics that come from being in a large group are inescapable. You still have the guy who opens his mouth when he shouldn't and the girl with her cell phone glued to her ear. Was skipping a Christian concert to do something "more meaningful" worth it? I found myself asking, what's the difference?
A sour taste lingers in my mouth until halfway through the evening when I see a group of young Ugandan children on the giant, blow-up screen used to communicate various media to us about the war-torn area of northern Uganda called Gulu. They were smiling and dancing. Absolute joy resided in their faces. My heart melted. That's the difference. That's why I'm here. It's not for the fact that this is cool or that it's what young people do. It's for them: the invisible children who are beginning to be seen.
The speaker Walter Ochara, commissioner of the Gulu district, tells us in a thick accent that 1.2 million Ugandans are living in internally-displaced people (IDP) camps. This night is a reconstruction of such a camp, so that we can begin to feel what they feel, to experience what they experience every day. He tells us of the difference that Invisible Children is making with the schooling program, the bracelet campaign, and other efforts to bring assistance to these people. He encourages us to support the current peace initiative and the implementation of the "Peace, Recovery, and Development Program." There are several sections of the night, each planned out to represent the environment of an IDP camp.
Build me a home.
A man named Norman comes on the screen and gives his own testimony of life in Uganda. Ten years ago, the Ugandan government gave 48 hours to residents of Gulu to leave their homes in a supposed effort to protect them. They could only take with them what they could carry. Each family was given a hut that looked identical to that of their neighbor. So, they decorated them to make their homes extensions of who they are. We are instructed to do the same with our cardboard huts. We spend twenty minutes in this exercise before returning to the main gathering area for our next instruction.
Bring me food.
Women in the IDP camps make a two-mile trek to the well to collect water for their family; sometimes, they make this trip several times in a day, fetching water for all the men in their family. We have to get our rations of bottled water and package of Saltines by making several trips for each person in the group. Women get water. Men get food. Since I am by myself, I have to ask a nice young lady to fetch my water.
Spread the word.
A college student named Stephen appears on the screen and explains the divide between northern and southern Uganda, that there are people only a few hundred miles away from each other who have no idea about what is going in the camps of Gulu. He encourages us to call five friends to tell the about what we're doing tonight and why. We also write letters to our senators and to the Ugandan president, pleading for their involvement.
Pray for me.
Perhaps my favorite part of the evening is this time of silence, of doing the real work of a humanitarian prayer. I ask God to move in powerful ways, ways that we could not to establish lasting peace and understanding in this country, beginning with individuals. As I return from this prayer time, I meet on the screen a few young boys who explain that they are still night commuters, going to the center of town each night to evade being kidnapped by the Lord's Resistance Army.
Good night.
These young men tell us that they fear, because they don't know what will happen to them. Will the peace last? They don't know. "As you go to sleep tonight, dream of us." I don't know that I slept long enough to dream about much of anything, but at 5:45 in the morning, I have had it with sleep.
I wake up to people's voices, howling coyotes and the occasional train passing by. I overhear laughter and someone saying, "I'm just ready to get in my car and go home." Waking up several times in the night, shivering cold, I thought the same thing. Then, I realized in Gulu, they can't go home. This isn't real, because we have an escape. But for them, this is all they know struggle, strife, hunger, and frustration. This is home.
As I gather my things, tossing my pile of dew-soggy cardboard into the trash heap and making my way to the car, I walk past all the huts and admire their decorations and slogans:
Displace me.
As for me and my house, we will serve the Lord.
Speak up for those who can't.
Home is where the heart is.
Whatever it takes.
A strange mix of emotions accompany those final steps off the grounds, as I step away from the radical atmosphere of young people – who wholeheartedly believe in changing the world – back into reality, where cynicism abounds, especially in myself. Yet, I still manage to pass a few more homes, and one sign in particular stays with me:
End it.
If you liked this article, check out: Invisible Children: Discovering the Unseen
---
Jeff Goins

lives in Nashville, TN, edits Wrecked, and hopes to one day be able to do a successful head-stand. For more info on this event, check out these sites below: