By Scott Molgard

Continued from
I Aint Afraid of No Anacondas, Pt. 1
We climbed over some log jams and across some small water falls, then around a bend and before our eyes gaped a huge opening. I am not sure what I pictured this cave to be, but I think I was expecting something more like the cave in Mexico. I was expecting something just big enough to drive a pickup truck into, or a rock overhang like the cave in South Africa.
This cave was, uh, cavernous. Like an outdoor natural cathedral or amphitheater and the river ran straight into it, causing a deafening roar. There was all kinds of places for anaconda to hang out, but I ain't afraid of no anaconda.
I have to admit, I felt some dread in my heart as I approached the entrance to this cave. It was cool and full of shadows, wet and slippery, and the musty smell filled my nostrils, reminding me of memories I can't seem to recall.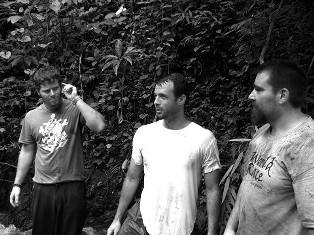 I had not brought my headlamp, so I went in a little way, but did not go too far. Then the Thai man with us took his flashlight out and Ryan, who had his headlamp, followed him deep inside.
After a little while they returned and Ryan said they had gone all the way through and returned and it was cool, so Josh took his light and Ray took the other light, and I stayed in the middle and we waded into water that was silty and white and dark.
At times, the river came up to our waists, and bats at least 12 inches from tip to tip would dive through the beams of light, flashing brown and disappearing.
At times, I could not see where I was going, and could only trust my hands and feet for one more step and this is when I thought about the spiritual life and how scary walking in faith is, and how God has not given me a spirit of fear but of courage and I heard Josh praying because the current was strong, spiders hide in the shadows of the wall, bats were squeaking and bombing us, and the anacondas were behind the next corner.
I jumped as something bumped my leg, and my heart sped up…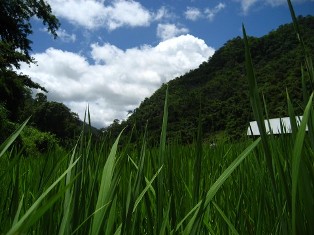 I know from watching the crazy nature guys on TV that anacondas move by swimming in the rivers, but I was pretty sure that they dropped on their prey from above, so quickly I realized it was just a stick bumping my leg. Without a light, I was trusting that Ray and Josh were staying sharp, checking out all the cracks above us, and every time we looked up, the light would stir another colony of bats.
We walked through the cave and back again, and as the light of the entrance blinded us, we had faced some fears, done something new, and we were heading to the bamboo shelter where the four of us would spend the night talking, reading our Bibles and praying.
The next morning we had a grueling hike up a mountain and along the roads. We were supposed to be met by a contact, who never showed up, and we walked for three hours. Then, we had to quickly get ready for church and sing and dance. This was a good adventure… a good time of male bonding, of brothers strengthening each other the way I think God planned it from the beginning.
---

Scott Molgard
of Wilmington, MA has left his career as a personal trainer to travel the world with his wife, Linnea.