By Tim Chermak
Every day we walk through our neighborhood, about 10 minutes to the children's home. On our way, we pass Raj's Shoppe where we buy milk, bread, and mango ice cream. We usually pass about 6 stray dogs, often picking though trash to find food. We cut through a field with a family of girls who run out dirty and barefoot from their tin shelter to shake our hands.
It's so interesting how the foreign can quickly become so familiar, how you can learn to sleep through construction going on outside your window at 3 AM-or the eerie Muslim call of prayer playing over a loud speaker two hours later. Every day we arrive at the children's home and are greeted by white teeth grinning from a brown face, sparkling big eyes, and arms tugging on us. But these kids have become so much more than faces-they are more than the tragedy of their pasts, or the hope of their future. They have become our friends.
Naomi is a five year old who has completely melted my heart. She is the youngest of 12, born to a scheming woman who trained her children to beg and steal. Naomi had been taken off the streets because her mother gave her up, placing her into an orphanage where she was adopted by a family in Germany. After being there three months, her mother claimed she had been stolen-she was sent back to India, where her mother continued to exploit her. Finally, she was rescued by Hope of Glory Foundation. Naomi is sweet and imaginative. I love seeing her eyes light up when she sees me.
The other day, we took all 31 kids, plus the staff, to the zoo. It was quite the logistical mess, to say the least. The grand total of everyone's tickets was under $9 US. We had a picnic in the shade (no PB&J-fried rice and cucumber carrot salad with our fingers!). After lunch, we spent the afternoon walking around with the kids. My "buddy" was Ruth. The youngest of the bunch (age 3), she was in awe at the snakes and elephants. Ruth was given to the children's home along with her two older brothers when she was a baby. Her mother loves her children, but had to part with them because she lost a leg due to polio and turned to prostitution to survive. She knew she would rather give up her kids then have them raised in that situation.
We've been faced with the sickening reality of prostitution since we have been here. We have visited the red light district several times and are getting to know some of the girls. The other day we were hanging out there, chatting with the girls, about to start a bible study, when one of them looked out of the window and started panicking. A couple of the girls quickly got up and left. Our contact explained that they saw police and had to make a run for it. Once in a while, the police would show up demanding money. If they didn't pay them, the girls could get thrown in prison for two years, or worse. We also found out one of the girls had been murdered the night before by her customer.
After the bible study, as we were heading back to our van, we saw the group of girls that had left. Our contact invited them for a glass of sugar cane juice, so we headed to an underground shop, hoping we wouldn't look too suspicious. We hung out, attempting to break the language barrier through laughter. The machine that made the sugar cane juice had bells on it, so we sang "Jingle Bells" for them. We found out one of the girls we were with had only been there a week. She was from another state and had been sold by a family member. She had tried to escape, but the rickshaw she was in had dropped her off at the brothel door and she didn't know where else to go. She couldn't even speak the local language, and was afraid if she tried to go home she would be killed. We prayed for her, asking God for a way out.
Next week we are going to take the girls from the brothel to a water park! The leader of the home agreed. We are excited to be able to steal them away from the reality of their lives, even if it is only for a day. We hope and pray for a way out for these girls, for life to come to their tired bodies.
It would be easy for me to be overwhelmed, being faced daily with such incredible need, so many broken people. But everyday I am also faced with 31 lives that should be prostitutes and criminals. Now, they are dancing, singing praise songs, coloring, and learning English. They want to be pastors, rock-climbers, doctors, and flight-attendants. When I watch even the youngest fervently ask God for their school fees, for healing for the staff, their faith challenges my own.
I am so humbled every day by these kids. They have no self-pity for the hell they have been through. They are a family, serving and taking care of each other.
In the eyes of these children, I see the kingdom of heaven.
---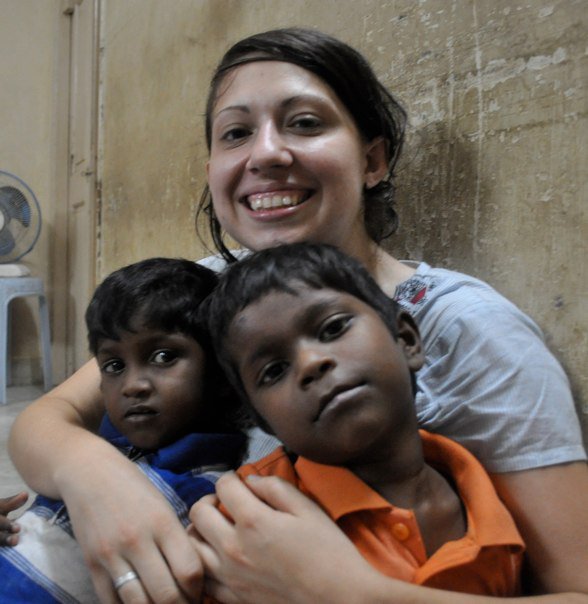 Brooke is in the middle of a two month trip to India, visiting orphanages and capturing stories for Streams of Mercy, a ministry helping support children all over the world. Visit www.streamsofmercy.org for more info.