By Mariah Secrest
Music runs in my family. One of my most random tidbits that I usually reserve for the icebreaker "two truths and a lie" is that my great-uncle sang with Elvis' band (true). I have cousins and uncles who have tried their hand at the music industry, my parents were in a band together before they were married, and my brother is attempting a small record label as a side project.
However, my brother has warned me for years, "Don't fall for a musician. They're passionate and follow emotional whims and can't be trusted. You need someone stable." For the most part I have entirely ignored his advice.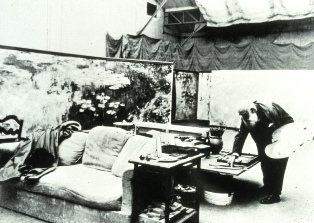 Yet, as someone also intently interested in reason and academic pursuit, I've always been a bit uncomfortable with the fact that musicians have this reputation. What is it about music that represents instability, blue-sky fantasy, and a disconnect from reality? More importantly, then, do music and other emotive art forms contradict reason?
Reason and emotive expression are often seen as diametrically opposed. In logic, there's even a formal fallacy named after the method of using emotion to persuade your audience of the conclusion of your argument. And I understand the safeguard. Certainly emotion can be pinned to a faulty objective and could lend illegitimate power to a position with little substance. But this idea that emotion only occupies the role of a manipulator, with no bearing on truth or reality, bothers me.
Something about it seems a bit shortsighted. And maybe I could dismiss this uneasiness just as my own unfounded emotion, but there ARE some irrefutable realities about emotive expression which may or may not be explained by logic or science but whose consequences are undeniable.
Namely, that art and music have enormous power in culture. If you want to convince a generation of something, put it in that generation's media. Art is exerting influence over culture at both the macro level and micro level. On on industrial level, art is a real commodity for which people are willing to pay dearly. Why? Maybe the artist or the distributor or the vendor can appreciate it for its tangible value (so many discs or downloads at such-and-such a price equal such-and-such cash in your pocket). But what of the end consumer? What tangible benefit is there for listening to a song or watching a movie?
The non-tangible or perhaps "non-logical" impacts on an individual must be fairly substantial if they're willing to fork over the cash for it. But more than just being willing to spend money on art, people are influenced often by the content of specific art. Whether or not we can really blame Marilyn Manson for teen suicide, who's to say. But how many of us have ever made a personal decision with the lyrics of a song or the story in a movie reverberating in our minds?
How many of us form idealistic notions around art, regardless of whether or not we accept that we can live up to them? Of course you could say that that's just art playing upon people's emotions. But would illogical and powerless fancy resonate so deeply with people if it didn't touch some point of reality within them? If art and emotive expression are entirely baseless, wouldn't we as rational and logical creatures merely dismiss the claims that they purport, with such ease as we may wave away a chain letter or some such silly superstition?
And that is the point I want to suggest. That emotive expression draws out existing reality. Perhaps emotion doesn't contradict intellectualism but is another dimension to the same truth. In a complete world, they're more like different pieces of the same puzzle. Art and music draw out the reality of emotion that is an undeniably powerful force, and it can also be an effective conduit for original thought. Of course, for art to be truly powerful, it has to gravitate from logical reality. Neuroscientist Antonio Demasio even suggests in his book "Descartes' Error" that according to case studies involving damage to specific neural substrates in individuals, the processing of reason and emotion are interdependent.
When the brain is damaged in one of the areas that seems to control emotional processing, the ability to follow certain forms of reasoning also seems to be correspondingly impaired, at least according to his patients' experiences. This makes sense if emotive expression is an enabling agent that becomes useful at the point at which we interact with factual information.
Let's consider the relationship between two other natural elements and see if the pattern might not be analogous of that between emotion and intellect. Light and earth are separate elements, both very real, that work in tandem with one another. (By earth, I mean earth locally as in terrain, not as in the whole globe.) Light in one sense has very little to do with rock and dirt and hills and mountains. It doesn't alter their elemental make-up. But what light does affect is how we see the earth, and is crucial for judging its magnitude and substance. If we are content to merely know that a mountain is so many feet high, we really need nothing else but the facts. Rational knowledge is sufficient.
However, if we want to climb it, we have to be able to see it. Light provides all that is necessary for judging depth-perception, for interacting with terrain, and for identifyiing our own spatial relationship to it. Likewise, emotion fleshes out our relationship to logical facts and allows us to guage magnitude and adjust our behavior accordingly. It lines up and pulls out mental and logical elements, spreading tension into dimension.
Blaise Pascal said that "the heart has reasons that reason does not know at all."
I default to the rational and admit that sometimes I'm a bit skeptical of emotionalism. Yet as a musician and a creative writer I find an incredible relief to discover that emotion (and the art that depicts it) actually rounds out truth and reality, rather than necessarily competing with it. There are things we're meant to feel, and feel deeply, which reinforce reality. Art and music help us do this. They help us sort through what really matters in a world where everything is grabbing for our mental attention, and they help us make sense of our own world or at least be able to interact with it.
Like the random notes put together in an evolutionary creativity that is composition, music attempts to string together isolated and not-so-isolated events and give a scattered life some form and shape, some validity even. It's not all nice and tidy and uniform, but neither is it chaotic. Rather, it's curious. Art and music have the amazing tendency to salvage every bit of introspection with the (sometimes express) intention of turning it out in highly publicized forms of expression for mass consumption. And isn't that the appeal–to release people for a moment from feeling that their private life has to be just that–private? To believe for three and a half minutes (or whatever the average song's length is) that their lifes'a story and their feelings matter? And that maybe the happenings of their lives mean more than just the facts will tell us.
---

Mariah
has currently landed herself in Tucson, Arizona, where she's finishing a philosophy degree. She enjoys writing almost as she enjoys making music. Almost. You can visit her on Myspace at
www.myspace.com/mariahsecrestmusic.