By Darlene Curry
Background:
I live on the east coast in a small town near Annapolis, Maryland.I'm a passionate lover of the Lord Jesus Christ. My favorite thing to do in the entire world is to worship and encounter my King, and my art flows out of that place of intimacy with Him. There are so many aspects that I deal with in each piece; faith, obedience, joy, getting lost in worship , getting lost in His love, and sometimes great agony of heart. The ones that flow from this place of sometimes pain and raw obedience are the ones that take me most by surprise . God always knows best. My desire is that His heart would flow through my heart and that there would a spirit of unity that occurs that would touch whomever the Lord desires. I give myself wholly to Him and desire that He has His way in and through me. For so long I was so afraid to step out; to do one of the things that God created me to do. My initial desire was to take the prophetic visions given to me through the Holy Spirit and capture the heart of it on canvas, paper, etc. I always wished that I could but lacked the faith to believe that I could. Everything we do is an act of worship and everything we do is a step of faith. About five years ago, I was at the Twin Rivers conference with John Arnot (Toronto) and John Kilpatrick (Brownsville) and a young girl presented prophetic paintings as a gift to both pastors. I leaned over to my husband and said, "That's what I want to do." My husband, very lovingly yet matter of factly replied, "So do it." There my journey began. I have learned so much about faith and letting go to allow myself to be a conduit through whom He loves to flow. I am my Beloved and He is mine. I pray that something is stirred, touched,encouraged, and ministered to as people see these works of art. I pray that the mysteries of the kingdom are unfolded and the Spirit of revelation is manifested. Why? Let Him who is so worthy to be praised in every aspect be lifted up and the kingdom of Heaven advanced here in the earth. What the Lord allows me to do comes to me mainly through visions , impressions, intercession , dreams and just pure worship. A lot of it has to do with the Bride, Israel and Revival. I am learning to trust the Lord in a much deeper way; through joy, hope, pain and disappointment to know that God is good and He never ever lies. All of His promises are yes and Amen! Let the sleeping Bride arise to her calling her destiny. Arise oh Church to the call of the Beloved! Jesus the Bridegroom awaits! Realms of Glory- Acrylic
A breakthrough painting for me expressing freedom and the Lord encouraging me that my had only just begun to see the good things He had in store for me. BELIEVE!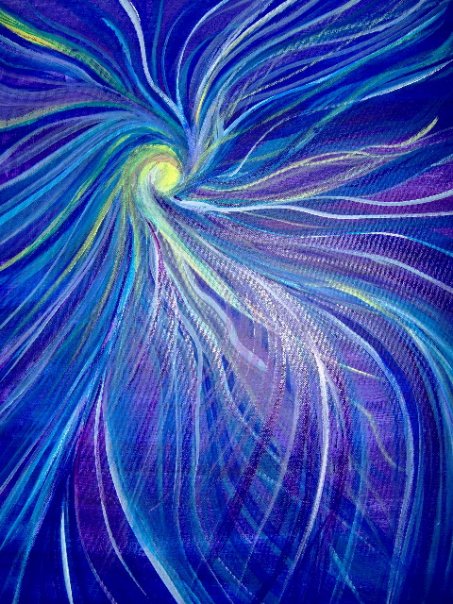 Tsunami of Fire- Acrylic Speaks of the power of intercession to change the Church and bring revival to the land.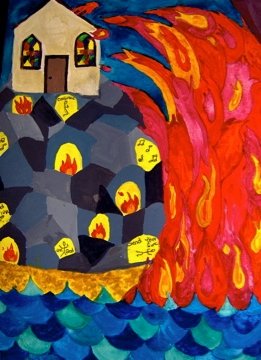 War in the Heavenlys-My First Painting -Watercolor Because the veil was ripped in two by His blood sacrifice; we have the freedom to laugh, jump, sing swim in the River of Life.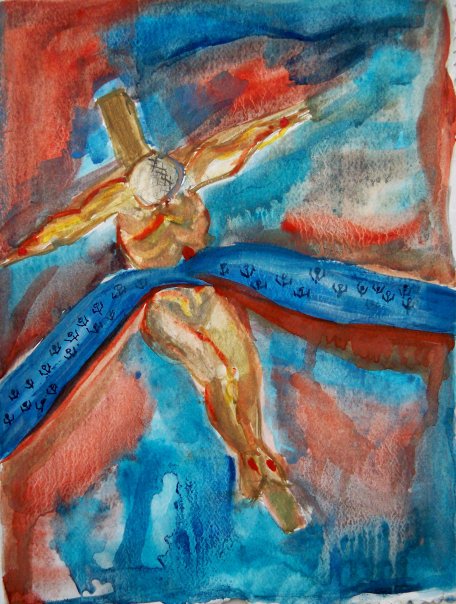 ---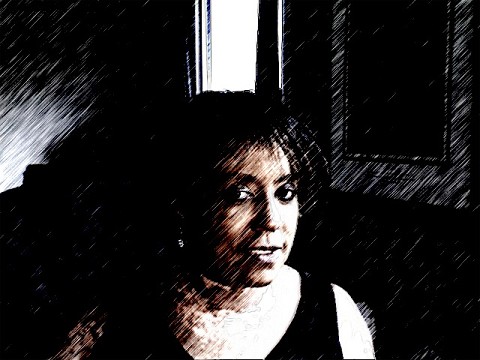 Darlene is a passionate lover of the Lord Jesus Christ. She resides in the little town of Arnold, Maryland with her wonderful husband of 27 years. She has three children who reside in Tennessee,Texas and Colorado, as well as two awesome grandchildren and a wonderful son in law in Texas.