By Wrecked For The Ordinary
Do you like free books? Do you like to share your story?
Wrecked for the Ordinary is looking for creative articles that capture a faith story. It can be yours, another's, or your grandmother's. It can be a full perspective or a snippet. Media of expression can be creative, i.e. video, poetry, written article, graphic design, photography, or pictures of a visual art piece you created.
Top entries will be published in the September Arts column, and the top two will receive either a copy of Breaking the Barriers or How to be a Hepburn in a Hilton world.

Breaking the Barriers offers three foundational pillars to equip readers for overcoming the most difficult obstacles in their lives. These three pillars teach readers how to:
-Take on the character of God the Father
-Take on the wisdom of the Son
-Take on the discipline of the Spirit.
Through dynamic stories of people who have overcome seemingly insurmountable odds, and the powerful example of the author who has overcome great adversity in his own life, this book shows readers that God is on their side and desires for them to fulfill the dreams and purposes he has placed in their hearts.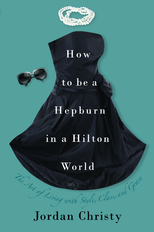 How to be a Hepburn in a Hilton world looks at the art of living with style, class, and grace. Author Jordan Christy is a publicist for Warner Bros. Records and has worked with dozens of artists and celebrities, in addition to various TV and media outlets. She has also written for local and national fashion magazines and music trade publications. She currently lives in Nashville, TN with her husband Drew.
Submission Guidelines:
*Videos should be under 5 minutes and accessible to youtube or other online website
*Written articles should be 600-800 words.
*Graphic design, photography pieces, visual art pieces can range from 1-5 pieces.
Please include both a short bio (2-3 sentences) and thumbnail headshot with your submission. Please attach photos separately, jpegs are best.
Email your submissions to [email protected]. Submissions should adhere to general submission policies found here.
Deadline for submissions is August 31st.

Book descriptions and photos via http://www.hachettebookgroup.com