By Christy Tennant
Marginalized. Subverted. Uninvited. These are some of the words that describe how many artists feel in mainstream evangelicalism today. The divide between the church and the arts has been expanding over the last century. Gone, it seems, are the days of The Church championing such culture-defining artists as Michelangelo, Donatello, and DaVinci. Instead, most modern Christians merely imitate pop culture. Sarah, a recording artist in NYC, pitched her demo to several CCM producers in Nashville in the late 90s.
Their feedback was that she needed to sound more like a popular artist of the day. If you want to be the Christian version of Sarah McLachlan, well sign you today. But your music is just too original. It doesnt fit in to the box that we can market. After a year of waiting tables, serving some of the biggest CCM artists of the day, Sarah relocated to New York, where the originality that drove her out of Nashville garnered her a an enthusiastic following, many of whom are, themselves, displaced creative Christians.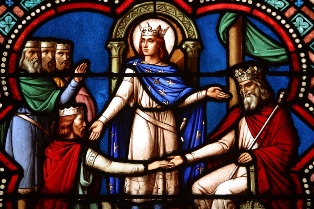 Unless they are seeking careers as drama ministers, CCM superstars, or authors of Christian chick-lit, artistic Christians across the western world often struggle to find their place in the evangelical community. Even with a smattering of new church plants in several urban districts with a specific ministry to artsy types, the budding playwright in Small Town, USA, is struggling to reconcile the R-rated script shes writing with her participation in the latest womens Bible study. What traditional pastor is equipped to help her find a venue for her story, if it doesnt end with the drug-addicted lead character getting saved in a church?
In Whats So Amazing About Grace?, Philip Yancey suggests that all too often the church holds up a mirror reflecting back the society around it, rather than a window revealing a different way. Like Yancey, a growing number of emerging and established artists assert that Christians should be defining culture, rather than imitating it, and these painters, writers, filmmakers, dancers and actors are finding one another among a sixteen-year-old movement that confronts this issue head-on.
International Arts Movement is a platform where artists of all disciplines wrestle with deep questions of art, faith and humanity, challenging one another to subvert cultural norms and, instead, create the world that ought to be. Founder Makoto Fujimura, internationally renowned artist, writer and NEA council member, says he dreams of the day when the rest of the world once again looks to the Church for inspiration. His latest book, River Grace, is an intimate, autobiographical look at his early years as an artist in Japan.
In a refreshingly transparent account, Mako recalls discovering Nihonga, the ancient style of painting that would become his trademark, and being awakened to a longing for "higher transcendence through the extravagant materials" that Nihonga employs. Yet it was not until reluctantly accompanying his new bride to church that he found the Object and Source of his longing, and this faith has become the cornerstone of his art, marriage and, indeed, entire life.
Endeavoring to reconcile his newfound faith with his artistic passion, Fujimura began connecting with other believers who were also creating outside the confines of religious community, and IAM began. Recent AP articles recognized Fujimura and IAM as creators of culture from within the faith community – a new breed of Christian artists, or, as many prefer, artists who are also Christians.
Today, the IAM Encounter, held annually in NYC, is a venue for reconciliation between the art and faith communities. Pastors mix with painters, and writers from both Intervarsity Press and Rolling Stone rub shoulders as artists from around the globe gather together for lectures, performances, workshops and curated art and film events. Past presenters include Dana Gioia (Chairman of the NEA), Steve Turner (author & journalist), Patricia Heaton (actress, Everybody Loves Raymond and Back to You), Miroslov Volf (theologian, Yale Divinity School), Karen Goodwin (Executive Producer, Les Miserables, Miss Saigon) and Daniel Libeskind (Architect, Master Designer of Ground Zero).
The 2008 IAM Encounter will be held at the Tribeca Performing Arts Center at Borough of Manhattan Community College Feb 28-Mar 1. Those interested in submitting their work for the curated portions should visit www.internationalartsmovement.org for more info.
Rather than shying away from secular streams, IAM encourages its ever-growing community to plunge directly into the cultural river, introducing the concepts of generative creativity and rehumanization as the mission of every follower of the Creator whose image we bear. As Hans Rookmaaker pointed out, Christ did not come to make us Christians; He came to make us fully human. For many, this begins when sub-creators prophesy to the rest of humanity, using such languages as paint on canvas, breath through an instrument,ink on paper, and actors on stage.
---

Christy

is based in New York City, where she is a performing artist, writer, speaker, and worship leader. Her articles have appeared in Discipleship Journal, Pray Magazine, and several blogs and e-zines, and she has spent time in Central Asia, Africa, Central America, and all over the US in various professional and volunteer capacities. In 2007,she joined the staff of International Arts Movement,which exists to help artists and creative catalysts wrestle with the deep questions of art, faith and humanity in order to inspire the creative community to engage the culture that is and create the world that ought to be.