By Caitlin Woodward
It was your average small-town bar. Inviting and friendly atmosphere. The evening was welcoming – its usual crowd and the stage was set to rock…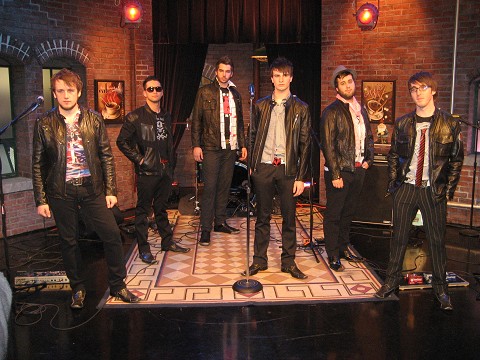 A couple years ago I had met two of Avienne's band members at a church in central Michigan. They seemed like average high school guys at the time. Mike Tooman and Chris Fader helped start the praise band for that small church. I would see them play the familiar praise songs during my visits up north. It was cute. Now, I was in the bar with them waiting backstage. The six guys of Michigan's rising alternative pop rock band, Avienne, were in the green room behind a stage ready for performance. Their anxiety, if any, was mixed with excitement and hilarity as they got prepared. Mirrors, hairspray, groupies, and a little bit of fire prepped the guys and calmed the nerves for the three set performance. Just less than a month ago these guys got noticed in a big way when Project Runway contestant, Joe Faris, provided them with a wardrobe and hair makeover which aired on the local news station in early December. That night they were looking just as rock star.
I happened to be in town that week and offered to help by shooting video during the concert. Something I'm quite familiar with and enjoy. For them, that night was quite a change from the benefits and graduation parties that started this whole thing.
Avienne includes: Mike Tooman – keys/vocals; Matt Justice – lead guitar; Kentaro Roy – violin/mandolin; Chris Fader – rhythm guitar; Ty Mattiello – bass; Justin Smith – drums. In a few short years they have allowed themselves to go through seasons of changes to become what they are today. Beginning as an exclusively Christian band, they went through cycles of band members experimenting with instruments and singers including temporary additions.
Eventually it brought them to Avienne.
As Mike explained the changes and growth to me he made sure to point out that they are not a "Christian band". That's not their vision or goal. They're a group of Christian guys striving to play excellent music. The name, Avienne, is rooted in an idea of aviation and flight. Allowing their creative license to be used, they provided their own spelling variation of the word only to show more of their unique style and heart behind the music. Discontent in what they had been doing with their music they changed direction adding hope to rise unrestrictedly above the norm.
I admit, normal is actually what I was expecting that night. The guys had three sets prepared. Three hours of performing. I got my camera and was ready for the first set of the evening. Then they showed up. Avienne proudly hit the crowd with their outstanding ability to work with the audience and also perform great music. Not only was I impressed, but I was hooked and fascinated.
As they played, they drew the audience into their passion to live with each word and beat. The music and delivery was sharp and original. Seriously, I kept coming back to the front as I was shooting to get another taste and view of what they offered. And although Kentaro was unable to play "Devil Goes Down to Georgia" with the actual fire in his hands (something about fire laws and a couch earlier that night), this young band brought the awe-factor we were all looking for. The energy and variety makes you want to be a part of what they're leading their audiences into.
Their debut album entitled Dreams.Lies.Revolution. has an intriguing mix that's just as captivating as a live concert. The bands idea of dreams include the aspirations and hopes that involve their desire to create music. They have set the bar high for themselves. These young men have ideas and creativity yet to be derailed by practical "experienced" adults. Something that sets them apart, Mike adds, is the homework assigned every week. When they practice they come with one to five new song ideas. The motivating energy to keep creating produces their own style. Sometimes what is created isn't even what the original idea was. These free and creative spirits are willing to throw in all the ideas and also work to fish out the bad ones to come out with excellence.
The revolution message in the music comes from idea of living in the community as the disciples did once Jesus left – a revolution to live with no possessions as the Acts church. Raw and real. Again, another example of how these guys want the best of life, their music, and their dreams. Just listen to track nine entitled Revolution. There's a joke it in where the verses talk about the dream and then comes the repetition of the "lie, lie, lie, lie…" Inviting, but refusing to listen to, all the doubters and pessimists in their lives and music presents a hope-filled yet relatable tune to their listeners.
Somewhat addicting, the exceptional sounds produced are uncontainably rich. They are sounds that you want to repeat and repeat until you figure out the mystery and secret Avienne's trying to share with you. The first time I heard the final track, "The Resolute", on the album I was semi-convinced these guys were just out to make noise. After some time of taking it in it has turned into one of my favorites. The first thing that attracts you to "The Resolute" is the eerie almost circus-like feel. You're drawn into a vintage tent with twirling dancers all dressed in sepia tones. The music takes you there. Mike was explaing how the birth of this song just happened. They needed a tenth song for the album so he and Matt had a race. After Mike woke up from a nap in his astronomy class he came in with an idea from the dream. The lyrics and melody came naturally. And we got the finale to the debut album. And with the finale comes the end to a great night. Kentaro amazed the audience with tricks on his violin I've never seen before. Mike danced with each beat he sang. And Ty did a complimentary flip as an encore crowd pleaser. The night could have been just another everyday occurrence. Then Avienne came and brought the color in the gray. I saw inspiration and life and hope in the music and lives of these six guys. Good luck, gentlemen. Keep rockin' and leadin' the revolution.
Currently, these guys are growing in listeners in the Ann Arbor/Detroit area. As they continue to promote Dreams.Lies.Revolution. they are preparing for their next scheduled performance in March. They've been asked to be the after party show for Fashion in Detroit on March 19.
To follow more of their news and find music check out their website.
---
Caitlin graduated from Asbury College with a degree in Media Communications and a desire for something more. She recently returned from traveling with Adventures in Missions on their World Race program. She's been wrecked for this nation and desperately wants to see the youth and young adults of American know God more intimately, actively, and selflessly.