By Jody Matheson
Is it with joy or sadness to review an album like My Soul Sings, the latest CD/DVD of the world renowned worship group, Delirious? There is joy in listening and watching a tremendous worship band perform, but sadness knowing that I've come to the Delirious? table a little too late.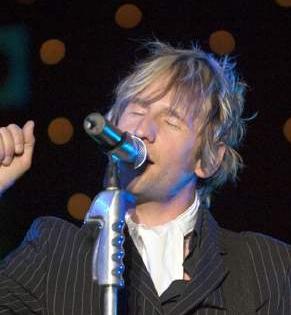 I caught up with Martin Smith, lead vocalist of Delirious?, by telephone as the band prepared to lead worship in Long Beach, California, winding down their 17 year career together at the end of 2009, to discuss their latest offering.
Not having had the joy of attending a live concert by the band, I watched the DVD recorded in Bogot, Columbia, eavesdropping joyfully with the 12,000 passionate fans. Recorded while touring their Kingdom of Comfort album, this CD/DVD combo works to create the feeling of being there for the performance.
"The DVD comes across really well. We kept it raw," explained Smith. The band can be pleased with the way the show stands to represent their concert experience, with only little cuts to the original footage.
Like their studio albums, My Soul Sings has that unique listen-ability from start to finish. Rising up to the call of "Rain Down" through to the encore of the title track, "My Soul Sings", the viewer/listener is taken up close, seeing the strain and strength of a masterful performance while hearing the passion of a God-centred worship. "God's in the center of the vision."
Worship music is to God. How is Delirious? able to maintain a humble spirit while cheering fans scream and sing and clap and jump? "We're in a rock band, and we love it. You see people's faces light up because they are connecting with God… Lyrically you can connect to people." It is this connection between fan, band, and God that has ensured Delirious? a place as one of the all-time greatest modern worship bands. "Records come and go. But when you see people connecting, that's amazing"
Martin Smith started as a worship leader at age 17 in his local church. Explains Smith, "I was asked if I could lead worship. What does that mean?' I asked. I've never done this before.'"
"Just do it anyway," was the answer his friend gave. Smith lead worship for the first time, explaining that "It was in a small church with 100 people. I had a strange sense of wow', and I enjoyed this, and people's faces were lighting up." Lead by God to lead others, the band has toured the world from sold-out arenas to slums and rubbish heaps as they met those oppressed by poverty.
So how did they settle on Columbia for what might be their final DVD? "We were playing in Columbia, been there several times. We love the people there," explained Smith. "It's still a developing country, but when you meet the people, you realize they may be ahead of us." Having fallen in love with the place and the people, they simply decided, let's record this!
The good news for serious Delirious? fans (and History Makers around the world) is that this may not be their last album. Are there still some surprises coming down the Delirious? pipeline?
"There is plans for a proper Greatest Hits album, and maybe a live album of our London Concert at the end of the year. It still has to be worked out, but we are working some things," says Smith.
The long goodbye continues as they creep closer to their final show scheduled in November in London, England.
Smith says, "Seventeen absolutely fantastic years, and we're still great friends. What a testimony it's been. The chance of us all getting together and playing again is very high. Now it's time to take a rest."
As they rest, we can continue to enjoy the timeless worship that this group of men has brought forth, released for our enjoyment.
About Martin Smith: Lead singer of Delirious?, Martin looks forward to spending more time with his young family and focusing his energy on his latest project, CompassionArt. CompassionArt was founded by Martin Smith and his wife Anna with the aim of generating income from works of art to assist in the relief of suffering around the planet, including a collection of new worship songs. CompassionArt songwriters include Stu Garrard (Delirious?), Tim Hughes, Graham Kendrick, Andy Park, Darlene Zschech, Israel Houghton, Paul Baloche, Steven Curtis Chapman, Chris Tomlin and Matt Redman. For more information on CompassionArt, visit their website at www.compassionart.tv.
---
Jody wishes to be the historymaker he was destined to be. A father of two from Canada, Jody works as a production coordinator for a local website, eh?