By Jeff Campbell
There is this field in my mind and in it I am reaping what I have sown.

Every day, all day, I am reaping what I sowed.
And it is always day.
There is one row of the field, and it is endless, almost endless in front of me and behind me. This one row is my row.
There are other rows endlessly to my left and to my right. Here, others reap what they sow.
Strange plants, knee-high and desperate for water, are in front of me. They have these fruits. Strange fruits, wrinkled and coarse. So feeble are the stalks that one of these little fruits weighs down the whole thing.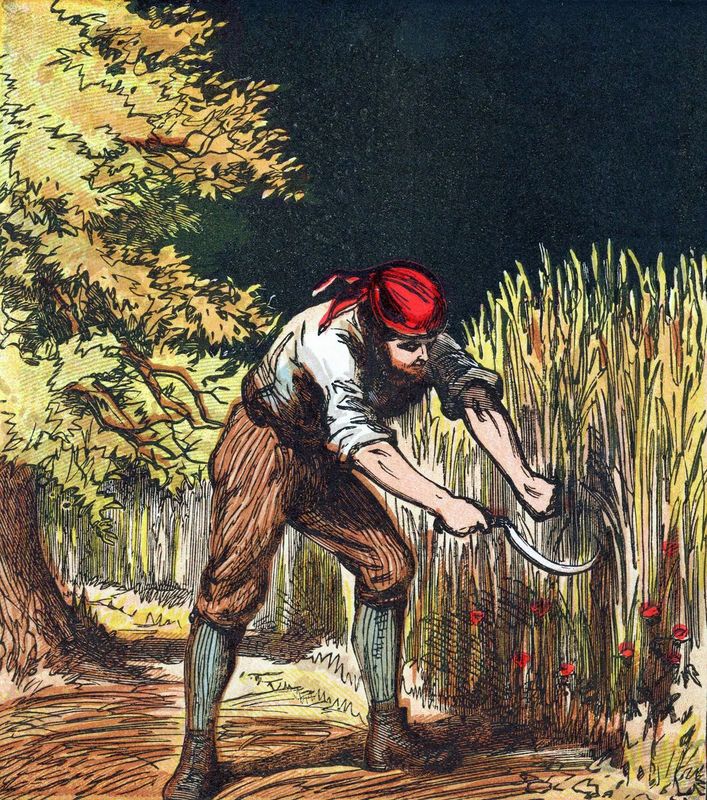 I pluck the fruit from the plant and I place it in a sack tied to my belt at my left hip.The sack doesn't ever seem to get bigger when I drop them in, though I do this nearly endlessly.
It doesn't ever seem to get smaller when I reach in and pluck one out to eat it. It does not taste like anything and I do not eat it because I am hungry. I eat it because that is what I must do.
I move slowly, and I trample the naked stalk under my booted feet. I am holding this wooden thing which is tied to something heavy behind me. It was a thing designed for a beast and not for a man. A large wooden piece, with two rusting chains trailing back behind me.
The chains are linked to something enormous behind me. I pull it slowly. It crushes the naked stalks beneath its weight.
The thing that I am dragging digs a rut in the ground. When I reach the nearly endless end of the row of the field where I reap and sow, I will turn around.
My yoke and the thing which the yoke drags will disappear. There will be another sack then, at my right hip. I will walk only slightly faster than before. I will bend down and place the seeds in the little rut I dug.

There are things that do not make sense. One of them is that on the trip down I have enough arms to hold the yoke and pluck the fruit and drop the fruit into the sack.
Something else that does not make sense is that by the time I reach the very end of my row in the field the fruits have grown back up again. I had reaped. I shall sow. And the yoke is back.
I do not know why I never look back behind me.
I know that it is some great boulder that I pull.
It is both a rock and a metaphor, and my hands grow blisters that are both metaphoric and true.
That rock is the weight of my selfishness. It is the weight of my pride. It is the weight of my hurt. It is the weight of my self-sufficiency and my delusions.
It is as large as a house, and my hands bleed where I push at the yoke.
And I remember that there was a man who said that his yoke was light and easy.
And yet he said I should take up a cross for him. He said I should lose my life for him. He said these things that I did not understand. He was the one who told me I will reap what I sow.
And I do reap what I sow. But I do not believe those other things he said.
I keep on not believing them until suddenly I do.
It is not a yoke I am hauling anymore but a cross, suddenly. A cross. His cross. My cross. The weight is different. It is light and yet it is not. Because it is not my strength that carries it but his, his strength somehow through me.
And this is not a burden meant for a beast. This is a burden made for a man. It is the weight I was born to carry. It is both easy and not easy, but I was born to carry it and the strength does not come from me to carry it; it simply flows through me.
I reach down and pluck one of the fruits by my knees. I am surprised at its redness. I am surprised that it is sweet.
---

Jeff is attempting to follow Jesus' revolutionary call on his life as a father of three, a husband, Special Education Teacher, and Director of Small Groups at Fellowship Church in Holden, Massachusetts. He frequently tells his kids–much to their great annoyance– that he'd like to be a fireman when he grows up.