By Jeff Goins, Editor
I saw The Book of Eli the other night, and ever since, I've been telling all my friends to drop what they're doing and go see it before it leaves theaters. It was that good. The visual effects are stunning, the story line is rich, and the plot is full of twists and turns that are ultimately redemptive.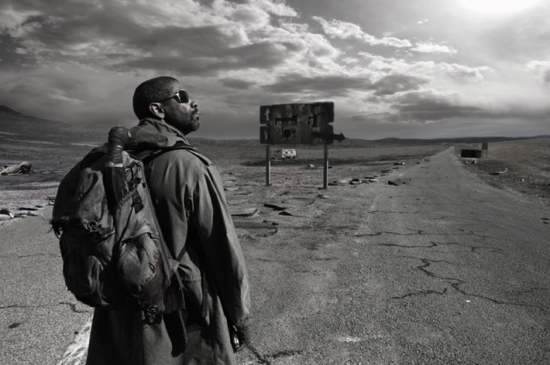 Hollywood finally does a decent job of representing a faith-based worldview without resorting to downright blasphemy or relativism. The wanton violence and desperation of the land is juxtaposed with the hope of one book carried by a man named Eli (Denzel Washington).
Set in a post-apocalyptic world (think: Mad Max in the United States), The Book of Eli isn't a story about love between two people or war between nations; it's not about the plight of pandemic disease or global warming. It's a story about a book. One very powerful book and its relationship to humanity.
Believe it or not, the book is actually the Bible — it's not a book that's implied to be the Bible or any other religious text. It's the actual King James Version, leather-bound, coffee-table-sized Holy Bible.
This sacred book that everyone is trying to get their hands on is believed to carry incredible power. Most recognize its potency — if for no other reason than the fact that so many are trying to find one. Some even see it as a means of control, to be used to gain power and subjugate other people. The main antagonist Carnegie (Gary Oldman) knows that this will work, because, "It's worked before." There are a few, like Eli, who see the book as a means of enacting mercy and justice; in it, they find a message of inherent human dignity and self-sacrifice.

Much in the spirit of 300, but without quite so much gore and "cartoonishness", the contrasts are high, and the colors are bleak. We know little about the current state of the planet, other than it has been 30 years since "The War", and few things are as they once were. Most people aren't from the previous age; all that they know is this bleak, illiterate world, full of chaos and lawlessness.
The film throws out a few subtle and not-so-subtle critiques of America — everything from religious legalism to American consumerism is addressed explicitly or implicitly. As Eli explains to the young Solara (Mila Kunis) our current economy, she is stunned (and so should we):
"People had more than they needed. We had no idea what was precious and what wasn't. We through away things people kill each other now. People had more than they needed. We had no idea what was precious and what wasn't. We through away things people kill each other now."
Aside from a couple of poorly-quoted Bible verses (he does a hodge-podge of translations when quoting Psalm 23) and one cheesy final scene that almost undoes the redemption of Kunis (she is branded in my mind as "That Seventies Show Girl"), The Book of Eli is impeccable. It may be one of the best mainstream movies about faith, God, and spirituality in the past ten years. As far as I'm concerned, it's close to Gran Torino (which I thought was fantastic) in its ability to portray the message of the Gospel through a culturally-relevant story that is ultimately redemptive.
On a personal level, this movie really convicted me. I have at least 10 Bibles at home (not an exaggeration), and sometimes go days without reading one of them. And I just saw a movie where people killed to get one… and protect one. However, the feeling it evoked more than anything else was gratitude.
It's trendy these days to criticize the Bible, to believe that it is merely an aid to help one grow closer to God. I am most definitely guilty of thinking that I don't need the Bible. But when you see films like this, it reminds you that this is not just any book. It does indeed contain the words of life that can change an individual and the world… for better or worse.
Having seen The Book of Eli, I now have a better appreciation of the importance of religious scribes who ensured the accuracy in translation (and transcription) of God's Word. I understand why Ezra was so emphatic about reading the Book of the Law to the Israelites when they returned to the Holy City. It makes more sense to me why the Reformers fought so hard to get the Bible into the hands of everyday people. It's no wonder that Christians in persecuted countries die for a little scrap of the New Testament.
Carnegie was right. There really is power in that book.
---

Jeff graduated from Illinois College, a small liberal arts school, with a degree in Spanish and Religion. He lives in Nashville, TN. He works for Adventures In Missions, edits this silly little magazine, and loves to do new things. He just got married in January. Check out his blog: Pilgrimage of the Heart.