By Sammi Deem
As Joy Ike ordered her tea at an urban Starbucks in Pittsburgh, PA one of the baristas squealed, Are you Joy Ike? Flattered and surprised, Ike responded and asked the barista if she had been to a show recently. They talked for a few moments longer and then Ike joined me at a nearby table. While Starbucks is wonderful for a multitude of reasons, it was particularly helpful in providing a glimpse into Joy Ike- the musician.
Ike later added that she hopes to reach those who think they are too far out to be reached by grace. Seeing her explain the Biblical context to her new Starbucks friend told me she is making her hopes come true with her unique style and strong character.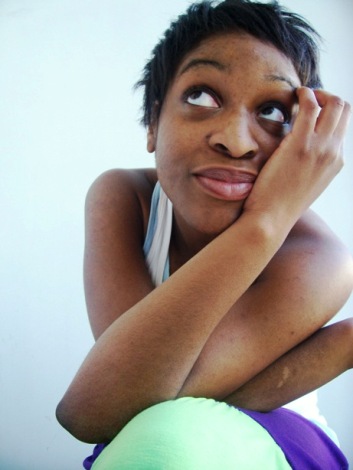 I feel like there is a movement… of churches in general that are starting to look outside the congregation and outside the four walls… Thats the kind of the same audience I am trying to reach with my music. [I am hoping to reach] the people who arent necessarily Christians, but [those who] have that same heart to do good things, Ike says as a mission statement for her music.
In regards to style however, a genre did not come as easily. As I prepared to play Good Morning after the interview, I had no idea what to expect from this album. When I asked her what her musics genre is, she described a lot of different things including soul, pop, jazz, and indie.
Each genre fits into one or more songs on the album. Additionally, Ike has been referred to as the next Fiona Apple, Corrine Bailey Rae, or Norah Jones and she really does fit in well with these accomplished ladies. As a musician, Ike has a good artistic sense that creates lyrically and instrumentally strong music. What Ike does best however, is relate to her listeners.
Saleem Ghubril of the Pittsburgh Project put it well when he described Ike as, artistically captivating, lyrically engaging, vocally enthralling, and spiritually real. [Ike] has a gift that addresses the human experience honestly, interestingly, and hopefully.
Ikes lyrics not only connect to her listeners but they inspire, challenge, and motivate her listeners to push through lifes toughest spots one day at a time.
In the track Strongman, Ike sings, Im fighting my strongman/ I put him in a can / He tried to put me down / I almost let him win / I ran just for a while / But I found that I got tired / So I turned right back around / And burned him with some fire
The strengths of this song lie in the simple diction that addresses the human struggle with a pure perspective. As Ike described the struggles she had come through she made two strong points: I want people to resonate with what Im talking about. A lot of the things I talk about are issues I deal with. I want people to reevaluate what they believeThere is no one that is far from redemption. Everyone struggles through things. That seems to be more of a general motto for Ikes music.
While Ike tends to shy away from mottos, genres, and classification, she does contend that shes completely sold out on one thing. I think humans universally struggle with the same things: figuring out our purpose in life, deciding what we think about God, learning how to relate to each other and struggling through the day-to-day to stay afloat. That is what my songs are about. Since I struggle with these things daily, writing is naturally what I do with them, Ike comments to the Pittsburgh Post Gazette.
In spite of her consistent theme of struggle, Ikes music is uplifting and her relationship with her listeners is strong. She creates a community among people, both churched and unchurched, that allows all of them to know that they are not alone.
I feel like Americans in general dont get the idea of community. Everyone is so independent, and we dont really care about each other and if we do we dont show it, Ike adds.
Her mission to create community through her music, mixed with her musically pleasing voice and well-combined piano/percussion back up, creates a great style of purpose-driven music. It can change your day, start your week off right, or even get you through a tough time. Ike is definitely worth checking out.
For more about Ike visit her website or her Myspace page, where you can download the song "Strongman" for free.

If you liked this article, check out: Wrecked by the Ordinary: A struggle for self-worth
---

Sammi
, age 17, is currently taking classes at La Roche College in Pittsburgh while still a high school student. Next fall she will be a freshman at Taylor University where she will pursue a dual degree in Communications and Christian Education. She works for the
Silver Ring Thing
and at Target as a cashier.