By Mariah Secrest
If you and I were to sit down to coffee together, you would quickly learn that my two loves (besides coffee, which makes three) are music and philosophy. File away the part about music for now; I'll get back to it. For now I want to give a brief sketch of a philosophical theory for those of you who aren't philosophy majors (which I suspect is the vast majority of my readers).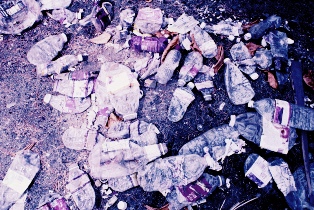 The funny thing about philosophy is that in its subfield of ethics people often try to set up complete moral structures entirely independent of any spiritual or religious framework. Peter Singer is a modern advocate of an ethical method using what's called a utilitarian approach. Reduced to bare bones, this approach says that we should choose behaviors which maximize universal happiness and minimize universal pain. That sounds good enough. And to be fair, what Singer proposes in addressing the issue of poverty is that we be much more sacrificial than we are.
However, when reading through his approach I got the feeling that this is a view that aims to spread out our resources as thin as possible to reach as many as possible. I get that to an extent, but this is where my conception of God interjects and infuses reason with a more holistic flavor. What Singer proposes is eradicating any and all luxuries in lieu of basic necessities for all. Surely, we could all forego a few toys and buy food for the hungry.
But I have to think that Jesus was a bit of an extravagant lover. Wasn't he luxurious with the way He made the world, with the way He showed us love, and the way he modeled for us? He made time for people before he rushed onto the next person in need. He healed their legs and addressed their spiritual state. He healed the lepers and touched them. Then also, there's the curious bit when Mary Magdalene broke expensive perfume over His feet. The religious leaders were outraged at the waste. The money could have been given to the poor. You'd think Jesus would advocate this type of frugality that leaders suggested. And yet he praised her lavishness. Clearly, beauty and tending to the soul's needs was not inconsequential to Christ. It was not wasteful. He considered extravagant love appropriate. This wasn't even practical-purely symbolic. Yet he praised this lavish act of symbolism.
I think there's a certain attention to beauty and to the needs of the soul that we have to keep in mind when we love the world. As a musician and philosopher, sometimes I wonder whether I'm really making a tangible difference in the hard world we live in. Is there room for art when people need food and medicine and shelter? I think there is, and I think the hungry and sick and homeless are at the top of the list of people who need beauty the most.
To be honest, I spend most of my time studying ideas and creating music. But I started taking a guitar to an empty lot now and then where a local organization serves dinner to homeless people. I don't serve food when I'm there. I don't hand out clothes. I'm really glad other people do that. But I play songs for them while they eat. This week a lady in a wheelchair wheeled up to me after the meal and thanked me, "Your music is important, honey. People may look like they're busy eating, but they're really listening. They're listening."
I also started making baby blankets for refugee babies here in Tucson (which has a large foreign refugee population). I'm really slow. They take a lot of time, and I could be much more efficient by going to Target and buying a 3-pack of receiving blankets. But somehow I feel okay taking the inefficient route. The point is not really the blankets. The point is the love and time invested. These are some really small things, and I don't do them as much as I should. But it's a start in this quest to understand what the world needs from us. The world needs more than material provisions. The world needs people who see them as just that-other people. Whole people, with bodies and souls and a God-given hunger for beauty. And all of us have something worthwhile to give them.

If you liked this article, check out: The Beauty of God: Like Clutching a Slippery Fish
---

Mariah has currently landed herself in Tucson, Arizona, where she's finishing a philosophy degree.She enjoys writing almost as she enjoys making music. Almost. You can visit her on Myspace at www.myspace.com/mariahsecrestmusic .