By Quoleshna Elbert
Artists Helping the Homeless Combining Compassion and Art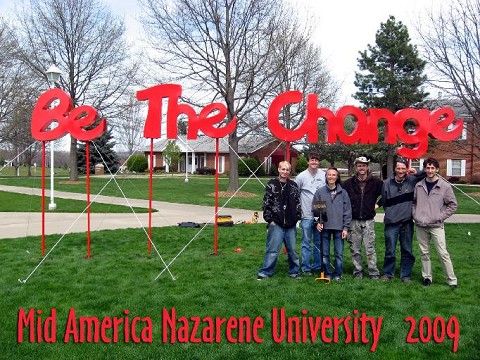 A long, long time ago a certain gentleman moved himself and his business from the suburbs of Kansas City to a land that was no place like home…the city's Plaza area. With a Paris, France layout and central location, this outdoor shopping area is a place where many roads meet. And, it is here that Kar Woo, founder of Artists Helping the Homeless, met the people that would change his life.
"I lived in Johnson County my whole life," Mr. Woo states, "So that's like twenty-some years so I don't encounter a lot of homeless people. In the city you see them a lot more." His daily walks with his pup created the opportunity and introduction to speak with homeless people that frequented his neighborhood.
Through conversation he became their friends.
Through friendship he became attentive to their needs and began to help.
Through attentiveness he became aware of another organization that was assisting his new friends: the students from the Mid America Nazarene University who sponsored a weekly food program.
The students and Mr. Woo teamed up working to bring awareness to the needs of the people and the opportunity for an individual to impact the scenery of their community.
"I think a lot of time people need inspiration," he explains.
His resulting flower sculpture, entitled "Be the Change," is a traveling installation that is displayed at various public locations. He hopes to inspire a similar change triggered in him through the simple act of walking his dog and taking out some time for the people whose paths he crossed. The flowers represents the idea that we can change not only for other people but for ourselves. It's an image showcasing the bold change we can experience…if we choose to.
The flowers also embody the idea that the sum is greater than its parts.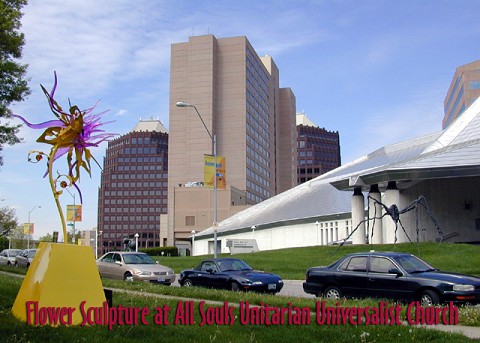 Though Mr. Woo first began working with the students, then with the Art Institute and with St. Lukes Hospital, he has sought and appreciated the help of churches because he realizes the importance of engaging the church in community-oriented outreaches, regardless of denomination. "Church makes sense to me because churches are the communities. Different kinds of people go to churches, the family-everybody goes there."
"My goal is a community involvement instead of just me…because we understand that it's something that we can't solve, but as a group we can get more things done. Each one of us cannot do as much but together as a team we can do a lot more."
You don't have to be rich to help; as Mr. Woo observed, those with the least often give the most. But involvement is encouraged because, "it's an issue we cannot not address."
As of March 2009, the not-for-profit organization has helped serve over 6000 meals.
Though not rich himself, in the past Mr. Woo has gone as far as opening up his own home for a mother and child. With additional assistance from the Salvation Army, the small family has since moved into a house.
In October, Artists Helping the Homeless and the students of Mid America Nazarene University are planning the launch of a weekly food program in Olathe. They intend to implement sit-down service as opposed to the standard assembly line approach; building relationships that nurture dignity and self-esteem are paramount.
"We don't treat them as homeless, we treat them as friends."
"First we give the meal, then we give the supplies, then we give the medication and as we go step-by-step we get to know them."
Mr. Woo enjoys what he does, but he's gained wisdom, as well.
Though he's always been zealous about helping others he knew that, for him, he needed to also involve his love of art to ensure longevity.
"We have to take care of ourselves first before we take care of others…the only way we can help people is to be healthy…I think that's why people burn out."
He's learned to give service or product, but never money. And, he learned the value of focusing limited resources on those willing to do the work necessary to change their lives.
Currently, Artists Helping the Homeless is seeking a laundry facility that can afford its friends the opportunity to enjoy the luxury of clean clothing. Mr. Woo is also working with the organization, "100 Black Men of Kansas City" in order to start an exercise program for inner city youth that will promote discipline and encourage academic involvement.
If you would like to get involved, here's how:
Donations
Monetary donations are very needed and welcome! As Mr. Woo laughingly said re: fundraising, "it's wonderful to do all the fun awareness but someone has to help us!"

Supplies – winter clothing desperately needed, as well as socks and tennis shoes. There is also a request page on the website where some specific requests have been made by individual homeless people.

Art! Donate your art and the proceeds from its sale.
Ways to Volunteer

Every Sunday @ 5pm at Mill Creek Park
Every Thursday in Olathe (starting Oct/Sept. 2009)
Write [email protected] for opportunities to help!
www.artistshelpingthehomeless.org
---
Writing lyrics, consuming lots of sugary tea and dancing–these are a few of Quoleshna's favorite things. She's passionate about full-throttle, godly exploration of God-given talents. Currently, she's working on handcrafted, comfy, fun and elegant fashion accessories. Visit http://connect.tangle.com/quoleshna for extended vids or if you feel led, contact her: [email protected].