By Jonathan Griffiths
Imagine a road that features a whole assortment of houses. There's a regular two-story family house and next to it sits a puzzlingly large mansion, replete in splendor with manicured lawns and wrought iron gates. Over the road, a humble bungalow sits quietly, looking cozy and charming. 

There's a high-rise of flats, a camper van and even an underground bunker. This is surely a strange neighborhood, but also quite inviting in a Tim Burton-esque fashion.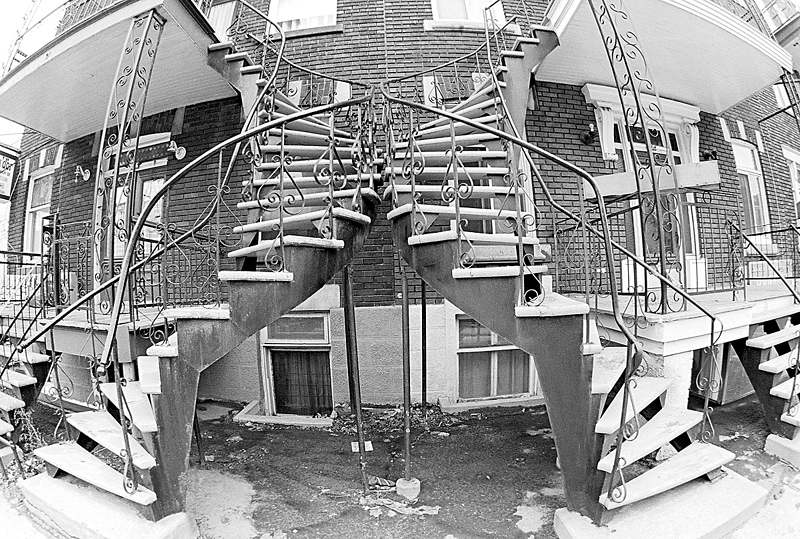 You decide to move your family onto this bizarre road and, after conversations with various realtors, pick the regular family house. Having toured the properties, you're convinced that this is structurally sound and will be the perfect environment for raising children, and pursuing your dreams. 

At first things are almost perfect. Actually, you tell yourself they are perfect, but deep down that squeaky door bugs you, and you can't understand for the life of you why they put the power outlets where they did. Still, it's an interesting road to live on and the newness of it all makes you feel content, satisfied that life is proceeding as it was intended.


Over the next couple of years another baby or two join the existing children and slowly the pleasant house has started to look a little frayed around the edges. The door is piercingly loud when it squeaks, but there's never time to do anything about it because of the kids, and work, and that book you've been meaning to read for ages now. One day the frustration mounts so high that you slam the squeaking door and suddenly a crack appears across the plaster between the doorframe and the ceiling. 


The crack stares at you accusingly. You stare back. The crack wins.


You've noticed by now that the mansion down the road has become more affordable to you (that raise sure helped!). After making inquiries you move the expanded family into its luscious environment. Three months of joy ensue, then the proverbial meteor strikes – the company in which you've been cheerfully working your way up goes belly-up and you're left high and dry. There are some savings to get you through but you know there isn't going to be enough to last through the rough economy. So, you and your spouse decide that, with such a large residence, you can rent out some rooms to people and probably not even notice their presence. Ads are placed, showings provided, rates discussed and finally a college student and a retired couple move into separate wings of the house.


Now the bills are being made, even though the job you took pays significantly less than you previously made. With this new dependency on people comes something you hadn't reckoned on: the evidence of their existence. Though you hardly see your co-habiters, they leave an unmistakable mark on the mansion in a myriad little ways, and, to top it all, things are breaking down again. 


With the market not picking up, and with the mansion being too much to handle, you look around at the options. You've gotten quite attached to this road by now, and don't want to leave, but you want a more simple living arrangement. You move into the bunker, and feel the peaceful silence settle around you. That becomes too much eventually and the kids are grown up now, so you move to the bungalow: small, intimate, cozy. 

Yet everywhere you go, disappointment and longing for better follows you. None of these structures is up to par; all of them are a let down. 


Does this ring a bell?
Let me get this straight — I love the church. I love her deeply. She is the bride of Christ, and He "gave Himself…to purify for Himself a people for His own possession" (Titus 2:14 ESV). We are called to unity and peace (Eph. 4:1-3), yet most of what I see happening is Christian sub-culture turf wars. The Simples against the Legacies, the Organic vs. the Denominational Hierarchy, the Home Church in one corner and the Multi-Campus-Media-Bonanza in the other. How does that look to the world? The unity of Christ that is to be such a witness is being run over by the Church herself and it's infuriating!


Here's where we got things backwards: we assumed that the structure was the problem and that we needed to get a new one. Just as our proverbial family above moved from property to property in search of the elusive contentment they so deeply wanted, we find ourselves moving from church model to church model. The church is the people who belong to Jesus. This church also has to function practically and we see glimpses of that functionality from our New Testament scriptures (most notably in Acts and the Epistles). Sometimes we see direct commands, sometimes we get to see hints or suggestions of practice. But regardless of whether or not you like the structure of local church bodies, we cannot escape the fact that there must be some kind of structure. Even a "non-structural model" has by its very existence a structure. 


Structure is not the problem.
Once more, and with feeling: structure is not the problem! Sure, there are some structural elements that are off-limits, such as the spiritual equivalent of an S&M dungeon, but most basic structures are not inherently good or bad, they're just structures.


Do you want to know what the problem really is? The Church. Yep, that's you and me. We are the problem. We are the ones who don't forgive, who get disgruntled because of one thing or another, and then head off to check out that nice little bungalow, or that sweet pad on the top floor of the high-rise. We sometimes get the sense that Jesus has left the building, but instead of sticking around to figure out why and to ask Him to come back, we walk out and leave a monument to disrepair, brokenness and sorrow.
Why would the rest of the world be interested in that? Why would anyone move into a neighborhood where people are leaning out their window taking potshots at the neighbors?


If you've slammed the door and cracked the wall, stick around and patch things up! And please, for the sake of the unity of the body, stop taking stabs at each other. We all desperately need Jesus, we all desperately need Him to oversee and govern whichever structure we happen to operate within, be that a simple church network, traditional denomination or anything else that constitutes the gathering together of saints.
If you liked this article check out Convenient Amnesia: Has the Church Lost Her Way?
---
Jonathan is an English exile learning to follow Jesus each day as an assistant pastor in Nampa, Idaho. He is married to Sarah Grace and has two sons named David and Charlie. He blogs at Project Reclamation when the mood strikes and reviews at Reflective Musings for various organizations.