By Jeff Goins, Editor
Angry Conversations With God: A Snarky But Authentic Spiritual Memoir, is written by actor/comedienne Susan E. Isaacs. Jobless, loveless, and living over a garage, Susan knew only one thing to do when she hit rock bottom at age forty: She took God to marriage counseling. Casting herself as the neglected spouse, Susan soon confronts her inner nag and the unrealistic expectations she put on God and herself.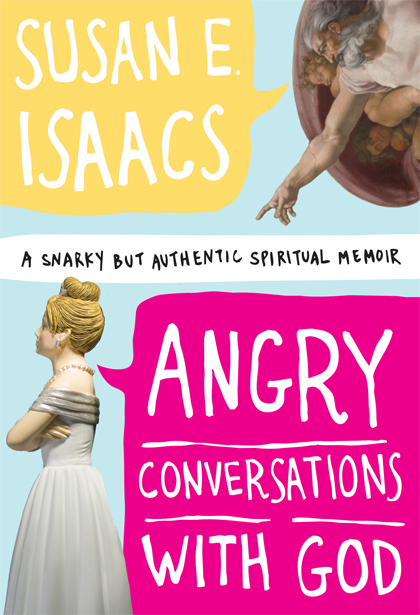 Wrecked recently had the chance to interview Isaacs about the book.
Wrecked: How did you get the idea to write Angry Conversations with God? What set into the motion the writing of this book?
Isaacs: I'd read that book, The Sacred Romance, whose premise is: our relationship with God is like a marriage. I was in a comedy group, and I thought it would be fun to write a sketch about taking God to marriage counseling – imagining the squabbles we'd have, me complaining he was seeing other people, God claming I never gave him any quality time. The sketch was a huge hit with our audience.
A couple years later my life fell apart: father died, mother had a stroke. My acting career tanked just as my comedy friends got their big breaks; plus, they all got married that summer just as my 3-year relationship fell apart. It had a snowball effect: my spiritual life fell apart. I wondered if God was good, if he cared, if he'd ever been involved in my life or I just made it all up.
I went to see a Christian therapist to put myself back together. Eventually I realized that my image of God was a patchwork of truth and fiction. A mix of good teaching, bad cultural ideas and personal expectations. I had to tear down and rebuild my image of God — and let the real God show up. It was terrifying.
Right before my life fell apart I joined a writer's group to develop a solo show. When the excrement hit the ventilation system, all I could do was rant about God. It was a totally secular group, but they supported me 100%. I work-shopped that show for about a year and a half, kept writing and adding material. And my life came back together. I credit the writer's group and my therapist.
When an editor contacted me about my writing, I pitched the solo show as a book, and it was approved. The story evolved as I wrote the book. And God healed me as I wrote the book. I gained perspective on where God had been throughout my life. He even allowed me to speak and he would answer. God showed up for the whole process. Art is an amazing healer.
Wrecked: When you speak in front of audiences, you're painfully honest about your own shortcomings and frustrations with spirituality/religion. How important do you think honesty/authenticity (oops, there goes that
buzzword!) is in a person's relationship with God?
Isaacs: Actors are courageous when it comes to being vulnerable and honest. But we are cowards at other things: Like working 9 to 5 jobs and just being normal and anonymous. And honesty is relative: "the heart is deceitful above all else, who can know it?" I was quick to expose the church and blame it for my problems. But I credit my writing teacher and my group — they forced me expose my own crap.
Honesty is crucial to our relationship with God. Some people wondered how I dare be angry at God? Well, read the Psalms or Lamentations. They lob some hefty complaints at the Almighty. And yet they were God's spokespeople. Anger and disappointment are normal reactions to living in a fallen world. Why hide it? God already knows what's in our hearts. When I finally lobbed all those accusations at God in counseling or writing, I imagine He breathed a sigh of relief. "At last! Now I can actually respond to you because you're willing to admit how you REALLY feel." Of course I had to sit still and listen to a real response from the True God; not imagine a "sorry" from a wimpy Jesus; or a contemptuous dismissal from a drill sergeant God the Father. Those were my idols: the drill sergeant Father and the Wimpy Jesus.
I had to be wiling to listen to the Real God.
Wrecked: What was it like to travel around the country with Don Miller? Is he cool? Does he snore? Do you have any dirt on him?
Isaacs: Don is colorblind and cannot smell out of one nostril. So tragic; I blame his cross-country bike ride. No seriously… Sorry, there is no dirt to report. He's just a smart and funny guy. And very generous: he let me get up there every night and do my thing. He let my husband Larry tag along as much as he could get free from work. But if I get one more email from a single woman saying she's really Don's soul mate and can I introduce her, I'm gonna go nuts.
Wrecked: Do you have any other books in the works currently? What's next for you?
Isaacs: I'm reworking the full-length version of my solo show based on the book. I'm also writing the proposal for my next book: Racy Conversations With God About Sex, Purity, and Intimacy. The whole clusterfuzzle of Christian singleness. I think my third book will be about returning to The Church with a new sense of hope and commitment.
Wrecked: We're always interested in hearing what writers are reading. What's on your list? Anything good that you've picked up lately?
Isaacs: My husband and I facilitate a church small group. We went through Luke and now we are on Acts, using N.T. Wright's terrific study guides. I was used to proof-texting and pulling scriptures out to apply them to myself alone I am learning the cultural and biblical context of the books: reading them from Luke's POV and culture, rather than some self-centered American POV.
I'm reading a few advance-copies of forthcoming books: Michael Sares' Pure Scum about his church in Denver: Scum of the Earth. Jesus Freak by Sara Miles and I just finished Matthew Paul Turner's upcoming Hear No Evil. They're all terrific.
On my To-Read list are: Wendell Berry's The Memory of Old Jack and This Is Where I Leave You by Jonathan Tropper.
Wrecked: How has you relationship with God changed since writing the book and the events that led up to it?
Isaacs: I don't question his goodness or love. I know he won't guarantee my safety, comfort or happiness, but he guarantees he will be with me through anything. I haven't completely eradicated the Blame Game. But when a crisis arises, after my initial knee-jerk reaction I try to pray, "OK God, what do you want me to learn from this? What is my responsibility in this situation? Thank you for this chance to grow." My 12 Step group calls it an AFGO: Another F–ing Growth Opportunity.
Wrecked: Random question: Do you have any regrets in life? In Angry Conversations, you talk about some pretty tough things you've gone through personally. Would you take any of it back, or did the pain help you become the person you are today? Or is that just a cliche?
Isaacs: I have tons of regrets. I wish I hadn't spent years sitting in church, waiting on God to make my life happen, professionally and relationally. I am quite sure God would rather I hadn't made those mistakes, that I had taken advantage of every opportunity and blessing he had for me. But I made mistakes, willfully disobeyed, and got confused by poor teaching and well-meaning people.
But there's a difference between regret and mourning. Lauren Winner had a great chapter about mour
ning in her book, Mudhouse Sabbath. Jews sit shiva to mourn the loss of a loved one: taking a year to mourn someone actually honors them, and heals you. I wish the Protestant Church hadn't dismantled the office of confession. There's something very cleansing about getting things off your chest in the presence of another person.
Regret, on the other hand, doesn't honor anything or give relief to anyone. Regret paralyzes you. And regret is usually tinged with envy (of those who have what you lost) and self-incrimination that will not forgive you for your own mistakes. Regret is a taskmaster; mourning is a healer.
That being said, we are never going to avoid mistakes, because we live in a fallen world and we are fallen. God is the ultimate conservationist. He can recycle our failures, heal us and bless others. I am so thankful he redeemed life and gave me a chance to encourage others who've made similar mistakes. Your life is not over. Bring what you have to God, and he'll say, "Good. I can work with this."
If you haven't already done so, check out the book review of Angry Conversations with God and if you're ready to buy the book, click here. To find out more about Susan Isaacs and her writing, visit the site: Angry Conversations with God.
---

Jeff graduated from Illinois College, a small liberal arts school, with a degree in Spanish and Religion. He lives in Nashville, TN. He works for Adventures In Missions, edits this silly little magazine, and loves to do new things. He just got married in January. Check out his blog: Pilgrimage of the Heart.