By Jeff Goins, Editor
I was meeting my friend Saul for breakfast early one Friday morning, before we started our last day of work for the week. I brought in a book that had been recommended to me by a friend on the off-chance that I'd get a few minutes to read a couple pages before cracking open my laptop.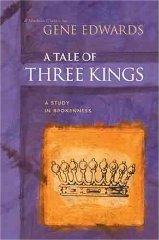 After a carafe of gourmet coffee, fully digesting a couple crepes, and bidding farewell to Saul, I picked up A Tale of Three Kings. It was a short book (no more than 100 pages) with some cheesy artwork on the cover. It seemed a harmless way to spend fifteen minutes before the busyness of life swept me away for the next eight hours. That was around 8:45 am.
Around 11 am, I finished the last page of the book, my heart beating rapidly with conviction and my eyes red from the tears that poured down my cheeks. The subtitle "A study in brokenness" was right on.
The three kings described in this little parable (which has been turned into a play by many churches and acting troupes to date) are the stories of Saul, David, and Absalom. Each man has his chance at kingship, that is, to lord and steward a group of people under his authority. If you know the biblical accounts of these three kings, please bear with the following synopsis…
Saul, though once God's "anointed," has abused this privilege and responsibility, maddened with jealousy and greed, and seeks to destroy David, his loyal servant. He sees the young charismatic leader as a threat and instead of using his servant's talents to serve the and improve the kingdom, he throws spears at the warrior-musician. The boy is eventually forced into hiding in caves and wandering the countryside, because his king has commanded his own army to also throw spears at David.
David eventually becomes king and makes his own fair share of mistakes, but later in his life, he faces a similar situation as Saul, yet with his own son Absalom. Absalom thinks that he can run the kingdom better and seeks to overthrow his father. David, somewhat passively, will not destroy his son; that is, he won't become a "Saul" and throw spears at the young, misguided boy. He is eventually forced off the throne and still does not fight back. He believes that God and God alone will vindicate him. And the Lord does just that.
In A Tale of Three Kings, we see the parallel of divisions in the Christian church. We see young "Absaloms" criticizing the leadership. In fact, many of us are guilty of claiming that we could do a "better job." When our own talents aren't recognized, we, like Absalom, rally a faction and overthrow the leadership by force or build our own little "kingdom" elsewhere. We also see old "Sauls" who, though anointed, are jealous and bent on destroying those who might compete with their authority. They throw "spears" – in the form of false accusations and rumors – at anyone who threatens them. And every once in awhile, we see a "David" – a man after God's heart who has his own share of regrets but refuses to become that which almost destroys him. The premise of the book is that an "Absalom" – that is, someone who takes spiritual authority by force or manipulation – eventually becomes a "Saul" – a tyrant who will squash any and all opposition or difference of opinion.
I gave the book to an elder in my church, and he passed it onto our pastor. This book is a study in brokenness, because it is about humanity – a beautiful but broken piece of Creation that intentionally hurts each other, that manipulates and coerces, that refuses to love as we ought despite the fact that Love-in-flesh laid down his life for us. I wept as I read this, because I didn't just see the people who have thrown spears at me during my time in ministry; I also saw myself: criticizing authority in dark corners, manipulating my way to the top, and fearfully clutching onto my own little sphere of influence and control.
While this is a book about brokenness, it's also about reconciliation, about the choice that we have to make – to courageously choose to be a David, even when the fate of our ministry may be at stake, to love when it is tough and not repay evil with evil. This is the church that Jesus talked about, the one that Paul encouraged, the one that you and I can still be… if we are honest with ourselves and brave enough to be a "David."
Discussing this book with a middle-aged pastor the other week, I heard him say, "At different times in my life, I've been each one: Absalom, Saul, and David."
I guess we all have.
If you liked this article, check out The Kings Court: A Fairy Tale, Pt. 1
---

Jeff graduated from Illinois College, a small liberal arts school, with a degree in Spanish and Religion. He lives in Nashville, TN. He works for Adventures in Missions, edits this silly little magazine, and loves to do new things. He just got married in January.