By Cary Campbell Umhau
Give me one good reason that I have to choose either falafel or Tater Tots. Cant we all be friends?
When my proper Southern Baptist grandmother acceded to my request and took me to see Hells Angels on Wheels at the movie theater when I was a child, I loved sitting in the dark theater with her, my young cousins and a multitude of bikers in black leather. I felt safe and intrigued, and I realized then what has become a reality of my life: I enjoy straddling two worlds.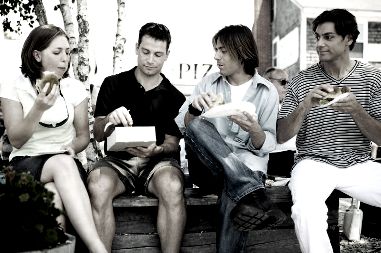 Not that I inhabit a biker world per se. No, its broader than that. The straddling concept permeates my preferences, hobbies, leanings, friendships, reading material and – yes – food tastes. Dont we all feel that way too complicated to be defined with one label, by one aspect of our multi-faceted lives? Dont put me in a box; its dark and dull in there.
Living in Washington, DC during an election year as we do, people want to assume we are one of their tribe. Or that were not. Friends want to know if they can count on my vote. Can they size me up? Am I on the right side? Do I pass the litmus tests? Purple is my new favorite color.
Living in a particular part of town, I sense that people react to my zip code as if they already know me and what I represent. Id rather be a collage than a typed-up rsum, wouldnt you? Im likely to wax poetic about having a downtown heart though I dont live in the inner city. Where I live just might not be who I am. I appreciate manicured lawns; I also find graffiti beautiful.
Im middle-aged but I enjoy Facebook, technology and some music that my peers dont love (not just obscure alternative bands but Gregorian chants). I can wear a dignified suit when I need to, but I prefer what have been affectionately dubbed my "khakis from hell, comfort often trumping style.
My mail carrier must wonder if our home is a reality TV experiment in various groups trying to coexist peacefully. Can Christianity Today and The Utne Reader fit through the same mail slot? Is there a collision in cyberspace when, here in DC where I live, The Rock and Roll Hotel and The Kennedy Center both fill me in on upcoming events?
The diversity in my world and relationships is exemplified by a story about a recent lunch with a young, pumps-and-pearls friend who worked at the White House in the current administration. I took her to one of my favorite places, Busboys and Poets, without focusing on the fact that the White House crowd probably doesnt regularly hang out there. She said, upon my return from the restroom, I enjoyed perusing the anarchy section of the bookstore. When I asked her if the atmosphere was a bit subversive for her tastes, she said admirably, I thought, Theres nothing I like more than subversiveness unless its anarchy! Touch
I wanted to override my daughters guest list for her recent graduation party for the sake of avoiding potentially awkward situations. Yet the experiment in commingling cultures went beautifully. We mixed teetotaling home schoolers with folks recently out of rehab, grandparents with toddlers, artists with scientists, even Republicans and Democrats. People commented on how nice it was to be with "a different crowd for a change, and our faith in humanity was restored. No one likes to be squashed into boxes.
Part of the growing breed of Christians who dont want to be too narrowly defined, I have found that the Bible calls us to, yes, obedience and holiness but – above all – love. Sitting in a coffee shop recently listening to a tattooed and pierced group of friends telling of their weekend exploits and indulgences, I wanted so badly to pull up a chair and be a part of their group, but I feared that my relatively conventional-looking demeanor would probably have slowed down the conversation needlessly.
Yet I pictured Jesus sitting among them ordering more black coffee to help with the hangovers and laughing and loving them, even as he had something unexpected and winsome to say to the soccer moms in carpool lines and to the folks at the shopping malls in the suburbs. Im guessing he wouldnt have used the words us and them at all. And so I dont want to either.
Theres no particular virtue in eating falafel and Tater Tots off the same plate. But its fun and it certainly keeps the purists (on either side) guessing. And if theres anything I like more than Tater Tots, its subversiveness!
---

Cary is a writer, speaker and teacher on everything from Not Your Grandmothers Bible Study to helping demystify Facebook for terrified parents. She is married with three young adult children and has worked in catering, eBay sales, and racehorse partnership marketing. She particularly loves it when her disparate worlds intersect. She blogs at Holy Vernacular and writes extensively on a soon-to-be-launched spiritual mentoring website. Shes obsessed with taking road trips in her MINI Cooper and feels most alive when entering the Holland Tunnel.