By Lorie Newman
When I was asked to take my pastor's place and fly on a plane for 18 hours to South Africa and spend 13 days in Swaziland, my first reaction was to put my fingers in my ears and yell "lalalalalalalalalalalalala." Why? Fear… simple, straight from Hell, fear.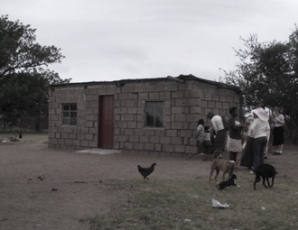 Although I really wanted to go, and had in fact been praying with my accountability group about somehow attending the trip with my pastor, I had some very specific fears.
The first fear that flooded my soul was my low blood sugar. I don't know why, but I have to be very careful what I eat because certain foods, namely carbs, shoot my blood sugar up really high, and then it bottoms out. I get weak, nauseous, and feel like I'm loosing control of my senses. If it persists I can pass out without much warning. It can be very scary. I rarely feel this reaction to low blood sugar because I know what I can and cannot eat. Each morning I eat alot of protein with my breakfast to make sure I don't run low. When I thought of flying to Africa, Satan taunted me with my fears… what if your sugar runs low?…. you don't know what foods you will eat while you're there…. if you don't eat protein, you will get sick…. what if you pass out?…. there are so many unknowns…. you really shouldn't go.
I knew beyond a shadow of a doubt that I was supposed to go on this trip–so much that I felt in my spirit that something incredible and God-sized would come out of it. Even after I had said "yes" to the trip, I was still haunted by my fears. When I shared this specific fear about my low blood sugar with my accountability group, they all agreed that it was totally unfounded and of Satan. They all agreed to specifically pray that God would show me that He is more than capable to take care of my physical needs on the trip.
I left for Africa knowing God could provide, but my bag was packed with tons of snacks. So much for knowing God would provide, huh? God had a lesson waiting for me in Swaziland…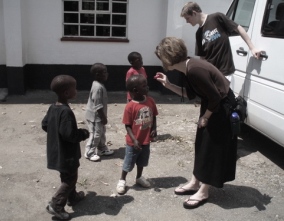 It came on the third day of our trip, when the mission team visited our second care point. We were all horrified to find out they had no food. All of the bags of maize they had were infested with insects. This was because the wind had blown the roof off of the shack where they housed the maize bags. When it got wet, it attracted the insects. The children literally had nothing to eat…. nothing. And they were hungry.
I thought of how I feel when my blood sugar is low– the sick feeling, the faintness, the light-headed, out of control feeling that accompanies the low blood sugar. I was brought to tears realizing that these children must live with that feeling everyday! Many (if not most) of them get only one meal a day. Now that meal was not even available for them because of the ruined maize.
I knew there were snacks in my bag. Snacks I had selfishly brought with me because I didn't trust God to provide for me… I went to the van and got them. I gave them to the Go-Go who ran the care point.
I had to fight back tears as I watched her take each snack and break it into pieces for the entire group of children. She tore my granola bar into about 10 pieces and gave each child a tiny bit. They gobbled it up in seconds and held out their hands for more. The beef jerky was next… the go-go put a tiny piece of meat into each little hand… then the raisins… one to this child… two to that one….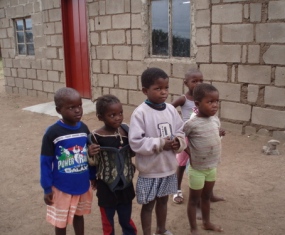 I couldn't even watch. I had to turn around as I batted my eyes to keep from crying. Even now, as I type this story, I am in tears remembering that experience. My selfishness was so real to me that day. It was like a spear that pierced the depths of my spirit. With every bite those children took, the spear went deeper and deeper. I was broken….
Later the team was able to go into town to get the children a proper meal, but I'll never forget those tiny hands reaching out for the tiny morsels of food…. the very food I had selfishly brought along with me to Africa because I didn't trust God to provide for me.
As for my needs while in Africa, for every single meal, the mission team ate like kings! The hotel we stayed at had a wonderful restaurant with a spread of food that seemed endless.
As I stood in the buffet line at the hotel the evening after my "lesson," I begged God to forgive me for ever thinking He would not provide for my physical needs in Africa. At every meal, as I filled my plate with meats, vegetables, breads, desserts, and pastas, I felt God smiling at me! See, my child–I know what you need. Never again doubt that I will provide for you. I know what your body needs, and I am closer than the air you breathe. You are the apple of my eye! A sparrow does not fall to the ground without my knowledge- how much more do I intimately know and love you? Far greater, my child… far greater!
And to think my fears and my selfishness almost kept me from going to Africa. Oh what blessings I would have missed out on! Thank you God for loving me so intimately and for showing me that fear is not from You!

If you liked this article, check out: All in a Days Work

---
Lorie

is a busy homeschooling mother of six children, including twins and two children who were internationally adopted one from Haiti and one from Liberia. She has taught and ministered in Bible Studies for over ten years. She and her husband Duane are founders of Reaching Hands Orphan/Adoption Ministries. Through a partnership with Childrens HopeChest, Reaching Hands Ministries enables nearly 300 impoverished African orphans to receive regular food, clothing, and education. You can visit her website at lorienewman.com.