By Jeff Goins and Jamie Tworkowski
You've probably seen the T-shirts at concerts, or maybe you've come across a MySpace banner, but you may have been like us, wondering what the whole story of To Write Love On Her Arms was really about. This past week, Wrecked got the chance to talk to Jamie Tworkowski, the mind behind this story and founder of the non-profit that seeks to raise awareness about addiction, cutting, and other plagues of young adulthood.
Who are you and who is God to you?
My name is Jamie Tworkowski. I'm 27. I live in Satellite Beach, Florida, which is also where I grew up, though I'm more and more convinced that a move is coming soon. I'm a surfer, a son, a brother, and hopefully I'm also a friend and a writer. I wrote a story called "To Write Love on Her Arms", and the surprising response to that story gave birth to the non-profit I now lead (also called "To Write Love on Her Arms").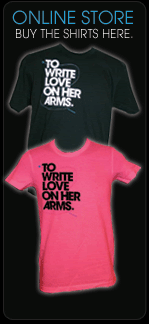 Well, God is certainly a mystery, but beyond that, I believe that God is love, that He is the author and creator of all good things. I believe He's in control, and I am learning to trust Him. I am rediscovering His grace and love at the moment, fighting to understand those things, and find rest there.
What is To Write Love on Her Arms and how did it start?
TWLOHA is a non-profit campaign for people struggling with issues of pain – mainly depression, addiction, self-injury and suicide. We aim to connect people with help, to present facts about these issues, and, more than anything, to present hope creatively and tastefully. We let people know its okay to talk about these things, and they're certainly not alone if they deal with these issues. 25% of all the money that comes in goes directly to treatment and recovery. The rest allows us to do what we do, such as hit the road for all of Warped Tour this summer, and working towards being able to offer live help, such as interaction with counselors, on our site.
It seems that we are living in the age of grassroots non-profit start-ups; what specific needs are you guys meeting, and why did you feel compelled to start this organization?
The organization kind of started on it's own. I didn't mean to start a non-profit, I just meant to tell a story and invite people to help meet the needs that existed within this one story. The organization grew out of the fact that the response put us in a unique position to meet the greater need, to present hope on a much greater level.
How did you get the idea to use musicians as a means of giving TWLOHA exposure? How did this actually happen?
It happened through friendships. The Switchfoot and Anberlin guys are some of my closest friends, and they have just been incredibly supportive from the start. It's all grown from there, other bands getting excited, friends of friends, etc. Beyond that, I think music is powerful in its ability to capture, inspire and communicate things in a way that is real and honest. A song can go places a conversation often can't, and so I know for me, songs have been friends in some difficult times.
Can you share a brief story of a life that has been affected since you've shared Renee's story?
Man, we've heard so many different stories that move us. One girl wrote in and said she had on a TWLOHA shirt and she bumped into a friend at a park, and the friend asked what her shirt meant. She told her and it turned out that this girl's friend had been sitting in the park thinking about taking her own life. And that conversation turned out to be a turning point in a really amazing way.
Jamie is the founder of To Write Love On Her Arms, a nonprofit organization. He is also a writer and lover of music. You may learn more about Jamie, tour and donation info, and To Write Love on Her Arms at their website . Visit TWLOHA on myspace at http://www.myspace.com/towriteloveonherarms and Jamie at http://www.myspace.com/jamiewrites. You can buy a TWLOHA shirt here.
Jeff is the editor-in-chief of Wrecked.