By Brittany Girle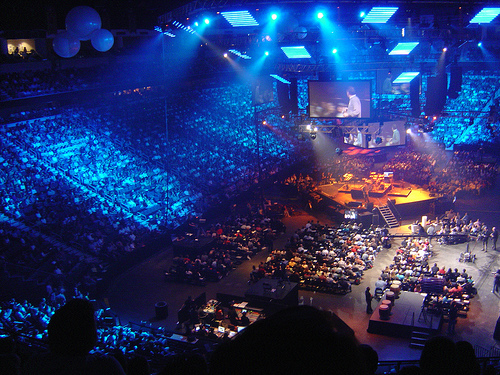 I had the opportunity to represent Casas por Cristo at the Catalyst Conference in Atlanta a few weeks ago. Over 13,000 people were in attendance and we were able to share our God given passion and burden for families in Mexico with so many.
Occasionally we were able to slip into the arena during worship and hear those 13,000 voices join together to sing praises to one God. It was powerful.
Time seemed to stand still in those moments as thousands of voices came together, and as the drum pounded, our hearts beat in unison. There was something incredible happening in that arena; full of possibilities, full of hope, full of people with the potential to turn this world upside down in the name of Christ.
For me this moment became even more personal. I'm from Atlanta; in fact, four of the five of us representing Casas por Cristo at this convention are. I've stood in that same arena and heard countless artists play. But that day was different. That day I heard thousands of people singing praises to Jesus in worship resounding around me.
All I could think about was what a difference those 13,000 people standing there could make in this world if they took what united them in that moment and went their separate ways for the same cause.
What if everyone in there was willing to leave father, and mother, and comfort and familiarity to go out and serve God with their whole lives?
What if they were all willing to be covered in dirt, to not always have enough, to give up some of what they have to make someone else's life better?
The sacrifice doesn't look the same for all of us, it is custom tailored for every one, but the call is the same, "Come and die to yourself and follow me." I am biased because I work for an organization that has people across the border in Mexico right now building homes for families living with nothing. I'm burdened because I stood there with 4 other people who came "home" to GA for this convention but this is no longer our home.
We all live in El Paso, because something greater has moved us. As soon as we pack up our big screen TV's and take off our clean white button up shirts, we'll exchange them for work pants and t-shirts. The hotel will be replaced by a cot in a Mexican church. Our clean hands will be covered in dirt and holding a hammer, teaching others to build a home.
We are not better because Monday morning looks different for us, but we are burdened for it to look different for you, too. These conferences are where our worlds and lives collide. This is where our hearts for the people of Mexico gets presented to you. This is where we get to tell you what keeps us up at night and who we pray for every morning before we begin our day. This is where we get to tell you the stories of the people's faces that are flashing across our big screen TV's. Their faces and God's call is the reason we do what we do every day. We are praying that your stories will become part of theirs.
Our hope is that the next time we see you we will be sharing stories of a life changing week in Mexico together rather than just telling you of another short term ministry opportunity.
This is not just a booth for a few days at a convention. What you see are our hearts, these are our lives. We are desperately trying to convey to you that we need your help, that families in Mexico need your help, and that this is impossible without you.
This is where passions caught on fire come to life. This is where we stand and pray that the right people will hear our voices. This is where we pray that the people we meet in Atlanta or San Diego or Nashville will go to Mexico to build homes for families in need and change lives for Christ. This is where believing requires action. This fight is all of ours. We have a choice.
What if those 13,000 people walked out of that arena to change the world?
---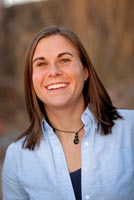 Brittany is missionary with Casas por Cristo. There she leads short term mission trips to build homes for families living in poverty in Mexico. Her hope is to inspire people to live in the fullness of God they were created for. Find out more about her work at the
Casas por Cristo website
.