Defining 'Matagalpa in My Life
I searched for Matagalpa on Google last night. It was right after I saw today's date, right after realizing June had begun. I counted the months then used my fingers to count the months. I was right the first time. Four months. I'll be married in four months. I'll have moved to a foreign place called Matagalpa in four months. It's a small place, one I visited for two days and recall very little. It's a distant place, one that Wikipedia only provides a history and average temperature. After my Google search, I found it on the map. In the northwest corner of Nicaragua. In smaller writing than other cities. My finger touched it's name. Matagalpa. I said the name many times in my head to remember then folded my laptop and closed my eyes until tomorrow.
In four months, this will be real life. This next step will not be the result of circumstance, or an accident, nor is it because I was 'called there'. Like going on the World Race or to G-42 or coming back to work for AIM, it was a choice offering two perspectives.
Sacrifice
Once again, I'll be leaving my friends and family. I'll see them on holidays, hopefully. I'll be leaving them for people that won't understand my culture. They won't understand my words, either. After a few simple sentences, reaching the extent of my Spanish will leave me smiling and nodding to whatever they say. I have no community here. Language keeps me in solitude. 
I'll be spending the first six months of my marriage under less than normal circumstances. We're not sure where we'll live yet and we won't have much money. Rarely will there be air conditioning. Why am I not living a comfortable life with my new bride? I should have chosen something easy for the first year of marriage. 
In the last few months, I've driven my car to Birmingham, Atlanta, Nashville, Asheville Athens and Winston-Salem. In Nicaragua, if I want to get to Esteli, Chichigalpa, Leon, Managua or Granada I'll have to squeeze onto a bus filled with people, chickens, and even the occasional pig. It will almost certainly be a hot, dusty, bumpy ride to my destination.
The notion that I am sacrificing – it rests on the outskirts of my thoughts waiting to pounce the moment I need to feel sorry for myself. I'm the one sacrificing here. Look at all this stuff I'm giving up.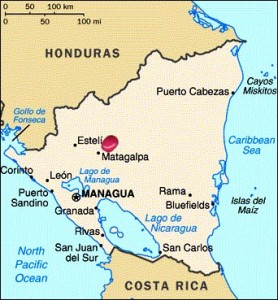 Privilege
In four months, I'll set off on my greatest adventure yet with my partner and my best friend. We'll run around Nicaragua on chicken buses and Nicaraguan beaches, under waterfalls and clear days, making enough stories to fill an average man's lifetime. Each day will be as uncertain as the last. The mundane reality of the day to day, the tasks and errands and exact same 9-5 as the day before and the days to come will cease to exist in Matagalpa. I am getting to live a life full of adventure and surprise. It is good to be here.
Wherever I am, I'll be practicing Spanish. In the supermarket, I'll get to fumble around verb conjugations.  When I walk around the block, I'll get to attempt to take a conversation further than 'How are you doing?' On the bus, I'll get to try and mess up and laugh and apologize and try again. In restaurants, I'll mistakenly say something like 'Soy delicioso (I am delicious)', when the waitress asks how the food tastes.
Look at all this stuff I am blessed with. Look at this amazing life I've been given.
When life's a privilege
I eliminate reasons to feel sorry for myself. Privileged people appreciate their life. Privileged people don't have excuses to not live fully alive. Privileged people are free to live completely in who they are.
It's interesting to me that so often it is the same people who believe in the greatest sacrifice ever made that believe they're the one's sacrificing their lives. It sure is a sacrifice to give the money I worked so hard for away. I'm really sacrificing my days serving the needy on the weekends. It's such a sacrifice moving to Matagalpa and living in this foreign place. 
Stop defining life by what you have to do and start naming what you get to do. It is life's honor to serve the king of king's that welcomed me into his throne room and said, "Everything I have here is yours as well." No greater privilege exists than to live for the one whom all authority on Earth was given, and the one who chose to give everything for me.
When Jesus chose sacrifice, we received permission to freely live for and serve the greatest love ever known. Sacrifice was chosen so we could choose privilege. Which are you living in?