By Jeff Campbell
Im mindful of Gods presence in my life tonight. A handful of seemingly independent phenomena have focused my attention on Him.
Its kind of weird. Theres a level on which faith is so difficult. But I think its only difficult because its such an alien thing to us. Its not really hard unto itself. Its just that we dont get any practice and our day-to-day existence, actually works against the sort of submission and letting go that strengthens faith.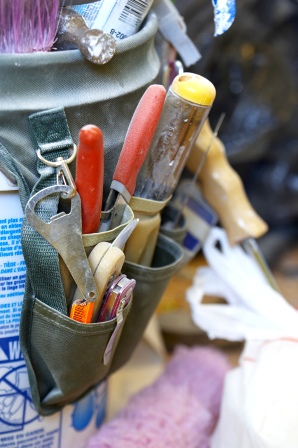 Its like driving a car in reverse Counter-intuitive, and hard in its own way. But at the same time its not hard at all.
Its so easy. Basic to who we really are. It seems counter-intuitive only because were out of touch with our instincts.
Im thinking about how we just have to ask, and then well get it. We just have to answer the door when we hear a knocking. We just have to ponder God to feel him.
I guess I shouldnt say we. Im not in anybodys head except for my own. And it was hard for me, once… too hard for me to do it.
I felt irritated with people who told me I wasnt trying hard enough. At least thats what I thought they were saying. Either that they were some how better than me or that I wasnt trying hard enough.
I know now that I was trying too hard. I was going about feeling Gods presence in the same way I went about everything else. I was action-oriented, intellectual, active.
I had this whole chest of tools the world hadtaught me And those tools worked, for solving certain kinds of problems.
My life got ridiculous and out of control. I saw that the tools I had were utterly inadequate.
It wasnt a fun time. But it was what I needed, I think.
There were some specific things I did, at least in my mind, at that time. I dont think this is the only trail. Maybe these are just outward symptoms and they dont matter at all.
But for whatever they are worth, at this time I did the following:
I said prayers

to myself

that I mostly didnt believe. Maybe 5% of me believed. This "mustard seed" was enough, I guess. I prayed prayers that I mostly didnt believe, and I asked for Gods presence to manifest itself in my life, and I prayed for more faith.
I turned over everything I knew how to God. Mostly, it was just this big ugly mess of confusion and doubt and turmoil. I actually envisioned it looking like feces. I was awed by the fact that God took it all up. Witnessing God take up my disgusting, unworthy offering clarified in my own mind the need for an offering that was worthy But I suppose this is a topic for another post.
I did my best to surround myself with people who had the sort of faith that I wanted to have.
I have this prayer if youre reading this and youre struggling with faith. I know its cheesy to tell somebody youve never met that youve got a prayer for them. But maybe its less cheesy if I admit that the prayer is really for me; for the person I was when I was messed up and confused and everything.
My prayer is that the process of finding truth goes quickly for you. That it delivers minimal pain and maximum wisdom. But I suppose the thing is that the being in charge of it all is perfect and loving and He doesnt want to cause us more pain than we need, and he does want to give us as much wisdom as we can handle.
---

Jeff Campbell is attempting to follow Jesus' revolutionary call on his life as a father of three, a husband, Special Education Teacher, and Director of Small Groups at Fellowship Church in Holden, Massachusetts. He frequently tells his kids–much to their great annoyance– that he'd like to be a fireman when he grows up. He blogs at jeffsdeepthoughts.wordpress.com.