By Lyn Hanush
On a 4026.5 mile walking journey that took her from Blaine, Washington, to Key West, Florida, in fourteen-and-a-half-months, Lyn Hanush, a grandmother from Paso Robles, California says she prayed for America and the people she met all along the way. Wrecked had the privilege of interviewing her this week on the book she wrote about her prayer walk: Putting a Face on America.

You made a walk of over 4,000 miles from Washington State down to the Florida Keyes. What were you thinking?
It was actually 4,026 mile walk. Thats what a lot of people say, but it was a commitment I made to God. If I had not made that commitment to God, Im not sure I would have finished it. I made the commitment to walk that particular walk in April of 2003.
It took us 14 months. There were two of us that went the whole way and a third that went part of itmy 16 year old granddaughter. Then there were other people that joined us for shorter amounts of time. Up to a month at a time.
What did your husband say about all this?
He really encouraged me. It was after 911 that he said its time, you need to do it now. He was totally supportive and encouraging. He stayed at home and was completely supportive. He kept the website updated for us.
So you didnt see him this whole time?
He came out five times. Yeah, that wouldve been too long. And he came out at the end we drove back together.
Have you done this type of thing before?
Ive been a long distance walker since 1983. I walked the California coast then and ten years later I walked the Washington-Oregon coast. And Im not waiting that long before the next walk. Next year were going to be walking from Florida to Maine, praying for America during that election year. And encouraging people to get out and vote. We need to be praying for our leaders. I believe that if we, especially as Christians, dont get out and vote, weve given up. We need to look at the issues and look at the people and know who were going to vote for. And its my dream that we would see leaders rise up with good morals and who are willing to really serve the people.
Give me a sample story from your book.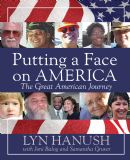 Probably the most exciting, the most fun story of all, from the whole walk was up in Montana at the Crow Indian Reservation. We were told, dont walk there, its dangerous. And we prayed about it and we felt like God was telling us to walk there. And we had the most wonderful experience. The people, when they heard what we were doing, the Crow Indians, would come and ask us to pray for them, which is just incredible. We spoke to some of their children in the school and asked the children in a particular class, a class that wasnt interested in school, they didnt see why they had to go. They figured theyd just end up on the reservation anyways.
And we went in there and talked with them and I shared with them how this dream Id had for fifty years to go across America, which started as a bike trip and ended up being this trek; it began when I was eleven, so I was sixty-one when I did it. And so I shared that with them and then we went around and we had the opportunity to talk with them one-on-one and their parents and aunts and uncles came out the next week to tell us, we appreciate what youve donetalking to our kids. So, I hope we made a difference.
Tell me about your prayers.
We prayed for each town that we walked through; each little community. We left memorial stones. Wed write on little stones that we would find around the areawriting the date and a little bit about what wed prayed for. We prayed for the businesses, the leaders, the town, the schools, and other things that we thought of that kind of perked up in our minds as something to be prayed for. And wed write a little bit of that down and sign our names and put the website on it and always write To God be the glory on it and leave the stone at a sign for the entrance to the city, or a church, or some place that looked like a good spot to leave it. And then we also prayed forevery car that drove by us wed wave to, and with every wave was a prayer for those people. We prayed for people that stopped and talked to us; and there were people that asked us to pray for something specific that we prayed for. Other people gave us names from the militarymen and women. We entered names for the average person in one book and the military in another and every night we prayed through part of those and then you know, work our way through it. I spend at least an hour a day at home in prayer now. I pray on my treadmill while Im walking, which is pretty much how I prepare for the trips.
What have you learned from this journey?
Ive learned a lot about how to be with people and how to recognize friends thatwere all different, you know. And Im used to doing things a certain way and somebody else is used to doing things another way and sometimes we let that get to us. That was where the conflicts come from.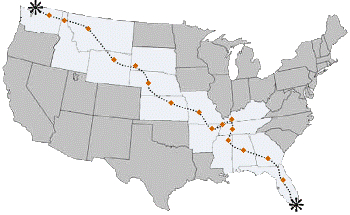 I really dont find myself holding tight to my way much now. God has really dealt with me in that. And He does, he deals with us in these walks and we learn things. So, its exciting. My prayer life is a lot different now than it used to be, and I love to spend time in reading scripture because I see parallels between scripture as I read it and what Im doingwalking this journey.
For instance the story of Moses and the pillar of fire at night and cloud by day. When the cloud rested, the people stopped, and when the pillar moved, the Israelites moved.
And a friend pointed out to me that at times when youre sitting around waiting for a car to be repaired (there were support vehicles that went alongside) or something like that, those are times when God is saying the pillar has stopped here now, this is your time, you need to do something here. And so these parallels have made scripture exciting to me.
Have your relationships with your family suffered as a result of this?
No, my family is all very supportive. In fact, my son came out and drove for us for a while. My husband and I communicate by cell phone every day when Im on the walk, unless were out of service, which does happen. But mostly we communicate on a regular basis and hes just totally supportive its incredible. I hear many many couple say, we could never do that. But we couldnt either if we didnt think God was leading us to do this. And my husbands the one that looks at me and says, its time for you to do it.
What has God been teaching you recently?
Hes been teaching me that its never too late to become who He wants you to be. I was 61 when I started this walk and 40 when I did my first long-distance walk. Were never too old to learn to do something new. It doesnt matter how old we are to be used by God. All we have to do is obey. God can use anybody. There is no such thing as an ordinary person in Gods eyes.
---
Lyn Hanush

will be traveling back across the United States to share the book with the people of America. Read more about her trek here. Click here to buy her book.