By Karen Swank
Twice in the last few months, teenage friends of mine have identified me as being in the midst of my midlife crisis. It caught me off-guard both times; although I smilingly refer to myself as "old" when talking to kids, there was only one passage of my life when I felt old – and I was in my mid-twenties at the time.
Midlife…is it really the middle of my life? WOW! How did that come up so fast? I do the math and I suppose that chronologically, I am.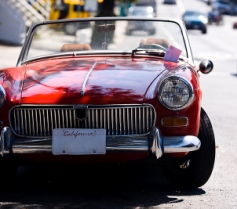 The first time the term midlife crisis was aimed at me was late this past fall. I had been pondering, comparing my teen years to those of the boys in my house. I wrote them a letter, telling them a bit about the stuff I was busy with at their age, and how it prepared me for real life. I told them I was concerned…maybe I wasn't requiring enough now to make them capable for their later. Perhaps, I mused, it was time that I push them a bit harder.
My son read the opening lines and threw the letter in the trash…a common response to my musings. Later, he had to borrow a copy from our foreign exchange student, who was the very soul of understanding and compassion – he explained to me with his gentle smile, "I am very clear that you are just going through your mid-life crisis."
Huh.
The term raised its head again more recently, as I shared with an 18-year-old friend about this strange passage of my life, and how I see change coming…that in June, my boys will leave and I will live alone for the first time in all my 41 years. I told her about the many things I consider dong next – all things I should have done between high school and jumping into adulthood (which I did pretty much inside the space of a single step) . Things that make me excited, like an 11-month mission trip, or teaching English as a 2nd Language in some third world country, or moving into a community setting that would allow me to live missions rather than just squeezing them in around the rest of life. I talked about my excitement as I realize my freedom to choose something like that next, and she smiled and identified it as my midlife crisis.
Hmm.
Honestly, I never thought of a mid-life crisis in such positive terms. To me, it has always painted a picture of a man gunning the engine on a ridiculously expensive, bright red sports car (or these days, maybe an obscenely Big Red Truck) with a girlfriend who is the same age as his kids in the passenger seat (he calls her babe and feels cooler than cool when she smiles). I have always seen it as a foolish search for meaning in meaningless things – escapism pursued to the point of destructive behavior. I have measured it as a deep, yawning hunger for "something more" combined with the ridiculous notion that this hunger might be filled by Buying Something Expensive or Doing Something Sensual.
Midlife crisis…me? What?!
Have I struggled with feeling emptiness? Sometimes. But the hunger and overpowering yearning within me is not to drive a cooler car, have a hotter body, or make my little nest secure enough to ensure I'll never fall out of it. What haunts me is an all-consuming desire that when I stand before my Maker, and He tries my life's work by the fire, much will withstand the flame.
For other foundation can no man lay than that is laid, which is Jesus Christ.
Now if any man build upon this foundation gold, silver, precious stones, wood, hay, stubble;
Every man's work shall be made manifest: for the day shall declare it, because it shall be revealed by fire; and the fire shall try every man's work of what sort it is.
If any man's work abide which he hath built thereupon, he shall receive a reward.
If any man's work shall be burned, he shall suffer loss: but he himself shall be saved; yet so as by fire. 1 Corinthians 3:11-15
Saved is great. Forfeiting my reward, and sliding in by the skin of my teeth…is not. I want to feel joy as I look back across the way I used the time given me – not regret at what I might have done if I hadn't been so selfish, lazy or oblivious.
I want my reward. I got a glimpse of it one night in prayer, a few years back. It is a crown beautiful beyond any words I can arrange on a page, and every precious stone represents a person who enters heaven at least in part due to my prayers, words or actions. I want that crown. I want to lay it at His feet, whole and intact, without a single gem missing. I want to finally give Him a gift of love worthy of the gift He gave me – Himself. I want to give it, not to earn anything or prove anything but just because He is worthy. Thinking of it always brings me to happy, desperate tears.
More and more, this desire picks up various elements of my life and demands that I measure them by the fire test. Is what I just spent my time, energy and resources on moving me any closer to that crown? If not, why did I go there? After all, we are given so few days…and I've wasted so many already.
A midlife crisis, by definition, contains an element of crisis. If my desperation to use my days honed in on the prize is a crisis, then I accept the diagnosis.
Welcome to my midlife crisis…I wouldn't be anywhere else for all the money in the world!

If you liked this article, check out:When Housework Is More Than It Seems
---

Karen

is from Aledo, IL. She went to Monmouth College and studied Latin and English. She is a biological mom of two children and surrogate mom/friend/advocate for a whole host of children. She would like to meet every wounded soul that I've she's ever known… as a child, before the "damage was done" so she could tell them how much they are loved.