By Stephanie Fisk
The pioneering spirit leads the adventurous through the wilderness. It beckons to the restless soul. The wanderer finds drive in the vision itself…in the unknown. Risk is not a word that indicates "caution"; instead it screams "you're heading in the right direction; come just a little closer". This apostolic spirit plows a way where there seems to be no way. It cuts straight through the mountain that lies in its path. It perseveres through the intense cold and biting wind. It stands strong when the locust strips away every remaining morsel. But the Spirit remains.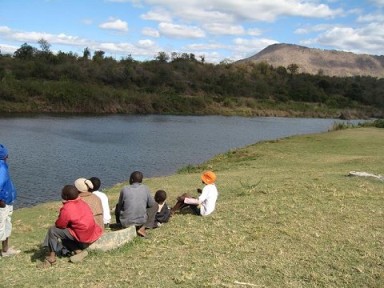 Growing up, I spent endless summers imagining that I was a pioneer on the Oregon Trail. (Ironically, my school mascot was a Pioneer.
So, for years, I was a proud 'Okoboji Pioneer' for real.) My skinny frame would drag large, dead branches hundreds of yards in order to build my perfect wooden house. I would then meticulously arrange the "walls" around the trunk of the suitable tree – forming a circular wooden hut with plenty of crawling space inside. I would spend hours collecting "wheat" from the field, tomatoes from my mom's garden and "cucumbers" from the nearby magical, white bark tree.
Throw these ingredients into a "borrowed" bowl (I don't think that my mom agreed that pioneers had Tupperware back then) with some sand from the sandbox, dirt from the garden and water from the backyard hose and you have one tasty veggie pie for the road. My handy dandy red wagon served as the perfect covered wagon. Line up a few wagons in a row and my neighbor friends and I were off…the unexplored frontier was calling to our hungry little souls. My spirit was coming alive daily. Imagine. Dream. Believe. The future is wide open, mine for the taking.
The spirit awoke my heart. Once a person's heart is stirred, there is no turning back. It's a dangerous place to live, but I would have it no other way. The call lies dormant in a shadow until it is time to be aroused. The heart drives a person, but the call sends them. The danger no longer lies in living at the edge of yourself, now it is found in the great beyond. It's no longer at your fingertips, but now fully dwells in Him alone.
Today, I still like to call myself a pioneer. In one sense, The World Race presents plenty of opportunities to pretend that I am living in the "olden days". This past week my team inhabited a drafty, concrete house that was void of electricity and water, but rats were in ample supply. But, more importantly, each morning beautiful, unexplored horizons break forth in all their glory and splendor.
The Lord loves a hungry heart. A heart – above all else – that eagerly yearns for Him and His intimacy. Consequently, a "love-sick" heart will follow his Lover to the moon and back…into uncharted waters…into the eye of a storm. When His heart dwells in us, there is no telling where we will end up or what we will be doing. Now that's the life I want to live every day of my life!
---
Stephanie Fisk

spent last year traveling to the 48 contiguous states, doing servant ministry. This year, she's traveling the world. Read her blog here.