By Shane Ambro
In the timeless classic The Wizard of Oz Dorothy is on an epic journey, and every step reveals a larger part of the story, the journey becomes increasingly dangerous and even tragic. This is where most of us have been at some point in our lives. Sadly, we often find that this place is a dead end, the road disappearing into a vast wilderness, where we dare not venture forth. If the road was dangerous, how much more the wilderness? At this point, complacency replaces adventure because we have already risked, and lost, so much (if not in the physical world, definitely in the losing of heart).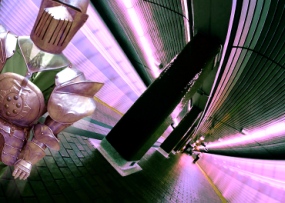 The Sci-fi channel recently aired a remake of the Wizard of Oz, which has re-emerged as one of my favorite stories. In this first episode they introduced the Tin Man:
Dorothy and Scare Crow are walking down the yellow bricked road, and they come upon a terrible scene where government thugs are slaughtering a mother with her children. The house is burning, and the sky is black from the smoke. It seems even the sun is hiding from this dismal day in the life of this family…the father is conspicuously absent, and there is no one to help.
Then all of a sudden, as a vanishing dream, the image of the thugs and burning house disappears, and mysteriously begins to replay all over again. It ends up that the image is some kind of a holographic loop in endless repetition. After examining the holographic device, Dorothy and Scare Crow discover what looks like a giant, iron maiden (Medieval torture device that has spikes inside a sarcophagus of sorts). They open the steel contraption to reveal a man inside. He has been forced by the wicked witch to watch his family being murdered over and over again for eternity.
John Eldredge also talked about the Tin Man in his book, Waking the Dead. Originally, the Tin Man had been a real man who was in love with a beautiful maiden. It was his dream to marry her once he had the money to buy a cottage in the woods. The Wicked Witch hated his love so she cast a spell on him which turned him into tin metal. However, at first he thought it a blessing, where he could work nearly as powerfully as a machine.
"I thought I had beaten the Wicked Witch then, and I worked harder than ever; but I little knew how cruel my enemy could be." The Wicked Witch made Tin Man's axe slip and cut himself in half, and though a tinner was able to fasten him back together again, alas, he had no heart…"so that I lost all my love for the girl, and did not care whether I married her or not."
Tin Man's joints ended up freezing from rust and stood as a statue for years thinking: "the greatest loss I had known was the loss of my heart…no one can love who has no heart."
The world shuts us down right from the start, and we can only take so much. We therefore opt for jobs with little risk to our hearts. Isnt it ironic that the jobs with the least amount of risk are the ones which demand the death of our life, joy, peace, and anything else that might make our hearts come alive. We settle into perfunctory relationships of little depth or consistency.
We dare not expose ourselves as we really are. We get involved in programs, churches, sports activities that offer entertainment, but not vitality. All the while we long for something more. There is still that faint whispering of the heart, maybe a dying groan, looking for something, anything of value to hold onto.
It is that whispering which beckons us to travel upon the yellow-bricked road, in search of something. If we're lucky enough to find the yellow-bricked road, at least we know that we're going somewhere, a destination with a destiny. We are not looking for something new to do. We are venturing forth into the wilderness in search of our true identity in a world of confusion. We are on a journey–a quest for our hearts.

---

Shane is currently in the initial stages of developing a life coaching practice for young adults experiencing the Quarter-Life Crisis. Subscribe to Shane's blog for more ideas on the Quarter-Life Crisis and God's Father heart for your life.