By Karen Swank
I can't dance.
Well, that's not exactly true.
I can't dance in front of people.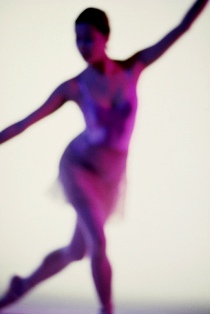 Umm… that's not exactly it, either.
Long ago, far away and several pounds ago I was on the high school pom pon squad and I used to do the kind of dancing where you count 1,2,3,4,5,6,7,8, moving to the choreographed steps that someone else made up. I can do that…and I can even do it in front of people with enough style to be unembarrassed.
I can dance, and I can dance in front of people.
And exactly where were we going with this, she asks as she twirls her lasso and aims at the point….
I love watching people who can really dance…not choreographed stuff but just dance freely. Feel the music, move spontaneously in a way that speaks the heart. Ever been been in a crowded place where one person breaks out into this kind of dancing…the kind where everyone else backs up to make room, and just feels glad to see it?
The very first time I attended Cornerstone Music Festival, my daughter pointed out the sound of my kind of music (she good naturedly termed it your crappy music) coming from the distance and urged me to go check it out. I walked across the grounds, through the crowds, toward the Celtic music and I was mesmerized.
Outside the concert tent, a circle had formed. People were dancing…a group of people that it seemed I'd never see assembled anywhere else outside of heaven, maybe. Pretty girls in flowered dresses with bare feet, punk rockers in skin tight leather with brightly colored liberty spikes, people in tattered clothes and dreadlocks, and of course that guy in the kilt. The watching crowd clapped as the dancers twirled and bobbed, kicking up little puffs of dust on a sweltering afternoon. The trill of the flute guiding seemed to pull them like puppets, and I was seduced.
I wanna dance like that. I want to fall into the music, my heart open and just dance, uncaring of who sees or how I look. I want to relax so much into it that my body keeps the rhythm without needing the chant of numbers in my head to keep the time. I want to celebrate life. I want to be like King David, so given to the passion of the dance that he was oblivious to his state of public undress and to his sour-faced wife watching from the window.
My friend Donna prays the way I want to dance. Tuning her ear to the voice of Holy Spirit, she runs into the secret place with unashamed and reckless abandon. She lifts her arms and her words, her adoration pouring out as she hungrily presses in for more of His presence. Back before I knew her… back when God as I understood Him and I were both squished securely in a very small and quite measurable box… she offended me. I watched her worship from my stiff, still box and assumed it was all for show.
Ahh, but God.
Donna didn't care what I thought probably didn't even notice my chagrin at her unseemly behavior as I watched. Donna prayed, dancing with Jesus, welcoming others to join her but never foolish enough to stop dancing just because others wouldn't begin.
Over time, her worship seduced me, drawing out my hunger for that kind of intimacy until I had no choice but to break out of the box and run with all my might toward the place she had found.
Oh I don't dance like Donna. But then God didn't call me to do anything just like someone else does. He beckons all of us to run after Him…to forget the fetters that keep us clenched, relax into the music and just dance. When we really do that, the world around us is seduced. We don't have to wrestle or reason anyone into the kingdom…the dance will draw them.
May something seduce you into that place today.

If you liked this article, check out: Motherly Thoughts on Living and Dying
---

Karen

is from Aledo, IL. She went to Monmouth College and studied Latin and English. She is a biological mom of two children and surrogate mom/friend/advocate for a whole host of children. She would like to meet every wounded soul that I've she's ever known… as a child, before the "damage was done" so she could tell them how much they are loved.