By Sarah Fujimoto
Recently I went to Costa Rica with my graduate program. I spent 10 days drinking caf, enjoying people, seeing the past destruction from the earthquake in December, and eating way too many chikys (a stellar cookie).
One thing that I have been impacted by and "taken back" with me, is the issue of time. Purpose. Work. Destiny. All these thoughts on a backporch, wrapped around one or a few mornings with steaming caf con leche , my thoughts, God, and of course, chikys.
During these morning times hanging out with my bf(God), and the silence of the morning, I was able to breathe it all in. I was able to sit and be in nature within steps, the back porch overlooking pasturelands filled with cows, and horses.
I was able to sit and draw, with no huge time rush pushing on me. I draw often here in Philly, where I currently reside, but the pace of life and the culture I was surrounded by there drew something different out of me.
As I have been back in the U.S., after a very short cross-cultural trip, I know a few things. I know my trip was short, too short to at times truly understand the rhythms of a culture and yet short enough to understand some things as well.
Time in Costa Rica was not structured. What I mean by this is that when going to a 1 o'clock meeting, you may stand and wait for some time. When traveling home, you may have a car break down once, or twice, or ten times…and have amazing God random resources come your way for solutions.
People are happy. People have experienced loss and destruction from the earthquake, yet they smile bigger than faces I have seen for some time. There is time for people. Not segmented time. Open ended, feel the love, I truly want to make time for you, time. If I can achieve all that I need here "by myself", do I need others and their love, their resources? If I exist in a culture, a collective culture that depends and operates together, what benefits does this bring? How can I exist and live in a typically individualistic culture here in the U.S.? Is this necessarily wrong?
There is something to community and interrelation that goes beyond surface, or even the plans, the programs that struggle to achieve "community". Each culture and things in a culture have its place, and its time…yet I'm wondering what really, is life all about? And there is something to relationships, something to the importance of family, that continues to be on the forefront of my mind, post Costa Rica.
As I adjust back to here, I saw that everyone moved fast upon my return. I hurried in line at the gas station to not disturb the customer behind me, I felt a nudge to find a parking spot quickly as the minutes ticked closer to my arrival time at work. Then, I decided not to care. In a good way. I decided that there are appropriate times to be prompt, this is how it works here. There are things in my schedule and life that need to not be there anymore because it makes me rushed, and over committed. And the other times I realize that those sparse moments and minutes that have anxiously in the past felt like life or death, don't matter to others. And if they do to some, those are the some whose opinions need to not be harnessed.
I don't want to live for the weekend. I don't want to dread Mondays. I don't want to ignore my kids and family when I get married because I'm too busy. What are we busy with? Why is our value wrapped up in what we do, so we try harder and get more busy to run away from the very thing that we are trying to fill with useless stuff? Why do we work at places we don't care about or don't enjoy? What if you don't have a choice? Is that a real statement on a deeper level? Why do I rush or care about what others think in a way that hinders who I am and what I've been called to do?
I think about all the things I get irritated about, all the things I complain about. And there is no reasoning to them I figured out these past few weeks. There is a surrender and peace that has come in the transition of life, and during this trip I saw that if my life is wrapped around the woes of school, life, and little things that don't matter within 24 hours, its not worth it. I don't want to be in a cycle of something I don't want to be in because I fail to find life in it. Perhaps, that is the issue, finding life in something that I do, attend, or go to. Instead of finding it in the Lord and the relationships in my life. Yet, that seems to be the problem. When do the activities, obligations, and jobs come in the way of the things that should bring the most life?
A few nights ago I felt convicted of this. That I have honored programs, titles, plans, and even my life direction and steps over knowing God. I have set time and my watch as my priority, and I have put relationships in boxes, or off the shelf into the basement. I have honored false things that have left me in a place that I complain about. Yet, with revelation, comes understanding, and with understanding comes change. Surrender must come first before true and lasting change, and that's a path that I am glad and willing to be on. Right now.
If you are looking for a sweet place to stay in the rural lands of Costa Rica close to San Jose, check out Casa Shalom, where we stayed, owned by friends in my graduate program.
---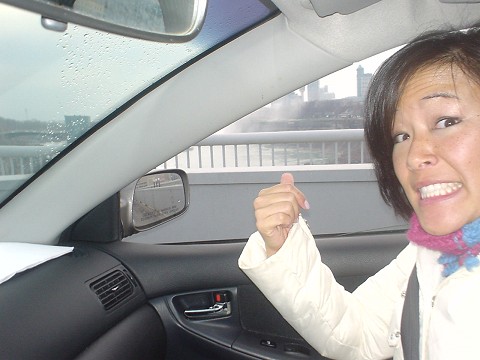 Sarah enjoys creating new things and old alike while traveling to new places. She enjoys art and restoration, a good cup of tea, and puppies.