By Sarah Fujimoto
I grew up thinking that my parents were invincible. Mom and dad, so strong, so secure. Always well fed and clothed, petty arguments over brands and comfort, the comfort of basic needs not understood because I grasped for more.
Trying to fit in with the crowd, the norm, the value-bringers seeming to propel you into a cycle of your own gerbil on a wheel kind of a thing.
And here I lay, in my bed, two days after talking to my family, tears running amok in strange intervals. Seeping wounds healing what I can't understand.
I didn't think life would bring this, dealing with the natural that mom is going through cancer right now.
These past few years I have held a standard to my family, a standard that did not fit the perfect Christian norm of family, of functional Christian family.
Within my own wounds and bitterness that came from unforgiveness, I vented such emotions and anger funneled through this thing I call "standards."
Though there were things that may have not been right in my opinion, standards seem to compare, seem to long for restoration because of personal justice and vindication and not out of love. Well, perhaps it's love of self, which drives this, but I'm talking about love of others, which stems from a forgiving heart.
I try to imagine what my mom will look like with her scarf on, with a wig.
Playback memories from last month when I last saw my parents during my mom's surgery, saying goodbye at the airport, embracing the picture I saw of my family.
I see my mom, having just had surgery, the outward still looks the same which tells me she is okay, bringing temporary comfort for the battle ahead.
I realize that I won't see that woman for some time, prepping that when I next go home mom will have lost her hair.
It seems that another well has been uncapped these past two days, me, wrestling back and forth with whether to shove the sadness, the tears in order to not get stuck there, to be "holy", strong, whatever you want to call it.
Enough processing and measured and controlled crying to let it out partway and keep it harnessed.
It is up to me to harness in order to keep my life in check, to not get strayed or pulled by opposing forces. These things have some truth to them I think, but what about grace? What about releasing this well that has been bubbling for some time because I only let part of it out?
God, you are showing me new things of you. New things of what you think and how I have seen it that was incorrect. This has cut into my inability to love, but may I be freed of that.
Completely.
---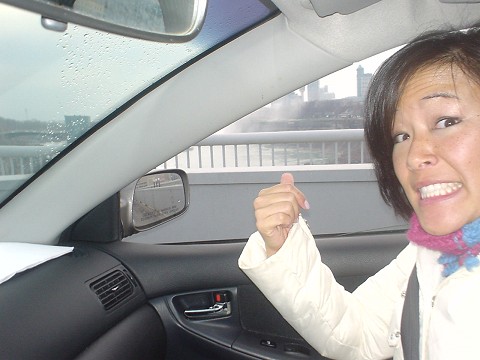 Sarah enjoys creating new things and old alike while traveling to new places. She enjoys art and restoration, a good cup of tea, and puppies