By Mariah Secrest
Last year I had a conversation that has been a never-ending echo, quietly nagging at my heart at key moments.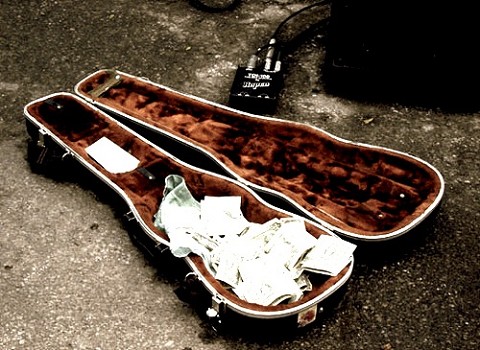 I was in Nashville attending an awards gala for Christian songwriters. I wasn't entirely sure why I was supposed to be there, and feeling a little bit on the fringe I decided the best course of action was to latch on to the first friendly face I found to mingle with. So during the pre-dinner mingling I inadvertently attached myself to a producer and a guitarist who had come together and seemed also to doubt the necessity of their presence at this event.
As it turns out, they probably had the most impressive collective resume out of anyone at the event (I've hummed their tunes many a time before, though I didn't recognize them by face). But seeing as they are not part of this big odd beast we call Christian music, their accomplishments may as well have been for nought.
"I don't really know anything about Christian music," one of them confided in me, as he tried to rattle off a name or two like Newsboys or Audio Adrenaline.
"Well, that's Jars of Clay standing over there. Do you know them? Does Flood' ring a bell?" I asked.
"Hmm. Maybe," was the reply, "We were just invited here by one of the higher-ups of the publishing industry to try to network."
When dinner and the ceremony began, the three of us nabbed a table in the corner. Little networking took place, but for the next hour and a half I got to witness an outsider's unbiased perspective of the Christian music industry. As sound bites played and artists performed, names were read and people famous to the Christian community accepted their awards with great and earnest dedications to their Lord and Savior.
"Ooh, that's the guy who wrote the song we've sung in church for so long," I would think to myself while explaining to my new friends that no, the famous worship leader didn't rip off the chord progression from the new Lifehouse song because his song has been around much longer.
As the evening progressed into the more "important" awards, one dominant worship songwriter was clearly taking the lead. Time and again he mounted the stage, thanking God and accepting his award.
Meanwhile, in his musician's way the guitarist had begun to spill his life story, how he was looking for more and had been raised to be somewhat religious but now he just didn't know about anything. How his band's song had enjoyed the privilege of a number #1 hit, but glory days were fading and life just wasn't working out like he wanted. How his friend's band Lifehouse could seem to take those complexities of life and deal with them in a real and accessible way, faith-filled lyrics that yet dealt with universal truth that everyone can identify with.
Then he finally noticed the repeated accolades the worship songwriter was receiving in front of us. Safely tucked away at our corner table which no one else had managed to join, my new friend blurted out to the producer and myself, "That guy is fu**ing making money off of Jesus!"
And though I floundered a bit trying to find a nicer way to look at it, it was a hard truth to deny. The producer at our table excused it as just another move justified by business.
"There's a demand for this type of product, and they're just filling that demand. That's nothing that the rest of us in music wouldn't do," he explained.
This answer hardly satisfied me either. And it's begun to creep into the way I look at industry and art and faith at the point where they all overlap. Being a Christian is marketable in America. Thousands if not millions of jobs are created around this business of being a Christian, not just in musical entertainment but on a bigger scale such as church leadership, mission agencies, book and magazine industries, student ministry, etc. I wonder if Christianity were suddenly removed from America, whether a great number of people would find themselves with a narrower set of skills to market themselves with.
I say all this as one who frequents the halls of the Christian music industry herself, who is very much hoping that the good and flawed machine will still pay the bills at the end of the day. I depend on this specially-networked bubble to at least help support me, because even though I have connections to the "secular" industry I still rely on the foundation of the Christian industry to help make my art happen.
So my story and lingering conversation haven't brought me any answers yet. But they have served as a bristling reminder, a bracing and honest appraisal of why we go creating a subculture of faith, instead of perhaps infusing the existing pop culture with our presence. The phrase "making money off of Jesus" has served as a way to keep my motives in check, even when dealing with the realities of business and structure and industry.
I think there are some very valid "Christian" jobs out there, jobs that need an income attached so that the people who work them can focus on them entirely. But I want to keep asking questions of how we can lose the gimmick. How we can purify our forms of industry and entertainment so that it's not just about profiting ourselves. How we as the Church can build bridges to the world around us instead of creating a self-sustaining module of Christian industry. Will you join me in asking these questions?
---
Mariah
has currently landed herself in Tucson, Arizona, where she just finished a philosophy degree from the University of Arizona. She thought life was supposed to get easier after college, but she's keeping way too busy working as a musician, editor for this magazine, and occupying other sundry roles. She enjoys writing almost as much as she enjoys making music. Almost. You can hear her music on
Myspace.