By Lauren Deville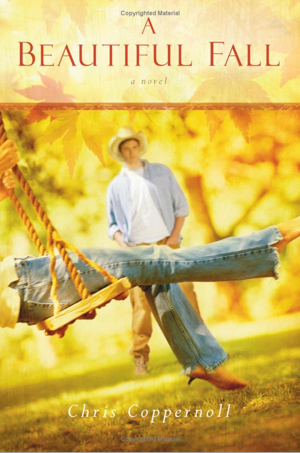 Even though we live in an age of feminism and equality (and I'm no exception: I remember bristling with indignation when boys in college seemed put off by my ambition, instead preferring girls who were more or less paying tuition for their "MRS" degrees), I have to admit that a large piece of my heart is undeniably romantic.
It seems to be part of the female wiring to long for love and family, even as we simultaneously strive after a purposeful career. What they don't tell you in college is that, while you can be anything you want to be, you can't be everything you want to be. Something's gotta give.
I find myself caught in this dilemma now, being 26, single, and in medical school with grandiose dreams for my future practice, but still hoping that "someday my Prince will come" and won't mind not being the center of my world. I was thus attracted to Chris Coppernoll's second novel, A Beautiful Fall as an allegory for my own story.
The tale follows Emma Madison, who left her home in small-town Juneberry, South Carolina twelve years prior in order to pursue her law career in Boston and never looked back.
She's suddenly called home again when her father suffers a heart attack. She intends to stay for only a weekend, but she puts off her return when she runs into the friends she left behind, who always wondered why she had disappeared so suddenly and so completely, and revisits her old flame, Michael Evans.
With her company pressuring her for a speedy return to Boston and her promising career, Emma is caught between two worlds: the fast-paced life she chose, complete with a wealthy, eligible, and successful suitor, and the small town full of those she grew up with, and the man who has always loved her.
Not surprisingly, Emma discovers what most of us already know, but often forget: that success in the eyes of the world amounts to very little, in the absence of love. As 1 Corinthians has it, "If I have the gift of prophecy and can fathom all mysteries and all knowledge, and if I have a faith that can move mountains, but have not love, I am nothing" (13:2).

The story is an entertaining, light read with recognizable characters and a satisfying ending. It affirms biblical values, and instills hope in the career-driven, the heartbroken, and the idealists among us, that perhaps God has a plan for our love lives, after all, if we'd just quit fighting it.
If you liked this article, check out From Soul2Soul to Providence: Interview with Chris Coppernoll.
You might also want to check out Chris Coppernoll's first novel Providence: Once Upon a Second Chance.

---

Lauren holds a biochemistry degree from the University of Arizona, and she is currently studying naturopathic medicine in Tempe, Arizona. She also has a background in the arts, particularly theater and creative writing, and she hopes that (sometime prior to graduation) she will eventually stumble upon the perfect integration of her seemingly disparate interests.