By Caleb Gardner
While at the Sojourners/Call to Renewal Pentecost 2007 conference on faith and poverty, I had the pleasure of meeting Derek Webba surprisingly small spiritual beast of a man with the audacity to challenge the Christian music establishment. When my friend and I heard that he would be performing, we told each other we would make sure we shook hands with him. We found him sitting alone just outside the sanctuary of the church where the conference was to be held, writing in a little notebook what I assumed to be thoughts how to dismantle his next Christian stereotype.
Because if youve followed Derek Webbs music since he stepped out of Caedmons Call, you know that he is anything but a traditional Christian music artist. In fact, he began his solo career attempting to disassemble what he saw as disturbing trends in Christianity. In Wedding Dress from She Must and Shall Go Free, Webb directly addressed the prosperity gospel touted by such authors as Bruce Wilkinson in the Prayer of Jabez: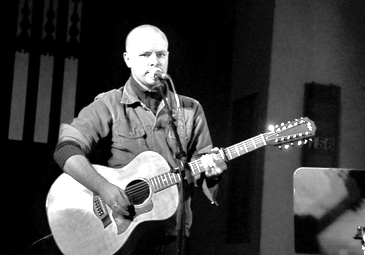 Should I read between the lines
and look for blessings in disguise
to make me handsome, rich, and wise
is that really what you want?
I am a whore I do confess
but I put you on just like a wedding dress
And I run down the aisle
Since Im pretty sure this was the first Christian song on record to use the word whore, this was, to say the least, gutsy.
Webb continued his leap into new territories with subsequent albums, but his brass peaked with 2005s Mockingbird, when all niceness was put aside, and Derek Webb told us what he really thought about the state of the union:
There are two great lies that Ive heard:
The day you eat of the fruit of that tree, you will not surely die,
and that Jesus Christ was a white, middle-class Republican
and if you wanna be saved you have to learn to be like Him.
This line from A King & A Kingdom reflects what Mockingbird was: cold water thrown in the face of the evangelical Christian establishment. Songs like Love Is Not Against The Law and My Enemies Are Men Like Me, sought to discredit the militarism that was running rampant in evangelical circles at the beginning of the Iraq war, while Rich Young Ruler tried to convince people that Jesus was starving in the slums that we try to ignore out of the windows of our SUVs while driving to our megachurchs. But my favorite on the album has always been A New Law, when Webb points to that laziness in all of us that wants other people to do our deciding for us:
Dont teach me about politics and government
Just tell me who to vote for
Dont teach me about moderation and liberty
I prefer a shot of grape juice
Dont teach me how to listen to the Spirit
Just give me a new law
After being blown away by the honesty in Mockingbird, I was happy to be able to shake Derek Webbs hand outside of the conference in Washington, DC. He graciously engaged in small talk with my friend and I for a few minutes, and we could have left it at thatbut a part of me couldnt help myself. I had to tell him what I really thought.
Can I just say, I started, I really enjoyed Mockingbird. After listening to that, I couldnt help but think, Finally, a Christian with balls!
This gave Derek a laugh, and he asked me whether or not I had heard The Ringing Bell yet. I told him I hadnt, and he assured me that if I identified with the material in Mockingbird, I would not be disappointed with The Ringing Bell. I immediately bought the CD at the conference.
Derek Webb was right about The Ringing Bell. I was not disappointed. Bell also contains material that seeks to dismantle Christian stereotypes. But while Mockingbird was the cold water that sought to wake you from your apathy, Bell is a more balanced approach to Webbs prophetic style. There are still the bold say-what-no-one-else-will songs (A Savior on Capitol Hill, I For An I), but they are tempered both musically and lyrically with songs reflecting the weariness that comes with being the prophet (I Dont Want to Fight, Cant Be Without You).
Musically, Bell steps away from the country-folk style of earlier albums into an indie rock flavor, with a hint of sixties pop. One of my favorites songs, Name, the beautiful and mysteriously allusive tribute to not letting yourself (or your Savior) be labeled, sounds like it could have easily been on the Beatles Revolver. But Webb doesnt step away from his trademark style completely, as he ends the album with This Too Shall Be Made Right, a folksy and genuine picture of a world groaning for its Savior.
Easily the most appealing song on the album is A Love Thats Stronger Than Our Fear, a cunningly subtle appeal to our Christian virtues over a means justify the ends mentality that is buried in a catchy rock melody. The upbeat feel of the song is juxtaposed against pretty serious lyrics:
What would you do if someone put a gun to your head
And asked you to tell them a lie?
What would you do if someone would tell you the truth
But only if you tortured them half to death?
Its got to be a love stronger than our fear of everything being out of control
So in the end, I think The Ringing Bell is a step in the right direction for Derek Webb, an artist still trying to decide who he wants to be musically and lyrically. The album as a whole is the cry of a reluctant prophet who doesnt always relish his position as the truth teller. Derek Webbs main goal lyrically has always been to start conversations, and that he has done. Musically, however, Webb is still growing out of his Caedmons Call britches, and although he has made huge leaps towards independence (I really enjoyed the intro to this album, where The End blends into The Very End with a light, bouncy, poetic piano accompaniment), his overall style still feels like its aching to blossom into maturitywhich gives me a sense that this guy is someone to keep an eye on for years to come.
---

This was originally published by our friends at Burnside Writers Collective, an "online magazine presenting an alternative to franchise faith."