By Valerie Strait
Many people say, "Lord I'll do anything for you; please just don't send me to Africa." But if they went there, their prayers would change to simply: "Lord, send me."
Unexplainable joy consumes a person when the tiny faces of a squatter camp peer at them with hope because they are there. The spirit in the desperation of Africa has more hope than ever seen in America.
The moment our kombi would pull up to the gates of Eskom squatter camp we could hear the children yell, "N'kookay! N'kookay!" simply meaning, hold me. Opening the door created even more excitement and the kids would jump in and grab anything and everything that the vehicle contained, including us. Hugs and kisses suffocated me more than my uncle's ornery death hugs.
Our next move began with clashing voices, off beat clapping and a mixture of English and gibberish. Those kids would do anything to get my attention even if it meant clawing my hand while warring away a comrade in arms. The fighting, the singing and the utter freedom they had were probably the most fulfilling part of their deprived lives.
This mingling of madness took the place of a Satan-driven, oppressed lifestyle which, for them, is inescapable. The process of pushing, shoving and crying always continued in our transition to consuming a wholesome meal of peanut butter and jelly.
The famous PB & J was always a favorite of mine growing up. I also had the luxury of variety. These children ate a sandwich every day as if it were steak, and it was followed in an Oliver Twist sort of way with a: "More, please."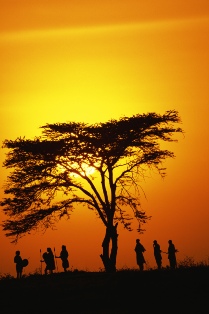 Those arms stretched up, and as I looked down, I would know exhaustion had hit. Aside from the dry air and the sun rays, sickness plagued many of these tired babies.
So, we would rock and pray and watch as one by one, their active bodies became limp, and snoring replaced Zulu and Tswana echoes. Here was when the warfare began. In the stillness of the hot noon sun, we would intercede like they were a dying breed.
Then, the Lord would whisper his promises and authority into our spirit, and we would be gates for these tiny ones.
As munchkin heads would start popping up, books would start to be read. Chimes of the ABC's were repeated daily, and counting games cycled in outdoor voices.
Teaching was never a strength of mine, but they made adapting to the profession easier than riding a bike.
As the blazing sun would disappear, our exit would simulate our entry, and an, "I love you," would always follow our goodbyes.
Jesus said that these are the greatest in the kingdom of heaven, so we helped them. We provided for the children, spiritually and physically, and over a course of time, they learned to walk in the authority of Christ. But it was us who walked away being fed.
---

Valerie, born in Des Moines, Iowa, just spent the last year in South Africa with a discipleship program for first-year missionaries. While in South Africa, she worked in local squatter camps and helped plant a church in a small community outside Pretoria. She is currently attending Nyack College for her undergraduate degree and hoping to pursue her love for Africa in the future.
If you're interested in being sent to Africa on a short-term or long-term trip, check out Adventures in Missions' website: www.adventures.org.