By Gabi Dickinson
Written in Uganda:
These are the days when my "no" has been given away. Every pattern in my veins is "yes" and "amen." Somewhere beneath copper-colored strands of His earth, lies a past I used to define myself by. As I cast my open-hands to the breeze, I felt a stronger Tenderness pulsating through my palms. I was swallowed up by a measure of beauty, that you'll never find unless you pour your life out to find it.
In my chest were beating the amazing things He'd carried for so long. So many bright eyes were telling me stories, and then of course there were His. We had never been strangers. I had always known these ones, born as they were in my heart. I recognized her hands because even though she carried no wounds, I'd always known the sight of a Hand still bearing scars. It was His beckoning that led me to find her.
As I felt chocolate skin brush across mine in an stream of touches spanning eternity, I heard heartbeats that aligned with mine. I knew scattered pieces of my war-torn life were being gathered and brought back from exile.
It wasn't that I was learning to dance, instead I had no choice but to be danced with. Instructed by the One Whose voice sounds like playgrounds, I broke open. I was torn apart so that all could fall in. I barely even noticed the tears, endlessly though they fell. They were steady like His Hand upon my back. I found Him relentless. Unable to settle for less than all of me, I'd already signed myself away. It was all of me for all of them, through all of Him.
The beauty of it remained in everything that I was spilling over His feet.
I had been lying motionless in the arms of a dying dream for so long, and in those moments, I was gripped as You pulled me to my feet. Then somehow there was too much life kicking inside my chest and I couldn't stay still.
It was those ones who taught me the value of living alive inside the blazing love of a King. In his hand-writing I discovered what I'd been saved from. Through her scars I found the source of all my hope.
I used to see shadows where You were longing to be visible. I drew myself down, and there in the clouds of dust I found You. Far from choking me, never had I breathed easier than I did on these streets. You opened windows and I drank from Your eyes, there in the space between the sky that knows no boundaries and my own fragile frame. You had my knees on a threshing floor, but all I could see was love.
I could no longer see any lines. My death was about love. On the other side of blood lay an irreversible awakening. My heart forever stained by Love. This heart knows nothing but redemption.
---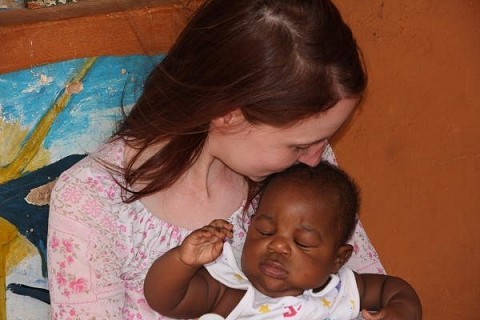 Gabi
has lived for 25 years with a heart that beats for Africa, despite currently living in the South of England. Her life is not her own and she has recently returned from spending the summer in Uganda. She is heading back to Uganda in January. Until then she is mostly to be found dreaming impossible dreams whilst barefoot. She can be found here
.