By Jameson Ketchum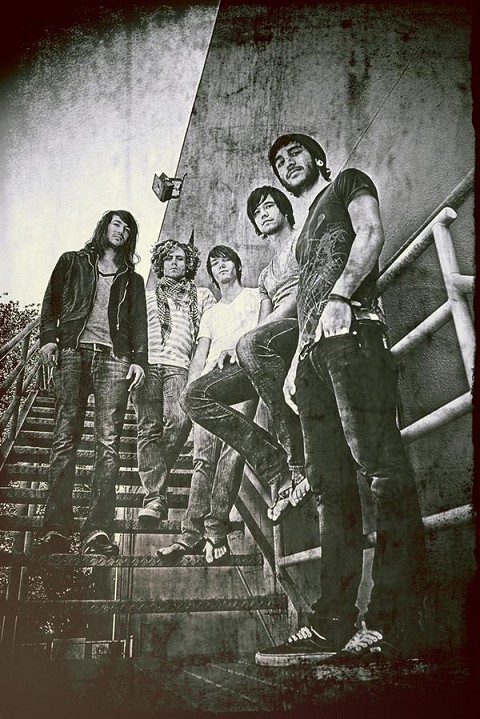 Speaking with Jason Brown, Justin Haag, and Chris Ratzlaff of Fallstar.
WRECKED: How would you describe Fallstars sound and what does the band name mean?
Justin: Melodic "pop-core"
Chris: My dad had a hard childhood and went through some traumatic experiences. He came to a point in is life where he felt he needed a fresh start. The name Fallstar signifies the change he made with his name and his life. Fallstar is Ratzlaf backwards.
WRECKED: Individually, who are your musical influences?
Chris: Alexisonfire, Jimmy Eat World
Justin: Oh, Sleeper, The Wedding
Jason: The Devil Wears Prada… I didnt want to put that, but it is so true. And Shakira.
WRECKED: Justin and Chris, in the past year, Fallstar solidified a confident lineup. What are the new members bringing to the table?
Justin and Chris: They definitely bring a more dedicated attitude to the band. And there is more of camaraderie now. They bring a more energetic and professional line performance. Last, but not least, our relationship as a band is completely focused on God.
WRECKED: Chris, your lyrics are very passionate. Where does this inspiration come from?
Chris: I find my inspiration comes from a desire to see God's love move through our music and to inspire people to seek the joy that we know in Jesus Christ.
WRECKED: Tell us a little about your song writing process.
Jason: Usually it starts with the three of us writing guitars, which is then run through the band as a whole. The song is then recorded; Chris then takes the songs and writes lyrics and melodies all over it.
WRECKED: You guys make it a habit to offer to pray with kids after each show. How does this usually go over while playing in various clubs and venues?
Jason: It is very difficult, but our hope is that we submit ourselves to God so that He would use us. And we have dedicated ourselves to doing just that.
WRECKED: Jason, what was it like coming into this band knowing that they had been plugging away for a few years already? How did you come to be in Fallstar?
Jason: Honestly it was not really a big change for me to join Fallstar. I had played with many bands over the last few years. This one just happened to be going somewhere. The thing that was different for me was that all of these guys I just met happen to be Christians and very deep in their relationships with God. That was very uplifting to me. I had always said that if I were to play music for my career that it would be for God or not at all. So I believe we had good chemistry from the start. I actually got introduced to Justin through two of my best friends Jeremy and Jameson from the online radio station Hopecore.com. So we met, talked, and it just went from there.
WRECKED: Fallstar recently played The Wake down South. Tell us a little bit about that experience.

Jason: The Wake was truly an amazing and spiritual experience for all of us. We made a lot of friends and a ton of contacts. We played with some amazing bands such as Sleeping Giant, The Glorious Unseen and Flee the Seen. But most importantly we were renewed, both physically and spiritually. God was truly evident in our lives and in our band while we were on tour. It would take us hours to tell you all of the many circumstances that so vividly restored our faith. So we will save that for another time. But we CAN tell you that we are not the same band we were before we went on tour.
WRECKED: How were you received in these areas you had never played before?
Jason: Everyone was truly hospitable to us! We had a place to stay almost everywhere we went. And as far as the venues go, people truly were loving the Fallstar sound. We honestly had a lot of good feedback everywhere we went. Many people asked us about our faith and spoke very plainly with us. It was a very uplifting experience for all of us.
WRECKED: Tell us a little about how you were hooked up with (new record label) Come and Live while on this last tour.

Jason: We met Chad Johnson on The Wake tour and were just blow away with how profound his faith in God was. As we got to know him more over the few days we spent with him and the Veil Arms crew, and knowing his extensive background (worked with bands such as, Underoath, As Cites Burn, Anberlin and August Burns Red) we knew he was the person we wanted to work with. When he told us his idea for a new record label called Come and Live, we were just blown away by the originality and the amount of faith it would require to start such an innovative idea. You can check his new record label at Comeandlive.Blogspot.com.
WRECKED: We interviewed Chad last week. The label sounds like quite the endeavor. How did you guys decide to go with C&L for your label?
Jason: Chad shared his interest in us and from there it was just a lot of praying and fasting to make the radical but necessary decision for us. We felt that we went on this tour for a reason, and meeting Chad was all God's doing. And he has not steered us wrong so far, so we knew this was the right decision for us.
WRECKED: Youre also endorsed by Veil Arms Clothing. Tell us a bit about that relationship.
Jason: Veil Arms… is AMAZING!! They do so much for us and we feel we could never pay them back. Not that they would ever ask for it. They are truly our family. They put our whole tour together and when we got down to Texas (our first stop on The Wake tour) we were treated with backstage passes, free shirts and a hotel room for the night. We have never been treated so well. We love them and everything they do.
WRECKED: What are some of Fallstars current goals?
Jason: To know our "roles" in our ministry and our scene, or where we belong I guess, and to continue to push ourselves to be better musicians and to strive to be original.
WRECKED: Where would you all like to see Fallstar a year from now?
Jason: Touring fulltime and to be financially stable or to make a living off of what we do.
To check out Fallstar, go to their MySpace
---
Jamie is an aspiring writer from
Oregon City, Oregon
. He is currently an
English major
and works with the online radio station
Hopecore.com
as well as the non profit organization To Write Love On Her Arms.