By Rosie
Rosie was the winner of Wrecked for the Ordinary's Tell Your Story Contest. Hachette Book Group provided giveaway book(s) for the contest winner.
"Jesus, I need you." He leaned forward in response and hugged her. She simply followed in his wake as he stood up and tucked the chair back under the table.
They walked out through the kitchen and on through the back door. He held out his hand for hers as they walked down the steps side by side. Her house was small, a little terraced house in a street at the bottom of a hill, but the garden joined onto the hills behind. It was almost boundless. She and Jesus had cultivated it all her life, digging channels for the brook and spreading gravel paths. They had planted trees together years before, and were now collecting apples and plums in regular harvests. The fruit varied in size and sweetness — some trees were growing big green apples, whilst at the same time little golden plums were plopping onto the grass below, but it was their work.
They each knew the trails of the garden well, but this time, at the junction of the paths at the foot of the steps, she let him lead. They strolled underneath verdant boughs, safe in the green corridors of overhanging bamboo, perfectly alone. Bright sunlight pushed through deep cool shadows, and natural stillness seemed to permeate the whole setting. Neither Jesus nor the girl were in a rush to pass these moments by. She was all eyes for the playing light, and he was all smiles. In fact, at one point he laughed out loud for no apparent reason, and pointed up to the waving branches. "Look!"
There was nothing there. Nothing unusual, anyway. Just a bright blue sky as a backdrop, blotted out by racing small white clouds, chased by awakened tree limbs, dripping with sun-bathed leaves. There was nothing there.
The girl looked back to Jesus and grinned silently, then looked again. "Can we stay for a moment?" "Absolutely!" There they stood, looking at nothing and smiling to themselves.
"Ok. Let's go on." The girl looked back to her creator again, and grabbed his hand as she spoke. He squeezed hers and gave a lop-sided smile.
They traipsed on, beginning to walk over dead leaves and sticks, walking around patches of mud. This was an area they hadn't tamed yet: the ground was dark and sticky with pieces of flint peeking out. They had to concentrate on the track at their feet, stepping round and over each snag in the dirt path. The girl wouldn't let go of Jesus' hand, despite having to look at the ground to know where to step. She kept glancing up to Jesus a step ahead of her then quickly returning her attention to the path at her feet. Then, abruptly, Jesus stopped. He half turned round and suddenly clicked the fingers of his free hand, his right hand, just in front of her. "Look at me," was all he said.
The moment was so intense and surprising that she did. Her mouth was in a little 'oh', taken unawares as she was. Jesus looked straight at her and stated quietly and clearly, "You need to look at me." The girl looked at him, unsure of what to do next. Her eyes flicked nervously, expecting the next instructions. After a moment, she said, "Now what?"
"Now we begin again," Jesus turned again, walking off with a stronger hold on her hand. She followed, at times almost directly behind him, able to grasp his hand with two of her own, looking straight at him. She could tell that it was harder work for him that way – he had to guide and give both their bodies momentum, but apparently he preferred it that way. She didn't she wanted to guide her own steps, but inside her his spirit whispered, "Come on, follow me, and you will give fruit in each season."
As reluctant as a part of her was, another secret crevice in her was excited by the invitation. She knew Jesus had counted the cost, had weighed up what it took to take her on, and had made his decision. Now all she had to do was look at him, following on. From past times of digging and planting with him, she knew that she could trust him to teach her, to willingly give his energy for her. He even chose to heave an apparent dead weight at times, as clueless as she was in stark comparison to his perennial wisdom.
So, this time, she followed. She just looked at him.
---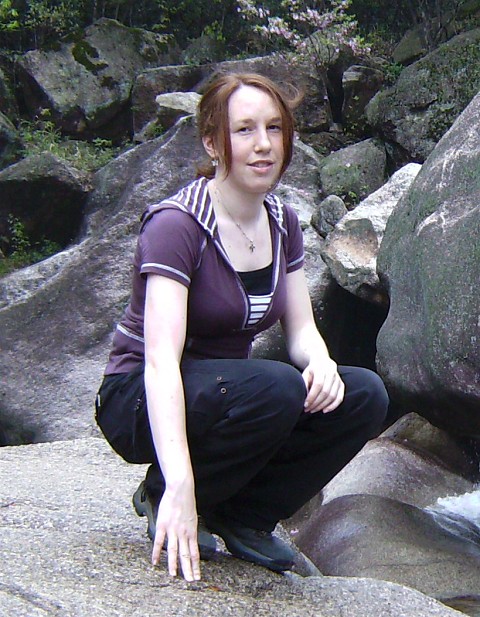 Rosie is a language student in her last year of university, with a penchant for people. She is actively involved with specifically the church and internationals, and chooses to disciple and draw them deeper into our Dad's arms. Aside from that, she compulsively bakes and perpetually reads!