By Sarah Fujimoto
The Dawning of a New Day: Dresses for Hope
The dawning of a new day. Sun arising, darkness being invaded by the breaking light of the sunrise. The lull of the chirping birds, silence, and piercing sun that hits the eyes with remarkable ease.
After many moments, pulling my body up like a ragdoll, I sit at the edge of my bed and ask that ever important question, "What to wear?"
For Sheena Matheiken of The Uniform Project, that's not a question. At least for 365 days. For 365 days she has pledged to wear the same cotton black dress, an effort on her part to raise money for Indian school children living in the slums.
A person of variety myself, I'm not sure if I would enjoy slipping on the same dress over and over again, 365 times to be exact. I suppose for Matheiken its not the same dress, its one of seven. She has seven copies of the dress. One for every day of the week. Seven copies or one copy, she is doing a remarkable thing.
Matheiken has choices. She is using them well. She is abstaining from certain resources, using other resources, networks, and speaking up for things she is passionate about. She has a goal, a commitment, and she is sticking to it.
Track her progress at The Uniform Project, a site that updates her daily accessories (those are allowed), and tracks donations to Akanksha Foundation, her inspiration for the project.
Donations for The Uniform Project will go toward funding the new schools they are opening this fall in Mumbai and Pune. You can also contact Matheiken to donate old accessories or original ones made by you.
Check out her two-minute video about the project: Same As It Ever Was: The Uniform Project (on DailyCandy).
---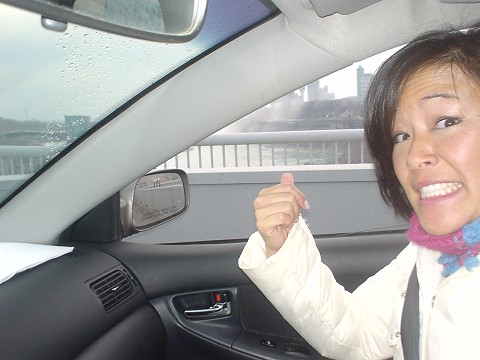 Sarah enjoys creating new things and old alike while traveling to new places. She enjoys art and restoration, a good cup of tea, and puppies.