By Julian Newman
I had the most amazing and awkward experience almost four weeks ago. I was on my way to coach my basketball team but needed to take care of some quick details at our church office. So I jumped in the car and started down the street. Making a right turn onto the street that FC2 (our church) is located, I noticed a truck in our parking lot.
Now on the surface, that is really not a big deal. Because we have a lot of room, police officers, EMTs, and others will park their vehicles and eat their lunch or just pause throughout the day.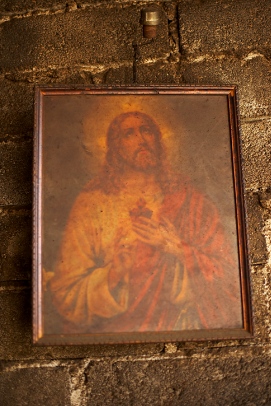 But this truck that I noticed was not simply parked while its owner chomped on a couple of tacos and drank a soda. This truck was here to communicate a certain message that was coming through loud and clear. You see, outside the truck were pictures (shown above) of two gay men kissing with the sentence, Homosexuality is a sin, and AIDS is death.
This was combined with various scriptures on hell, judgment, and wickedness. There was a quote from the New Testament about marriage that was being used (as the other references) completely out of context. There were pictures of the devastation of Hurricane Katrina, the 9/11 attacks, and the fires in Southern California drawing a connection between certain sins and Gods anger and judgment.
As I drove by, I was completely shocked.
I quickly made an illegal U-turn and parked my car next to the truck. I jumped out and rushed to the window and knocked on it. There didnt seem to be anyone inside. Finally, I saw a figure emerge. I motioned for him to roll his window down so I could talk to him.
Excuse me sir, but what are you doing?
Oh, I uh, just thought I would park here.
Do you have permission to be here?
No.
Have you talked to the leadership, the administration staff, asking to park your vehicle here? To communicate your message?
No. But I was just parking here because there were some spots open.
Have you talked to the Pastor and asked for his go-ahead?
No.
Well I know that you havent talked to the Pastor and gotten permission, because I am the Pastor of this church and we have never spoken!
After that, I just lit into this guy. I let him have it. I yelled and raised my voice. I told him that I knew he wasnt just using our parking lot because there were a few spots open, but because he was using the platform of our ministry and church to communicate his religious hatred. If it was just about parking spaces, why wasnt he across the street at the business park? At the corner store? The sandwhich shop? No, he knew exactly what he was doing. This was no mistake. It was a calculated decision.
I ran him out of there and told him never to return. I warned him that if he came back we would call the police. After he had packed up and drove away, I stood in the rain trembling in anger. Maybe this is how Jesus felt when He kicked the money-changers out of the temple (Matt. 21:11-13, Mark 11:14-16, John 2:14-16) saying, My Fathers house is to be a house of prayer, and you are making it a den of thieves! John's account of this story tells us that Jesus literally made a whip of cords and drove them out.
I have always loved this story where Jesus swoops in and kicks the butts of the religious.
I never imagined that I would do a little butt-kicking myself.
The truth of the matter was though I was very angry, I was more heart-broken than anything else. Tears ran down my face as I thought about the hundreds of cars that passed by our property seeing these signs and associated them with our church. And even worse than connecting these words and pictures of hatred with our church would be connecting this venom with Jesus.
You see, when Jesus kicked the merchants out of the temple it was not because they were taking up too much room. It was because of their actions; they were giving God and His house a bad reputation.
Think about the people in their cars, hurting, needing Jesus but will never come because they think Jesus hates them and wants to kill them. Needing freedom and forgiveness, they wont find it because they mistake Jesus as a condemning God, and not a loving one.
I also think about the people that drove by, professing Jesus-followers and said to themselves, That is right, serves them right. It is what they deserve. Driving by in their self righteousness, they puffed their chests out and said "Amen!" to themselves.
Oh how forgetful we are. And how thankless we can be. What if our sins were captured on film and blown up for everyone to see? How would that make us feel?
Loved? Accepted? Embraced? I think not. It would make us ashamed and probably cause us to run away. I am just glad that Jesus, knowing my sins and the skeletons in my closet didnt give me what I deserved.
He gave me Himself. He gave me His love.
May we, as His representatives on planet earth, give Jesus and His love to a world that desperately needs it.

If you liked this article, check out: God Hates Fags and Heath Ledgers Death
---

Julian is the Lead Pastor of FC2, a growing community of believers where he and his wife Tiffany have been pastoring the church they were once youth pastors at for a year this March. He is a the proud father of three daughters and and an avid blogger. He loves sports, movies, books, his wife and family, and Jesus (not in that order!). You can reach him at www.diaryofadreamer.com.