By Tony Dale
Cathy is a teacher of 4th graders. I wonder if that training is transferable to the church context. Mike is an attorney, dealing with major corporations who are bankrupt. Could any of his legal experience be used in church life? Jim is a businessman who owns a chain of retail optical stores. Im sure there is nothing in his background that would be of much use in the Kingdom of God…
NOT!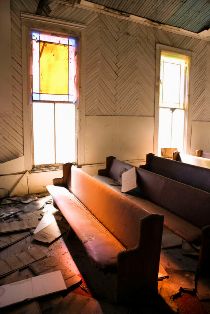 I'm a doctor. Does this mean that the only thing that God can use me for is the practice of medicine? Tell that to Luke!
By concentrating power and authority into the hands of a special or professional class, usually called clergy, the church has marginalized and thereby rendered ineffective most of its members. How well I remember the frustration of being an experienced professional, leading teams of people in my medical practice, and competent to set up conferences for physicians from all over the country, but apparently not competent enough to teach a Sunday school class at the church. Something is wrong with this picture.
It is interesting, quoting again from John Nobles book, The Shaking, that by rising up and endorsing His apostolic team as church, Jesus set a precedent for all time, which we have ignored throughout history to our cost. We have marginalized the God-given missionary or growth forces within the church and labeled them para-church.
Much of the real impetus for church growth and maturation has come through the so-called para-church organizations, because we tend to force the apostolic and prophetic types out of our churches that prefer a pastor dominated form of leadership. The result is vision-depleted churches, tending to the needs of their members, rather than Spirit-inspired assemblies, reaching out to deal with the needs of the world.
The reality is that much of the need of the world can be more effectively dealt with outside of the confines of church, rather than within the walls (or homes) of much of what currently passes as church.
John and Marion are family doctors. As they listened to the Holy Spirits prompting, they realized that many elderly patients, among others, were coming out of the hospital to a lonely and often un-welcoming environment. A person might be well enough to leave the hospital, but on his or her own, still be unable to go shopping or do laundry.
So, they began arranging for volunteers from their church to take patients home from hospital admissions, and to assess what further help the person might need now that they were out of the hospital. From doing some shopping to picking up the convalescing for church meetings, these volunteers became the church beyond the walls. Over a period of time, the local social services began using John and Marions volunteers to help with patients from a wide array of hospitals in that district. This is church in the marketplace.
Another medical friend of ours decided to keep track of all of the patients that he spoke to about the Lord for the first time over the course of a year. At the end of the year, this is what he found: Just over 50 patients had actually given their lives to the Lord the first time that he spoke to them about Jesus in his medical office.
Another 50 had given their lives to the Lord on a second or subsequent visit during the year of this study. An additional 50 had been spoken to about the Lord, but had not yet responded to the message. Over a hundred lives had been meaningfully and radically touched by God is his office that year. This is church at work.
I have a friend named Pam, a skilled nurse, who was also a natural evangelist. She came to my medical practice in the UK to stand in for another member of staff who needed to be on an extended maternity leave. There was a six-week period while Pam was working with me that we saw at least a patient a day give their lives to the Lord. Every day! This is church in the medical practice.
It is not that God just wants to raise up church in any and every place where He sends His people. He also wants to raise up apostolic and prophetic leadership to demonstrate His divine love and power to a world that is waiting to see Gods word become flesh.

Read more here: Where In the World Is the Church? (Pt. 2)

If you liked this article, check out: MEGA Church: Is this trend hurting the Church as a whole?
---
Tony

is the editor of House2House magazine. He lives with his wife, Felicity in Austin, Texas. He alsoowns a successful business, which helps people without insurance who are struggling with medical bills – The Karis Group.