By Jody Matheson
After the first season of LOST, I had a conversation with a friend at work. She hadn't watched LOST, but was curious about all the hype as the season ended. I suggested she rent the DVD on the weekend and check it out. "But I'm warning you," I said coyly, "once you start watching, you won't be able to stop!"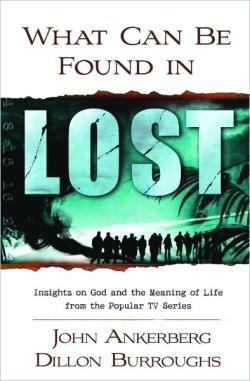 I asked her on Monday how she liked the show. She told me that she had thrown on the first episode as she was making dinner with a friend, and the two of them didn't leave the house for 22 straight hours until they had finished watching the entire season. "I warned you," I said.
And so it is with many of the friends that have found themselves glued to their TV sets once a week to watch the exploits of Jack, Kate, Sawyer and the many other survivors of the fictitious Oceanic plane crash. Week after week we find ourselves watching these strangers thrown together, trying to find rescue and redemption amidst a puzzling, mysterious island.
It is in the big questions that the book What Can Be Found in Lost? takes its stand, opening discussion and observations for both the saved and the seeking when it comes to themes like God, Prayer, Destiny, Miracles, Dreams and Visions, Numbers, the Bible, Death, and the Afterlife. In Part One of the book, the authors cover the first three seasons of LOST by examining thirteen themes. Each issue is broken into two parts–addressing the issue by looking at the big question and following up with what can be found about that theme in LOST.
The authors take a great deal of effort to collect relevant transcripts from the show, linking together storylines over different seasons to flesh out an observation, and relate back to scripture those things that are truthful and relevant, while using God's word to enhance or correct other character issues.
The second part of the book covers two theories of LOST, which are less about the show going forward and more speculation about where they have been. Regardless of your theory, it's likely included and given its due diligence. For a 173-page paperback, this book contains a wealth of LOST information, culminating with a chapter on what to do if you are "L.O.S.T."
With the season premier just around the corner, I found this book to be a terrific refresher and conversation starter with fans of LOST about the fictional elements of the story and their real life meaning in scripture. Has any other show in the history of television been so analyzed?
If you are a fan of the show, you should add this book to your library. It is light enough to entertain with insight into LOST, but rich enough with the truth of God's word to make a relevant and effective change in your life. If you find it hard to talk about God with your friends or co-workers, this book can help find ways to open up dialogue to lead them to the original Chosen One.
You don't have to be LOST, when you can be found in Christ.
About the authors:
Dr. John Ankerberg is host of the award-winning TV and radio program The John Ankerberg Show. Founder and president of the Ankerberg Theological Research Institute, John has written over 75 books, including the best-selling Facts On Apologetics series.

Dillon Burroughs, a full-time writer who has worked with several best-selling authors, is a graduate of Dallas Theological Seminary. He is a member of the Society for the Study of Lost, and a contributor to Lostpedia.com.
Note: This book is in no way affiliated, approved or endorsed by those involved in the production and distribution of LOST. LOST is a registered trademark of Disney Enterprises, Inc. Touchstone Television, a division of Disney Enterprises Inc., owns the copyright in episodes of Lost.

Rating: 4/5
---
Jody Matheson warns you that watching Lost is addictive. Check your local listings, if you dare. A father of two from Canada, Jody works as a production coordinator for a local website, eh.