By Ben Girdler
About two feet to the shoulder. 80 pounds. Typical black lab build but with a deeper chest and the face of a German Shepherd. Oh yeah, he has ADD. Make that ADHD, with an emphasis on the "H."
That is Jessie. He is my Uncle Seans dog, and he is fantastic. He lives for one thing and one thing only. The toy. Toy equals life for Jessie. It is that simple.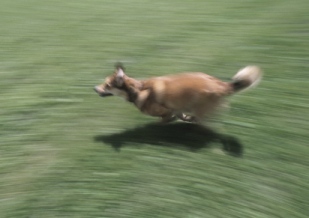 For now, "toy" is a rubber bone type object, round on both ends with studs on the center part. If you throw it right it tumbles across the yard, which causes Jessie to kick it into another gear and accelerate even faster. When he gets his toy, he gladly returns to whomever threw it and waits at the person's side until it is thrown again.
He will chase the toy until he has no more energy to give and has to lie down in the middle of the grass until he can go again. The point is really simple. Toy is life. One goal, one aspiration, one driving force. Get the toy.
I think more often than not, we are the same way. I am the same way.
You see it every day: the career man ignoring his family for work, the student who never leaves school because she has to be just a little bit smarter and more prepared, the kid throwing a temper tantrum in the grocery store aisle because dad wont buy him the box of Super Duper Sugar Bomb breakfast cereal.
Each one is focused solely on the one goal in front of them, forsaking all other things to get to their toy. It leads to frustration, exhaustion, being fed up with life. But what of the one toy that we are supposed to chase with everything we have? In Jessies pursuit of his toy, there is a beautiful picture of what a life lived with and for Christ is supposed to look like.
We are to pursue Christ with everything we have, until we can run no more, then get up and keep chasing after Him. God doesnt care about our toys or how hard we work to get them. Yes, he wants us to be happy, but what He really wants is someone who will live their life trying to be more like Christ everyday.
It is not that the pursuit of Christ-ness means we wont be happy. Not at all. It means that our definition of happiness and contentment will change to fit what Jesus has for us. He will make his toys (his passions and desires) our toys, so we will want to chase after the same things He does.
That is how we become like Christ. We desire to see His will be done on earth as it is in heaven.
What toy are you chasing?
If you liked this article, check out: One Laptop Per Child: The world is getting smaller
---

Ben lives in Tucson, AZ studying sociology and writing. He even works full time when it doesnt interfere with writing the stories God puts on his heart to share with the world.