By Josh Casper
"But, you have a tape after one month you can watch and remember about us"
Tony, a night commuter of Northern Uganda
In the documentary Invisible Children The Rough Cut, three young filmmakers from California travel to Sudan to document a hidden war. Upon arriving in Sudan, they learned that thousands of Sudanese had crossed over the border into Northern Uganda. They left for Uganda not knowing what to expect, but soon learned of a war that would break the hearts and open the eyes of thousands across America.
The filmmakers came across hundreds of children crammed together, sleeping under verandas and bus parks. They were there because they commute each night to sleep in a safe environment in order to escape abduction from the Lords Resistance Army (LRA).
I couldnt believe what I saw.
In America you can change the channel if you see something that makes you uncomfortable, but I could no longer change the channel. I couldnt turn my face, and I couldnt get the thoughts out of my head. Kids walking around with swollen bellies and babies being born helpless against their environment. I remember the words of Tony. I remember their faces. Their eyes tell stories that words cant. Their tears have become my tears.
I felt angry with myself for being so blind to it all. I had seen Hotel Rwanda a year or so before, but after a day I had forgotten much of what Id seen. For some reason, this was different. This was something that I could be a part of.
After my summer in Chicago working alongside the homeless community, I made it a point to show this film at my school. A few months after the semester began, I started to plan a screening with a few of my friends.
We baked cookies and brownies, and others who wanted to help baked all kinds of good stuff for the cause. We set up on campus and began telling people about the documentary about these invisible children. Professors were stopping by, getting information so they could tell their students to attend as an extra credit assignment. Some people asked about this funny shape we had on our shirts. They found out the shape was a white silhouette of Africa, and some walked away shaking their heads saying, I didnt know that stuff was going on. One woman walked away in tears.
The night we showed the film, I really had no idea what to expect for the attendance, or whether or not people cared enough to give up on a Thursday night to watch a film theyve heard little to nothing about. As we began setting up for the showing, people started to pile in. There were familiar faces, as well as people whom Id never seen before. I was nervous. I wasnt really sure if anyone had an idea as to how it would turn out, but the room was full of hearts that had potential to change the world. I got up to speak. My heart was pounding, and I felt so alive.
I felt that I was becoming part of something bigger than myself. People were going to discover the unseen. We were giving faces to the invisible.
There is a heartbreaking scene in the documentary of Jacob, one of the night commuters of Northern Uganda. The guys are asking about Jacobs brother, who was abducted and killed. As Jacob started talking about his brother, he began to weep. It was a helpless cry of someone with nobody left to care for him.
One of the filmmakers responded by saying, Jacob, its okay. Its okay. The cries became louder, and full of such sorrow, drowning out their words. Soon, the filmmakers were crying along with Jacob. Even today, as I have seen the film several times, I cannot shake away this cry. As I watch it, I say, Its not okay. Its not okay. People walked away that night with red eyes and uncomfortable hearts.
Jacobs cries are a part of me now. They are a part of thousands of people across America who believe they can help put the fire out in Africa. Invisible Children has given us just one more reason to open our eyes. We are now part of a generation that knows the hurt in the world. The question now is, What are we going to do about it?
Invisible Children promotes several ways to stand up and support the cause. They have a bracelet campaign that gives jobs and income to the people of Northern Uganda who are displaced and have no other way to rece ive income. The bracelets are made in Uganda, and then shipped to the U.S. to generate this income. Schools for Schools is a program designed for schools in America to raise support in money and awareness for schools in Africa. Give Peace a Tri is a program that encourages people to donate three dollars a week to Invisible Children what you would normally spend on a cup of coffee.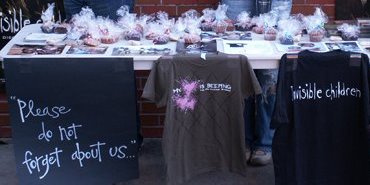 There are countless other ways to raise awareness for Invisible Children. At our past showing, we had a benefit concert afterwards, featuring local artists. People have shown support in other ways, such as making hats, shirts, and even art to donate and sell at these events.
Having a bake sale on your local campus gives great attention to the cause. As insignificant as a cookie or brownie may seem, you are doing your part to better this world.
These are all ways for us to become part of the solution; yet, they dont work unless you get involved. When you see a smiling face, you can know youre a part of that smile. The children, youth and adults of Northern Uganda know that people like you and I care for them. The children are in schools, and citizens are earning income because of something you did. You are a part of something that is changing the world.
Gandhi is quoted as having said, Be the change you wish to see in the world. We are becoming a part of that change one face at a time.
If you liked this article, check out:
---
Josh Casper is a junior at the University of Southern Mississippi who participates in various church ministries and community projects. Josh is currently majoring in Psychology and hopes to someday use it in counseling. He is currently involved in raising awareness around his campus with organizations such as Invisible Children.
For more ideas on ways to support Invisible Children in your community, click here.