By Kari Miller
Peace I leave with you; my peace I give to you. I do not give to you as the world gives. Do not let your hearts be troubled and do not be afraid. John 14:27
Life without peace is really no life at all. When all peace is gone life becomes a moment-by-moment struggle to protect ones self from despair, destruction and death. What should be certain becomes uncertain. Where you expect to find love, you find only emptiness. Deep inside, your soul becomes weary and dead to the world. Hope becomes a commodity you simply cant afford. You are only surviving, and for what? Hours turn into days, days turn into weeks and weeks turn into years.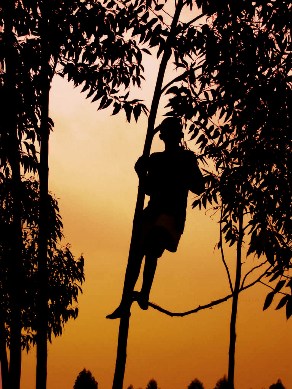 Sadly this is the reality for many abducted children in the Gulu region of Northern Uganda where a war between the rebel group, The Lords Resistance Army (LRA), and the Ugandan government has raged for twenty long years. Thousands have lived a better part of their lives in Internally Displaced Peoples Camps (IDP). Thousands of children have been abducted and forced to kill on demand. Others have spent their short lives hiding in trees, in concrete structures, and in muddy riverbeds to escape being abducted by the rebels. Recently, Mr. David Lamojong, a long time resident of Koro-Abili camp, a large IDP near Gulu town, lamented about the suffering of his people. He simply said, We are not crazy people who enjoy seeing our people suffering and getting destroyed.. There is a deep longing for peace in this place. You can feel the weight of it in the air.
Within Gulu town there is another revolution entering into this long war of destruction. There is a revolution of love and peace being planted in this hotbed of violence. Two homes rest quietly in the middle of this weary place that offers peace and love to children the war has assaulted. Cornerstone Development Uganda has started two Youth Corps Family homes where boys and girls can be loved and given a peaceful place to rehabilitate from their past. These homes reach out to the homeless and directionless youth who have been beaten down by these long years of death and disease. Mentors in each home bathe them with the love of God and provide them with a new sense of family. They feed them, clothe them, shelter them and provide art, drama, and music therapy for them. Slowly, these fragile children become stronger. They learn how to love again, how to trust, how to hope and how to believe in peace. It is a long journey back to this place full of set backs and challenges, but we serve a God who says that love never fails and that peace is possible.
Each Youth Corps Family Home houses between twenty five and thirty children. These children come with deep scars and mountains of pain. This January, Tony (14) and Morris (12) joined the boys home. Tony was abducted when he was small and forced into child slavery by the LRA. Joseph Kony, the commander of the LRA rebel group, forced Tony to care for his children. After three years Tony was rescued. On returning home, he found that he had lost both his parents to HIV/AIDS. He didnt know where to go so he went back into the bush and back to LRA. Twisted as it seems, it was the only home he knew. It was a place where he could eat every day and where things were familiar. Because he went back on his own accord he was not severely punished.
Some time later, he was rescued once more during combat as bullets flew in the air and as boys fired rifles at men twice their size. Once back in Gulu town Tony went through the rehabilitation process. He was also reunited with his younger brother Morris. Tony was overjoyed to have found his brother and to have some link to the family he so desperately missed.
Tony and Morris decided to go back to Koro, a village near Gulu town. Tony then began working as a bricklayer in order to support himself and his younger brother. Each day he made brick after brick, turning the hard dry earth into a thick mud, putting the thick heavy mud into a cast and then drying it again under the heat of the sun. It was hard labor. His back ached and his body became weary. Then at the end of each day, he was given 1,000 Shillings for his backbreaking workthe equivalent to $0.50 cents. That $0.50 cents was enough for Tony and Morris to share one meal a day of porsha and beans. They were barely surviving. It seemed hope itself had abandoned them. That is when Laker, the director of the Youth Corps Family Homes-Northern Uganda, found them. He then arranged for them to come to the Youth Core Family Boys Home. Slowly, slowly these boys are learning what it means to love and be loved.
Even though Tony has gone through counseling sessions twice, his life is still filled with bitterness and he still feels like returning to the bushto his abductors. Tony has been in pain for so long that he doesnt know who he is without it. When war is all you know, when the terror of violence becomes your friend, it takes the mighty warrior of love to break the bonds that evil set in place. It takes the Lion of Judah, our great warrior who defeated death once and for all, to rescue the ones that the evil one snatched for himself. No one, not even Tony, is too far gone for love to reach himfor peace to invade his soul. My friends, we are not crazy to believe that God rescues the oppressed and that he heals the most wounded of spirits.
Tony is one of hundreds of kids that are trying to understand who they are and how to become free of the abuse and terror of war. Laker has started a revolution of love and the resistance to it is great and there is no doubt a war raging in the heavenlies among the angels. With the full armor of God, Laker and his mentors continue to use the weapon of love to create peace in the lives of those they have rescued. They are trusting in God to do the impossibleto heal the wounded souls of these children. They are zealous in their passion for Jesus, their mighty warrior, and for the least and the lost among them.
How about you? Are you ready for battle? Do you see the children being stolentheir capacity for love and peace being ripped from their souls? Just like the story of the Samaritan we can look from the other side of the road, weep for them but continue on our lifes journey preoccupied with our daily responsibilities or we can stop, approach them, enter into relationship with them as they heal. The Samaritan used his resources to create the environment for healing. Will you use yours?
---
Kari Miller is a 4th grade teacher who is passionate about loving Jesus and loving others. She longs to inspire others to love the least, the lost and the left out.