By Stephanie Fisk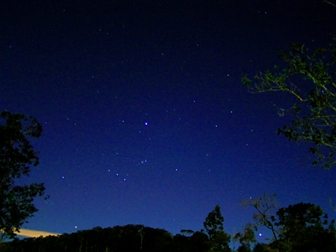 As I look up at the vast night sky, the bright, shining stars remind me of the individuals that live inside the confines of Hermano Pedro Hospital in Antigua, Guatemala.
My thoughts easily retrace their steps back to the childrens ward. Faces begin to flash through my mind. I feel my heart begin to tug at my emotions. "Cry for me," they whisper. Dont forget me like everyone else has.
These precious jewels are hidden away in a treasure chest in the heart of a busting tourist trap. Yet no one notices the twinkling lights that radiate from within the hospital walls, except for the nurses and occasional mission group. They are forgotten by those who put them there.
Others are unaware that these jewels exist, as they are too busy with their own lives. But most do not want to open the treasure chest to see what is inside. They are too scared to see the effect these brilliant jewels might have on their souls.
Hundreds of mentally and/or physically challenged individuals grandmas and newborns alike call Hermano Pedro Hospital home. The majority do not have any choice in the matter. Yet this building has become a refuge, by default. Most of the kids are fatherless, or rejected by their families. Without this citadel of hope, many of these precious children would not be with us today. For in Guatemala, its too expensive too big of a burden – for most families to try to raise a child with "issues."
Remember me, her soft whimper gently lands in my ear. I am standing in one of the childrens wards. In the midst of the yelling and loud whaling, her motionless body calls to me. To her left, a little boy, who is wearing a red helmet for protection, is banging his head upon the bars of his crib. Not only do these children live in the confines of their beds, many are trapped inside their own minds and bodies. Day in and day out, they just are. They are Gods precious jewels. He designed each one.
I peer over her crib. She pays no attention to me. Then again, she is probably not expecting anyone to come to her rescue. Sticking out from under her white and pink shirt is a rubber feeding tube. On the end of the yellow tube is a syringe that is tucked into the waist of her pants. She is still looking away from me, towards the wall, while I gently scoop her up into my arms, trying to avoid the tube that is protruding from her tiny belly. On the side she was laying, her black hair is matted to her head. Her back remains rigid. Who knows how often she has been held. Dont forget. Remember me, always.
Her name is Patti. She is 20 months old and grew up in a hospital in Guatemala City. I come to find out that she was transferred to Hermano Pedros only five days ago, and the feeding tube had been inserted earlier that morning.


The nurses do not know if her parents are still alive. But, they have been told that the parents wanted nothing to do with their daughter when they dropped her off at the hospital a year and a half ago.
Patti lives with the result of this rejection each minute of the day. With each minute that she lies on her back in her crib starring up at the ceiling. With each cry that comes from the desire to be held and loved.

Why does nobody want me? Im here, she cries, Im alive… anybody?
I hold her. I walk around. I rock her and sing to her. I touch her and love her. I pray over her. I dont want to put her down. Can I take her home with me? She is Jesus precious jewel perfect in his eyes. Patti is a daughter of the King Most High. He will never let her go.
Patti is one shining star one jewel in the treasure chest. There are thousands more eager and ready to be adored and admired. We just need to notice them. They are calling to us. Are we listening? Do we care?
Mother Theresa once said:
Being unwanted, unloved, uncared for, forgotten by everybody, I think that is a much greater hunger, a much greater poverty than the person who has nothing to eat. We must find each other!

---
Stephanie Fisk is a traveler of the world and co-founder of a stateside servant mission called Latreia, which you can learn more about here.
For more information on the hospital mentioned in this article, visit Revue Magazine.