By Zach Kincaid
We talked with Vinoth Ramachandra about his new book, Subverting Global Myths, recently. Here's how it went:
WRECKED: The title of your book, Subverting Global Myths, what do you mean by this since most will quickly equate myth with stories that may be untrue but have some point to gain or lose. Is this how you're defining myth?
Vinoth Ramachandra: I take myths in the sense of large-scale public stories that a culture, institution or wider society tells about itself. They give its members a sense of meaning and identity, making them feel good about themselves. They often contain some grains of truth, but these are usually blown out of all proportion and counter-truths are suppressed. For instance, think of the way that many American Christians have been brought up to think of the USAs prosperity as having been founded on the Protestant work ethic and free markets.
WRECKED: So the book tackles six major myths. For the readers who may not know, these myths are terrorism, religious violence, human rights, multiculturalism, science, and postcolonialism. If you would, briefly expound on a couple of these to give a picture of how you see these as standing out as points of deceitfulness. I'm particularly interested in briefs on the myths of postcolonialism and multiculturalism.
VR: These six concepts are not myths in themselves. They are rather areas in which myths are generated, either intentionally or unintentionally. For instance, the discourse of postcolonialism itself challenges widespread myths about the neutrality of anthropological research, the voiceless colonial subject, the contrast between a Western mind and the Eastern mind, and so on. But it is blind to myths that it, in turn, generates in the academy, such as the identification of Christianity with the colonial project, the irrelevance of religion to social emancipation, or the objectivity of its own readings of postcolonial globalization. Multiculturalism, likewise, has come to mean different things in different contexts. One common myth is that cultures are the prime source of identity for all people, another that cultures occupy self-enclosed spaces that never overlap or interact with others.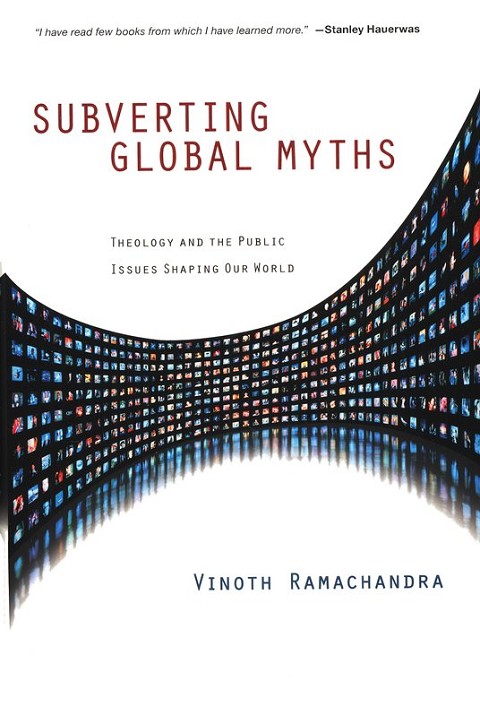 WRECKED: Your opening chapter seems to make the United States a terrorist among a world of terrorists, ignorant and arrogant at the same time. Did I read that right?
If so, what is the call to the church in the United States?
VR: I live in a country where the state uses methods of terror against people it calls terrorists. I can be imprisoned under draconian anti-terrorist legislation for simply making this comment, or if my book got into the hands of some people in the government. Now, if I can take such personal risks in writing about my own country in this way, I dont understand why Americans, and especially American Christians who confess every Sunday that it is Jesus who is Lord and not the President or Congress, cannot do the same: namely, take a long hard look at your history over, say, the past 50 years, and decide where on the spectrum of terrorism your own government lies.
It is only Americans who seem to think that voting Republican or Democratic makes a real difference to what the US does in the world. The rest of the world, at least those of us who have read recent history, do not think so. The Bush-Cheney administration has become the whipping boy of the Democratic left who endorsed policies under previous administrations which were not so different to what we have seen in the past eight years. So the call to the church is: wake up and think as members of a global community and not as Americans. Behind the challenge of terrorism lies an even bigger one: will the new US administration continue Americas exceptionalism, or will they bring their nation under the rule of international law and of internationally-agreed treaties that seek the global common good?
WRECKED: The words of Jesus came to mind as I read through your book. He said on several occasions, "You have heard it said… but I tell you…" How do you stay critical and not make that criticism that stomps throughout this text into something cynical?
VR: I am very surprised that you only see criticism in this book. The bulk of it is a dialogue with complex issues. My arguments are usually nuanced, and in several places I suggest what I think are constructive ways forward.
WRECKED: Let me rephrase because certainly I see that your arguments are not only critical and I agree that you point to several ways forward. My intent in the question was more general than your text alone. I think it is easy for the Church global to become cynical and not talk through the complicated issues before them and in their criticism (or worse, their cynicism) they don't always point to the exits as to ways forward. Rather, the majority of congregants take a blind eye to the larger issues. So, my question is: what do you see are the guiding principles or disciplines that you deem helpful to see into these issues and hopefully participate in their redemption?
VR: There are sections of the global church that have been prophetically responsive to these issues for a long time. For instance, the World Council of Churches and the Vatican have often been way ahead of secular voices critiquing the ideology of economic growth and speaking out on environmental degradation and justice for the poor. Sadly, the majority of Christians-like the rest of society- only wake up to issues when they themselves suffer the consequences. Good examples are severe climate changes caused by global warming and the corruption and absurdities of the global financial system. I point out in my book that Christians have to stop thinking the way their political leaders want them to think, i.e in terms of 'national interest' or 'we, the American people' and start thinking as citizens first of God's universal kingdom. This would mean that, on every issue, we ask not 'how will this affect me or my nation?', but instead questions such as 'how will this affect the poorest of the world's people'?, 'how will this promote the global common good?', ' who are the most vulnerable groups and how will this enhance or reduce protection for them?', and so on. That is part of what it means to think with the mind of Christ.
To be continued…
(October 2008 For more information about Subverting Cultural Myths: Theology and the Public Issues Shaping Our World by Vinoth Ramachandra click here. Interview by Zach Kincaid.)
---
Zach

is director of the Matthew's House Project.